A frog goes into a bank and ho...
A frog goes into a bank and hops up to a teller. He can see from her name plate that she is called Patricia Whack, 
so he says "Ms. Whack, I'd like to borrow $30,000, please."
The teller asks for his name and the frog replies that he is Kermit Jagger, son of Mick Jagger, and a personal friend of the bank manager. Unconvinced, Ms. Whack explains she will need some identity and also some security against his loan. The frog produces a tiny pink porcelain elephant and hands it to her. 
The confused teller says she will have to consult with her manager. 'There's a frog called Kermit Jagger at the counter who wants to borrow $30,000," she tells her boss. "And what do you think this elephant is about?"
The manager looks back at her and says "It's a knick-knack, Patti Whack, give the frog a loan. His old man's a Rolling Stone.' 
#joke
Three Proofs that Jesus Was...
THREE PROOFS THAT JESUS WAS JEWISH
He went into his father's business
He lived at home until he was 33
He was sure his Mother was a virgin, and his Mother was sure he was God
MORE...
THREE PROOFS THAT JESUS WAS IRISH
He never got married
He was always telling stories
He loved green pastures
THREE PROOFS THAT JESUS WAS PUERTO RICAN
His first name was Jesus
He was bilingual
He was always being harassed by the authorities
THREE PROOFS THAT JESUS WAS ITALIAN
He talked with his hands
He had wine with every meal
He worked in the building trades
THREE PROOFS THAT JESUS WAS BLACK
He called everybody "brother"
He liked Gospel
He couldn't get a fair trial
THREE PROOFS THAT JESUS WAS A CALIFORNIAN
He never cut his hair
He walked around barefoot
He started a new religion
THREE PROOFS THAT JESUS WAS A WOMAN
He had to feed a crowd, at a moments notice, when there was no food.
He kept trying to get the message across to a bunch of men who just didn't get it.
Even dead, he had to get up because there was more work for him to do.
#joke
Funny video of the day - Funny video of the day Friday, 05 March 2010
Massage therapy patients can b...
Massage therapy patients can be separated into two groups: the haves, and the have-knots.
Chuck Norris, Arnold Swartzena...
Chuck Norris, Arnold Swartzenagger, and Jean Claud VanDam, were talking one day. Chuck Norris asked, "If you were a musician, who would you be?".
Chuck Norris said, "I would be Motzart."
Jean Claud VanDam said, "I would be Bethoven."
Arnold then said, "I'll be Bach!"
THE GEOGRAPHY OF A WOMAN
<...
THE GEOGRAPHY OF A WOMAN
Between 18 and 20 a woman is like Africa, half discovered, half wild, naturally beautiful with fertile deltas.
Between 21 and 30 a woman is like America, well developed and open to trade especially for someone with cash.
Between 31 and 35 she is like India, very hot, relaxed and convinced of her own beauty.
Between 36 and 40 a woman is like France. Gently aging but still a warm and desirable place to visit.
Between 41 and 50 she is like Yugoslavia, lost the war - haunted by past mistakes. Massive reconstruction is now necessary.
Between 51 and 60, she is like Russia, very wide and borders are unpatrolled. The frigid climate keeps people away.
Between 61 and 70, a woman is like Mongolia, with a glorious and all conquering past but alas, no future.
After 70, they become Afghanistan. Most everyone knows where it is, but no one wants to go there.
THE GEOGRAPHY OF A MAN
Between 15 and 70 a man is like Iraq - ruled by a dick.
#joke
Avoiding the crowds...
It was Christmas Eve and the judge was in a merry mood as he asked the prisoner, "What are you charged with?"
"Doing my Christmas shopping early," replied the defendant.
"What?!? That's no offense," said the judge. "How early were you doing this shopping?"
"Before the store opened," he replied.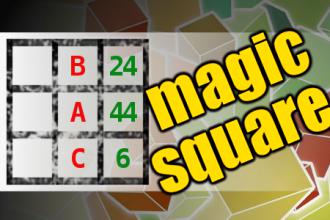 MAGIC SQUARE: Calculate A+B*C
The aim is to place the some numbers from the list (6, 7, 13, 17, 18, 24, 43, 44, 50, 72) into the empty squares and squares marked with A, B an C. Sum of each row and column should be equal. All the numbers of the magic square must be different. Find values for A, B, and C. Solution is A+B*C.
What do you get if you cross a...
What do you get if you cross a snake and a Lego set? A boa constructor!
Make Life Simpler Tips
Helpful Tips To Make Life Simpler


Old telephone books make ideal personal address books. Simply cross out the names and addresses of people you don't know.

Fool other drivers into thinking you have an expensive car phone by holding an old TV or video remote control up to your ear and occasionally swerving across the road and mounting the curb.

Lose weight quickly by eating raw pork and rancid tuna. I found that the subsequent food poisoning enabled me to lose 12 pounds in only 2 days.

Avoid parking tickets by leaving your windshield wipers turned to fast wipe whenever you leave your car parked illegally.

No time for a bath? Wrap yourself in masking tape and remove the dirt by simply peeling it off.

Apply red nail polish to your nails before clipping them. The red nails will be much easier to spot on your bathroom carpet. (Unless you have a red carpet, in which case a contrasting polish should be selected).

If a person is choking on an ice cube, don't panic. Simply pour a jug of boiling water down their throat and presto! The blockage is almost instantly removed.

Save on booze by drinking cold tea instead of whiskey. The following morning you can create the effects of hangover by drinking a thimble full of dish washing liquid and banging your head repeatedly on the wall.

#joke
Evils of Liquor
A professor of chemistry wanted to teach his fifth grade class a lesson about the evils of liquor, so he produced an experiment that involved a glass of water, a glass of whiskey, and two worms.
"Now, class. Observe the worms closely," said the professor as he put the first worm into the water. The worm in the water writhed about, happy as a worm in water could be.
The second worm, he put into the whiskey. It writhed painfully, and it quickly sank to the bottom, dead as a doornail. "Now, what lesson can we derive from this experiment?" the professor asked.
Little Johnny, who naturally sits in back, raised his hand and wisely, responded, "Drink whiskey and you won't get worms!"
#joke
Jon Lajoie: Mysteries of the Universe
I have this thing that I do called Mysteries of the Universe, when I gaze up at the countless stars and infinite galaxies. I realize how small and insignificant my girlfriend is. So, I get drunk and cheat on her with my 18-year-old neighbor.
A very shy guy goes into a bar...
A very shy guy goes into a bar and sees a beautiful woman sitting at thebar. After an hour of gathering up his courage he finally goes over to herand asks, tentatively, "Um, would you mind if I chatted with you for awhile?"
She responds by yelling, at the top of her lungs, "No, I won't sleep withyou tonight!" Everyone in the bar is now staring at them.
Naturally, the guy is hopelessly and completely embarrassed and he slinksback to his table.
After a few minutes, the woman walks over to him and apologizes. Shesmiles at him and says, "I'm sorry if I embarrassed you. You see, I'm agraduate student in psychology and I'm studying how people respond toembarrassing situations."
To which he responds, at the top of his lungs, "What do you mean $200?"
#joke
A man went to his doctor to ha...
A man went to his doctor to have his penis examined because it was hurting. After a thorough examination, the doctor told the patient: "I have good news and bad news. Which do you want to hear first?"
"Tell me the good news first," replied the patient.
"The good news," said the doctor, "is that we won't have to cut it off."
"Thank God," replied the patient. "Then what's the bad news?"
"It'll fall off by itself in a few days" replied the doctor.
Florida Minister...
A minister in Florida lamented that it was difficult to get his message across to his local congregation:
"It's so beautiful here in the winter," he said, "that heaven doesn't interest them that much."
"And it's so hot here in the summer that hell doesn't really scare them either."
Teacher : "Now, Sam, tell me f...
Teacher : "Now, Sam, tell me frankly do you say prayers before eating?"
Sam : "No sir, I don't have to, my mom is a good cook."

Confession
A man enters the confessional and says 'Bless me father for I have sinned; it has been one month since my last confession. I've had sex with Fannie Green every week for the last month.
The Mystery of Childbirth
A boy is writing a paper on childbirth and asks his parents, How was I born?
His mother awkwardly answers, The stork brought you.
Oh, says the boy. Well, how were you and Daddy born?
Oh, the stork brought us, too, and Grandpa and Grandma.
The boy begins his paper, This report has been very difficult to write due to the fact that there hasnt been a natural childbirth in my family for three generations.
#joke