Happy New Year 2021!!
Immigrant
A Russian arrives in New York City as a new immigrant to the United States .
He stops the first person he sees walking down the street and says, "Thank you Mr. American for letting me into this country, giving me housing, food stamps, free medical care, and a free education!"
The passerby says, "You are mistaken, I am a Mexican."
The man goes on and encounters another passerby. "Thank you for having such a beautiful country here in America ."
The person says, "I not American, I Vietnamese."
The new arrival walks farther, and the next person he sees he stops, shakes his hand, and says, "Thank you for wonderful America !
That person puts up his hand and says, "I am from Middle East .. I am not American."
He finally sees a nice lady and asks, "Are you an American?"
She says, "No, I am from Africa
Puzzled, he asks her, "Where are all the Americans?
The African lady checks her watch and says, "Probably at work."
#joke
Quitting a job I don't l...
Quitting a job I don't like is my only resign for leaving!
Funny video of the day - Funny video of the day Monday, 26 April 2010

Sitting on the side of th...
Sitting on the side of the highway waiting to catch speeding drivers, a State Police Officer sees a car puttering along at 22 MPH. He thinks to himself, this driver is just as dangerous as a speeder!" So he turns on his lights and pulls the driver over. Approaching the car, he notices that there are five old ladies -- two in the front seat and three in the back -- wide eyed and white as ghosts. The driver, obviously confused, says to him, Officer, I don't understand, I was doing exactly the speed limit! What seems to be the problem? "Ma'am," the officer replies, you weren't speeding, but you should know that driving slower than the speed limit can also be a danger to other drivers. Slower than the speed limit? No sir, I was doing the speed limit exactly... Twenty-two miles an hour! "The old woman says a bit proudly. The State Police officer, trying to contain a chuckle explains to her that 22" was the route number, not the speed limit. A bit embarrassed, the woman grinned and thanked the officer for pointing out her error. But before I let you go, Ma'am, I have to ask... Is everyone in this car OK? These women seem awfully shaken and they haven't muttered a single peep this whole time, "the officer asks. Oh, they'll be all right in a minute officer. We just got off Route 119."
#joke
After making love, the woman s...
After making love, the woman said the man, "So, you're a doctor?"
"That's right," replied the doctor smugly. "Betcha don't know what kind of doctor."
"Ummm...I'd say that you're an anesthesiologist."
"Yep, that's right! Good guess! How did you know?" asked the guy.
"Because throughout the entire procedure, I didn't feel a thing."
The only cow in a small Kentuc...
The only cow in a small Kentucky town stopped giving milk. The people did some research and found that they could buy a cow just across the state line in Illinois for $200.
They brought the cow from Illinois and the cow was wonderful. It produced lots of milk all of the time, and the people were very happy.
They decided to acquire a bull to mate with the cow to produce more cows like it. They would never have to worry about their milk supply again.
They bought the bull and put it in the pasture with their beloved cow. However, whenever the bull tried to mount the cow, the cow would move away. No matter what approach the bull tried, the cow would move away from the bull and he could not succeed in his quest. The people were very upset and decided to ask the Vet, who was very wise, what to do.
They told the Vet what was happening. "Whenever the bull tries to mount our cow, she moves away. If he approaches from the back, she moves forward. When he approaches her from the front, she backs off. An attempt from the side, she walks away to the other side."
The Vet thought about this for a minute and asked, "Did you by chance, buy this cow in Illinois?"
The people were dumbfounded, since no one had ever mentioned where they bought the cow. "You are truly a wise Vet," they said. "How did you know we got the cow in Illinois?"
The Vet replied with a distant look in his eye, "My wife is from Illinois."
#joke
Margaret Smith: Jewish Mom, Irish Catholic Dad
I actually come from a mixed marriage. My moms Jewish and my dads Irish Catholic alcoholic, so I whine on the inside.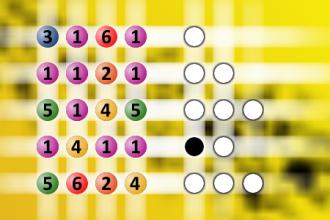 Find the right combination
The computer chose a secret code (sequence of 4 digits from 1 to 6). Your goal is to find that code. Black circles indicate the number of hits on the right spot. White circles indicate the number of hits on the wrong spot.
An elderly married couple...
An elderly married couple scheduled their annual medical examination the same day so they could travel together. After the husband's examination, the doctor then said to him, "You appear to be in good health. Do you have any medical concerns that you would like discuss with me?"
"In fact, I do," said the man. "After I have sex with my wife for the first time, I am usually hot and sweaty. And then, after I have sex with my wife the second time, I am usually cold and chilly."
"This is very interesting," replied the doctor. "Let me do some research and get back to you."
After examining the elderly wife, the doctor said to her, "Everything appears to be fine. Do you have any medical concerns that you would like to discuss with me?"
The lady replied that she had no questions nor concerns. The doctor then asked, "Your husband had an unusual concern. He claims that he is usually hot and sweaty after having sex the first time with you and then cold and chilly after the second time. Do you know why?"
"Oh that old buzzard!" she replied.
"That's because the first time is usually in July and the second time is usually in December!"
Deep Thoughts 10
The memories of my family outings are still a source of strength to me. I remember we'd all pile into the car - I forget what kind it was - and drive and drive. I'm not sure where we'd go, but I think there were some trees there. The smell of something was strong in the air as we played whatever sport we played. I remember a bigger, older guy we called "Dad." We'd eat some stuff, or not, and then I think we went home. I guess some things never leave you.
If a kid asks where rain comes from, I think a cute thing to tell him is "God is crying." And if he asks why God is crying, another cute thing to tell him is "probably because of something you did."
Contrary to what most people say, the most dangerous animal in the world is not the lion or the tiger or even the elephant. It's a shark riding on an elephant's back, just trampling and eating everything they see.
As we were driving, we saw a sign that said, "Watch for Rocks." Martha said it should read "Watch for Pretty Rocks." I told her she should write in her suggestion to the highway department, but she started saying it was a joke - just to get out of writing a simple letter! And I thought I was lazy!
One thing kids like is to be tricked. For instance, I was going to take my little nephew to Disneyland, but instead I drove him to an old burned-out warehouse. "Oh, no," I said, "Disneyland burned down." He cried and cried, but I think deep down he thought it was a pretty good joke. I started to drive over to the real Disneyland, but it was getting pretty late.
If you saw two guys named Hambone and Flipper, which one would you think liked dolphins the most? I'd say Flipper, wouldn't you? You'd be wrong, though. It's Hambone.
I wish a robot would get elected president. That way, when he came to town, we could all take a shot at him and not feel too bad.
As the evening sky faded from a salmon color to a sort of flint gray, I thought back to the salmon I caught that morning, and how gray he was, and how I named him Flint.
#joke
Lesbians
What do you call a lesbian with a strong, long tongue?
answer: talented & available
A husband and wife at a hotel ...
A husband and wife at a hotel asked for a 6am alarm call. On the stroke of 6, the phone rang and a voice said: "This is your wake-up call." The guest said thanks and put the phone down. A minute later the phone rang again and the voice said: "This is your wake-up call." Annoyed, the husband said: "You phoned only a minute ago." "I know," replied the receptionist, "but there are two of you."
#joke
A fellow bought a new Mercedes...
A fellow bought a new Mercedes and was out on the Yellowhead for a nice evening drive. The top was down, the breeze was blowing through his hair and he decided to open her up. As the needle jumped up to 80 mph he suddenly saw a flashing red and blue light behind him.
"There ain't no way they can catch a Mercedes," he thought to himself and opened her up further. The needle hit 90, 100 110 and finally 120 with the lights still behind him. "What in heck am I doing?" he thought and pulled over.
The Mountie came up to him, took his license without a word and examined it and the car. "I've had a tough shift and this is my last pull over. I don't feel like more paperwork so if you can give mean excuse for your driving that I haven't heard before you can go."
"Last week my wife ran off with a cop," the man said, "and I was afraid you were trying to give her back!"
"Have a nice night", said the officer.
#joke
Fat free....
I stopped at a fast-food restaurant recently. I was fascinated by a sign which offered Fat-Free French Fries. I decided to give them a try.
I was dismayed when the clerk pulled a basket of fries from the fryer, which was dripping with fat. He filled a bag with these fries and put them in my order.
"Just a minute!" I said. "Those aren't fat-free."
"Yes, they are. We only charge for the potatoes . . . the fat is free!"
#joke
One day a little girl was sitt...
One day a little girl was sitting and watching her mother do the dishes at the kitchen sink. She suddenly noticed that her mother had several strands of white hair sticking out in contrast on her brunette head.
She looked at her mother and inquisitively asked, "Why are some of your hairs white, Mom?"
Her mother replied, "Well, every time that you do something wrong and make me cry or unhappy, one of my hairs turns white." The little girl thought about this revelation for a while and then said,
"Momma, how come ALL of grandma's hairs are white?"
#joke
Honest Bumper Stickers
-- All men are idiots, and I married their king.
-- Your kid may be an honors student, but youre still an idiot.
-- I brake for no apparent reason.
-- Time is what keeps everything from happening all at once.
-- Out of my mind. Back in five minutes.
-- I didnt fight my way to the top of the food chain to be a vegetarian.
-- Women who seek to be equal to men lack ambition.
-- Reality is a crutch for people who cant handle drugs.
-- I dont suffer from insanity, I enjoy every minute of it.
-- Hard work pays off in the future. Laziness pays off NOW.
-- Give me ambiguity or give me something else.
-- Always remember youre unique, just like everyone else.
-- Puritanism: the haunting fear that someone somewhere may be happy.
-- Consciousness cuts into my napping.
-- Beauty is in the eye of the beer holder.
-- There are 3 kinds of people: those who can count and those who cant.
-- Keep honking. Im reloading.
Fifteen minutes into the fligh...
Fifteen minutes into the flight from New York to Phoenix, the captain announced, "Ladies and gentlemen, one of our engines has failed. There is nothing to worry about. Our flight will take an hour longer than scheduled, but we still have three engines left."