Twins
There was an old man whose family could no longer afford to take care of him. So the family decided that a nusring for the aged would be appropriate.
Of course the old man rejected the idea, but no sooner he was convinced that it was the right thing to do. On his first day at the home, he spent most of his time laying in bed reflecting on life, feeling lonely. A while later, an orderly stopped by to seee how the old man's first day was going.
"How you doing today?", she said to the old man, "First day I see". The Old man replied with a nod.
In no time the two began talking up a storm. As the conversation began to drag on, the orderly was eyeing the room filled with fresh flowers, cards and balloons from friends and relatives. She noticed a bowl full of peanuts sitting on top of the table next to the bed, and help herself to a handful.
As the two continued to converse with each other, the orderly kept eating more helpings of the peanuts. She look at her watch and noticed that nearly 2 hours had passed and said, "My goodness, the time has gone by quickly. I have to tend to other people here too." "That's okay.", said the old man, "I feel so much better being able to talk to someone." Looking into the bowl the orderly said, "I feel awful! I ate almost all of your peanuts!" The old man responded, "That's okay. Ever since I got these false teeth, all I could do was suck the chocolate off of them anyhow."
#joke
If the Afghan PM became a traf...
If the Afghan PM became a traffic engineer would they call him Amid Cars Guy?
Funny video of the day - Funny video of the day Tuesday, 07 September 2010
John asks: Why are you drinki...
John asks: Why are you drinking so much?
Joe says: Because I donated my body to science, and I am preserving it until they are ready to use it.

Heart Attack
For those of you who watch what you eat, here's the final word on nutrition and health. It's a relief to know the truth after all those conflicting nutritional studies.
1. The Japanese eat very little fat and suffer fewer heart attacks than Americans.
2. The Mexicans eat a lot of fat and suffer fewer heart attacks than Americans.
3. The Chinese drink very little red wine and suffer fewer heart attacks than Americans.
4. The Italians drink a lot of red wine and suffer fewer heart attacks than Americans.
5. The Germans drink a lot of beers and eat lots of sausages and fats and suffer fewer heart attacks than Americans.
CONCLUSION
Eat and drink what you like.
Speaking English is apparently what kills you.
Spendthrifts
A father and his son were looking at a nativity scene in a London gallery. It was Titian's world-famous painting of the scene at Bethlehem.
The boy said, "Dad, why is the baby lying in such a crude cradle in a pile of straw?"
"Well, son," explained the father, "they were poor, and they couldn't afford anything better."
Said the boy, "Then how could they afford to have their picture painted by such an expensive artist?"

#joke
FOR SALE BY OWNER
FOR SALE BY OWNER
Complete set of Encyclopedia Britannica. 45 volumes.
Excellent condition. $1,000.00 or best offer. No longer needed.
Got married last weekend. Wife knows everything.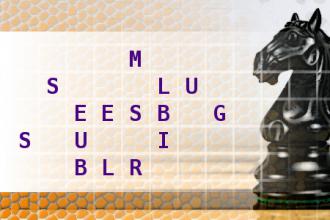 Chess Knight Move
Find the country and its capital city, using the move of a chess knight. First letter is B. Length of words in solution: 7,8.
Fishermen Meet
When Fishermen Meet
"Hiyamac"
"Lobuddy"
"Binearlong?"
"Coplours"
"Cetchenny?"
"Goddafew"
"Kindarthay?"
"Bassencarp"
"Ennysizetoom?"
"Couplapowns"
"Hittinhard?"
"Sordalike"
"Wachoosen?"
"Gobbawurms"
"Fishanonaboddum?"
"Rydononaboddum"
"Whatchadrinkin?"
"Jugajimbeam"
"Igoddago"
"Tubad"
"Seeyaroun"
"Yeahtakideezy"
"Guluck"
#joke
Daniel Tosh: Saw Myself Naked
Saw myself naked in front of a mirror a couple days ago -- thats not the joke, thats what we called the setup. I saw myself naked, and I said, Holy cow, Im The White Man. Ive heard a lot of bad things about you, cracka.
Top 10 things that sound dirty...
Top 10 things that sound dirty at Thanksgiving but aren't...
10. "Talk about a huge breasts!"
9. "It's a little dry, do you still want to eat it?"
8. "Don't play with your meat."
7. "Just spread the legs open & stuff it in."
6. "I didn't expect everyone to come at once!"
5. "You still have a little bit on your chin."
4. "How long will it take after you stick it in?"
3. "You'll know it's ready when it pops up."
2. "That's the biggest one I've ever seen!"
1. "How long do I beat it before it's ready?"
Three convicts were on the way...
Three convicts were on the way to prison. They were each allowed to take one item with them to help them occupy their time whilst stuck behind bars. On the bus, one turned to another and said, "So, what did you bring?"
The second convict pulled out a box of paints and stated that he intended to paint anything he could. He wanted to become the "Grandma Moses of Jail."
Then he asked the first, "What did you bring?"
The first convict pulled out a deck of cards and grinned and said, "I brought cards. I can play poker, solitaire and gin, and any number of games."
The third convict was sitting quietly aside grinning to himself. The other two took notice and asked, "Why are you so smug? What did you bring?"
The guy pulled out a box of tampons and smiled. "I brought these."
The other two were puzzled and asked, "What can you do with those?"
He grinned and pointed to the box and said, "Well according to the box, I can go horseback riding, swimming, roller-skating..."
#joke
An Englishman wanted to become...
An Englishman wanted to become an Irishman, so he visited a doctor to find out how to go about this. "Well" said the doctor, "this is a very delicate operation and there is a lot that can go wrong. I will have to remove half your brain". "That's OK" said the Englishman. "I've always wanted to be Irish and I'm prepared to take the risk".
The operation went ahead but the Englishman woke to find a look of horror on the face of the doctor. "I'm so terribly sorry!!" the doctor said. "Instead of removing half the brain, I've taken the whole brain out". The patient replied, "No worries, mate!!"
Q. What's the diffrence betwee...
Q. What's the diffrence between preachers and Christmas trees?
A. They both have balls but just for decoration.
Sex is like money...
Sex is like money:
When you've got it, you don't think of it;
when you haven't any, you think of nothing else.
Many Hands
A Hindu devotee asked God, represented by the multi-armed Lord Narayana, this question. "My dear Lord," he said. "I understand that you have innumerable inconceivable potencies. But out of all of them the energy of light seems to be the most amazing. Light pervades the spiritual world, it illuminates the material universes, and life is impossible without it." He continued, "I would like to know how you make it work."
"Oh, that's easy," was the reply. "Many hands make light work."
#joke
Baby turtle
A baby turtle was standing at the bottom of a large tree and with a deep sigh, started to climb. About an hour later, he reached a very high branch and walked along to the end. He turned and spread all four flippers and launched himself off the branch. On landing at the bottom in a pile of soft, dead leaves, he shook himself off, walked back to the bottom of the tree and with a sigh started to climb.
About an hour later, he again reached the very high branch, walked along, turned, spread his flippers and flung himself off the branch. Again, he landed on the bottom, shook himself off, went to the bottom of the tree, sighed and started climbing.
Watching these proceedings from the end of the branch were two little birds. Mummy bird turned to Daddy bird and said, "Don't you think it's time we told him he was adopted?"
#joke
Just A Juggalo
A man is driving home, when is pulled over by a patrolman for a broken blinker. The cop looks into the guys' car and sees a collection of knives in the backseat.
"Sir," the cop says. "Why do you have all those knives?"
"They're for my juggling act," the man says.
"I don't believe you," says the cop. "Prove it." So the man gets out of his car and begins juggling the knives. At the same time, a car with two guys in it drives by.
"Man," says the first guy. "I'm glad I quit drinking. These new sobriety tests are hard."
#joke