Twins
At the police station, Bubba explained to the police officer why his cousins shot him.
"Well," Bubba began, "We wuz havin' a good time drinking, when my cousin Ray picked up his shotgun and said, 'Hey, der ya fellows wanna go hunting?'"
"And then what happened?" the officer interrupted.
"From what I remember," Bubba said, "I stood up and said, 'Sure, I'm game.'"
#joke
Historical inaccuracies in a f...
Historical inaccuracies in a film remind me of that awful horror movie, Anachronda.
Funny video of the day - Funny video of the day Wednesday, 08 September 2010
Two roofers, Larry and Joe wer...
Two roofers, Larry and Joe were on the roof laying tile, when a sudden win gust came and knocked down their ladder. "I have an idea" said Larry. "We'll throw you down, and then you can pick up the ladder." What, do you thing, I'm stupid? "I have and idea" said Joe. "I'll shine my flashlight, and you can climb down on the beam of light." What, do you think I'm stupid? "You'll just turn off the flashlight when I'm halfway there."
#joke
New CEO
A large company, feeling it was time for a shake-up, hired a new CEO.
The new boss was determined to demonstrate his decision making ability and wanted to immediately take action to rid the company of all slackers.
On a tour of the facilities, the CEO noticed a guy leaning on a wall. The room was full of workers and he wanted to let them know that he meant business.
He walked up to the guy leaning against the wall and asked, 'How much money do you make a week?'
A little surprised, the young man looked at him and replied, 'I make $300 a week. Why?'
The CEO then handed the guy $1,600 in cash and screamed, 'Here's four weeks' pay, now GET THE HELL OUTTA HERE and don't come back.'
Feeling pretty good about himself, the CEO looked around the room and asked, 'Does anyone want to tell me what that goof-ball did here?'
From across the room came a voice, 'Yeah, he's the delivery guy from Domino's Pizza.
#joke
A little boy comes down to bre...
A little boy comes down to breakfast. Since they live on a farm, his mother asks if he had done his chores.
"Not yet," said the little boy. His mother tells him no breakfast till the chores are done.
Well, he's a little pissed, so he goes to feed the chickens, and he kicks a chicken. He goes to feed the pigs, and he kicks a pig. He goes to feed the cows, and he kicks a cow. He goes back in for breakfast, and his mother gives him a bowl of dry cereal.
"How come I don't get any eggs and bacon? Why don't I have any milk in my cereal?" he asks.
"Well," his mother says, "I saw you kick a chicken, so you don't get any eggs for a week. I saw you kick the pig, so you don't get any bacon for a week either. I also saw you kick the cow, so for a week you aren't getting any milk."
Just then, his father comes down for breakfast and kicks the cat halfway across the kitchen.
The little boy looks up at his mother and with a smile says: "Are you going to tell him, or should I?"
#joke
Diagnosis....
The man told his doctor that he wasn't able to do all the things around the house that he used to do. When the examination was complete, he said, "Now, Doc, I can take it. Tell me in plain English what is wrong with me."
"Well, in plain English," the doctor replied, "you're just lazy."
"Okay," said the man. "Now give me the medical term so I can tell my wife."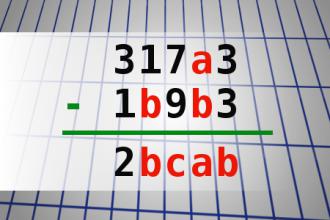 Find number abc
If 317a3 - 1b9b3 = 2bcab find number abc. Multiple solutions may exist.
Women are like
...the stock market
They're irrational and can bankrupt you if you're not careful.
...computers
They take too long to warm up and a better model always comes along once you've already got one.
...Saran Wrap
Useful but clingy.
...horses
Fun to pet and ride but a pain to feed and clean up after.
...parking meters
If you don't feed them with enough money you face serious consequences.
...fax machines
Useful for one very specific purpose but otherwise just high-maintenance paperweights.
...political campaign contributors
If you let them talk about themselves long enough you wind up in bed with them.
...refrigerators
They're always cold and never seem to have a beer when you need one.
...blue jeans
They look good for a while but eventually they fade and have to be replaced.
...country western songs
They're annoying, they all sound alike, but if you really listen to them you'll get depressed and drink a lot
Jeffrey Ross: Stay Free
My favorite band in high school was The Clash. Remember The Clash? They had this one song early on that my boys and I used to use as our little greeting to each other. We thought we were cool. It was called, Stay Free. Wed be like, Hey man, stay free. Then one day, out of nowhere, it became a feminine hygiene product. We couldnt use it anymore. Then we were like, Hey man -- you know.
#joke
Fishermen Meet
When Fishermen Meet
"Hiyamac"
"Lobuddy"
"Binearlong?"
"Coplours"
"Cetchenny?"
"Goddafew"
"Kindarthay?"
"Bassencarp"
"Ennysizetoom?"
"Couplapowns"
"Hittinhard?"
"Sordalike"
"Wachoosen?"
"Gobbawurms"
"Fishanonaboddum?"
"Rydononaboddum"
"Whatchadrinkin?"
"Jugajimbeam"
"Igoddago"
"Tubad"
"Seeyaroun"
"Yeahtakideezy"
"Guluck"
#joke
A blonde and a redhead met in ...
A blonde and a redhead met in a bar after work for a drink, and were watching the 6 O'clock news. A man was shown threatening to jump from the Brooklyn Bridge.
The blonde bet the redhead $50 that he wouldn't jump, and the redhead replied, 'I'll take that bet!'
Anyway, sure enough, he jumped, so the blonde gave the redhead the $50 she owed. The redhead said 'I can't take this, you're my friend.'
The blonde said 'No. A bet's a bet'.
So the redhead said 'Listen, I have to admit, I saw this on the 5 O'clock news, so I can't take your money'.
The blonde replied, 'Well, so did I, but I never thought he'd jump again!'
Zen Sarcasm
1. Do not walk behind me, for I may not lead. Do not walk ahead of me, for I may not follow. Do not walk beside me either. Just pretty much leave me alone.
2 The journey of a thousand miles begins with a broken fan belt or a leaky tire.
3. It's always darkest before dawn, so if you're going to steal your neighbor's newspaper, that's the time to do it.
4. Don't be irreplaceable. If you can't be replaced, you can't be promoted.
5. Always remember that you're unique. Just like everyone else.
6. Never test the depth of the water with both feet.
7. If you think nobody cares if you're alive, try missing a couple of car payments.
8. Before you criticize someone, you should walk a mile in their shoes. That way, when you criticize them, you're a mile away and you have their shoes.
9. If at first you don't succeed...Skydiving is not for you.
10. Give a man a fish and he will eat for a day. Teach him how to fish, and he will sit in a boat and drink beer all day.
WE, the People of the broad, b...
WE, the People of the broad, brown land of Oz, wish to be recognized as a free nation of blokes, sheilas and the occasional trannie.
We come from many lands (although a few too many of us come from New Zealand) and, although we live in the best little country in the world, we reserve the right to bitch and moan about it whenever we bloody like.
We are One Nation but we're divided into many States.
First, there's Victoria, named after a queen who didn't believe in lesbians. Victoria is the realm of Mossimo turtlenecks, cafe latte and grand final day. Its capital is Melbourne, whose chief marketing pitch is that it's "livable".
Next, there's NSW. It is the realm of pastel shorts, macchiato with sugar, thin books read quickly and millions of dancing gay-boys. Its mascots are Bondi lifesavers who pull their Speedos up their cracks to keep the left and right sides of their brains separate.
Down south we have Tasmania, a State based on the notion that the family that bonks together stays together. In Tassie, everyone gets an extra chromosome at conception. Maps of the State bring smiles to the sternest faces.
South Australia is the province of half-decent reds, a festival of foreigners and bizarre axe murders. They had the Grand Prix, but lost it when the views of Adelaide sent the Formula One drivers to sleep at the wheel.
Western Australia is too far from anywhere to be relevant in this document.
The Northern Territory is the red heart of our land. Outback plains, sheep stations, kangaroos, jackaroos, emus, Ulurus and dusty kids with big smiles. Although the Territory is the centrepiece of our national culture, few of us live there and the rest prefer to fly over it on our way to Bali.
And there's Queensland. While any mention of God seems silly in a document defining a nation of half-arsed agnostics, it is worth noting that God probably made Queensland. Why he filled it with dickheads remains a mystery.
We, the Lullaby League of Oz, are united, primarily by the Pacific Highway, whose treacherous twists and turns kill more of us each year than die by murder.
We are united in our lust for international recognition, so desperate for praise we leap in joy when a ragtag gaggle of corrupt IOC officials tells us Sydney is better than Beijing.
We are united by a democracy so flawed that a political party, albeit a redneck gun-toting one, can get a million votes and still not win one seat in Federal Parliament. Desirable, sure. But fair? Not when you consider Brian Harradine can get 24,000 votes and runs the bloody country. Not that we're whingeing.
We've chucked out the concept of "fair go" in the downsized '90s. Instead, we want to make "no worries" our national phrase.
We love sport so much our newsreaders can read the death toll from a sailing race and still tell us who's winning, in the same breath.
We treasure our politicians, who talk about listening with such persistence it's hard to get a word in. We tolerate our Prime Minister, who is not only short but a Methodist, hanging offences in decent countries. And we like watching Parliament on TV because Natasha Stott Despoja is a total spunkrat.
We, the wicked witches of the land of Oz, want to make it clear this continent is ours and always has been. Mind you, Liberal Party polling shows that there were some people here before Captain Cook so we should address the issue once and for all.
While possession is nine-tenths of the law, our ancestors were fortunate enough to discover that genocide, cultural extinguishment, baby theft and flour poisoning make up the other tenth.
So Oz is now ours and that's that. Our midget Methodist master says we have no reason to feel sorry for killing more Aborigines per capita than the Nazis did Jews and Liberal Party polling says we're OK with that.
Why don't we say sorry? In the words of our PM - because, because, because, because, because. Now, can we just drop the whole thing before the Olympics start?
Phew, with that nasty bit out of the way, we the Brain, the Heart and the Nerve of Oz, want the world to know we have the biggest rock, the tastiest pies and the worst-dressed Olympians in the known universe.
We don't know much about art but we know we hate the people who make it. We shoot, we vote. We are girt by sea and pissed by lunchtime. And even though we might seem a racist, closed-minded, sports-obsessed little People, at least we're better than the Kiwis.
#joke
Terrorize Telemarketer
Ways to Terrorize a Telemarketer


Tell them to talk VERY SLOWLY, because you want to write EVERY WORD down.

Insist that the caller is really your buddy Leon, playing a joke. "Come on Leon, cut it out! Seriously, Leon, how's your momma?"

Tell the telemarketer you are busy at the moment and ask them if they will give you their HOME phone number so you can call them back. When the telemarketer explains that they cannot give out their HOME number, you say "I guess you don't want anyone bothering you at home, right?" The telemarketer will agree and you say, "Now you know how I feel!"

After the telemarketer gives their spiel, ask him/her to marry you. When they get all flustered, tell them that you could not just give your credit card number to a complete stranger.

Tell the telemarketer you are on "home incarceration" and ask if they could bring you a case of beer and some chips.

If they want to loan you money, tell them you just filed for bankruptcy and you could sure use some money.

If MCI calls trying to get you to sign up for the Family and Friends plan, reply, in as SINISTER a voice as you can, "I don't have any friends... would you be my friend?"

Cry out in surprise, "Judy! Is that you? Oh my God! Judy, how have you been?" Hopefully, this will give Judy a few brief moments of pause as she tries to figure out where the hell she could know you from.

If they say they're John Doe from XYZ Company, ask them to spell their name. Then ask them to spell the company name. Then ask them where it is located. Continue asking them personal questions or questions about their company for as long as necessary.

When they ask "How are you today?" Tell them! "I'm so glad you asked because no one these days seems to care, and I have all these problems; my arthritis is acting up, my eyelashes are sore, my dog just died..."

Letters from Little Girls to God
Dear God,
Thank you for the baby brother, but I prayed for a puppy.
Joyce
Dear God,
My father told me about being born, but that doesn't sound right. He was kidding, right?
Marsha
Dear God,
Did you mean for the giraffe to look like that or was it an accident?
Norma
Dear God,
Did you really mean, "Do unto others as they do unto you?" Because if you did, then I'm going to fix my brother!
Darla
Dear God,
We read Thomas Edison made light. But in Sunday School they said you did it. So I bet he stole your idea.
Sincerely,
Donna
Dear God,
I bet it is very hard for you to love all of the people in the whole world. There are only four people in our whole family and I can never do it.
Nan
Dear God,
If we come back as something else, please don't let me be Jennifer Horton because I hate her.
Love,
Denise
Dear God,
In Bible times did they really talk that fancy?
Jennifer
Dear God,
What does it mean you are a jealous God? I thought you had everything.
Jane
Dear God,
It rained for our whole vacation and my father was mad! He said some things about you that people are not supposed to say, but I hope you won't hurt him anyway.
Your friend (I'm not going to tell You my name.)
- Joke shared on Beliefnet's Religious Humor page
#joke
Blonde guy
A blond guy and a brunette girl were happily married and about to have a baby.
One day, the wife started having contractions, so the husband rushed her to the hospital. He held her hand as she went through a trying birth.
In the end, there were two little baby boys.
The blond guy turned to his wife and angrily said, "All right, who's the other father?"
Submitted by Calamjo
Edited by Yisman
TIME
A man had been driving all night and by morning was still far from his destination. He decided to stop at the next city he came to, and park somewhere quiet so he could get an hour or two of sleep. As luck would have it, the quiet place he chose happened to be on one of the city's major jogging routes. No sooner had he settled back to snooze when there came a knocking on his window. He looked out and saw a jogger running in place.
"Yes?"
"Excuse me, sir," the jogger said, "do you have the time?"
The man looked at the car clock and answered, "8:15″. The jogger said thanks and left. The man settled back again, and was just dozing off when there was another knock on the window and another jogger.
"Excuse me, sir, do you have the time?"
"8:25!"
The jogger said thanks and left. Now the man could see other joggers passing by and he knew it was only a matter of time before another one disturbed him. To avoid the problem, he got out a pen and paper and put a sign in his window saying, "I do not know the time!"
Once again he settled back to sleep. He was just dozing off when there was another knock on the window.
"Sir, sir? It's 8:45!"
#joke
So Fat
Yo mamma's so fat, when she wears a red dress, the kids in the neighborhood yell, "Hey, Kool-Aid!"
Yo mamma's so fat, when she sat on a rainbow, skittles popped out.
Yo mamma's so fat, even God couldn't lift her spirits!
Yo mamma's so fat, she has her own zip code!
Yo mamma's so fat, it takes a train and two buses to get on her good side.
Yo mamma's so fat, when she stepped in the road and I tried to swerve around her, I ran out of gas!
Yo mamma's so fat, when she walked in front of the TV, I missed five minutes of the show!
Yo mamma's so fat, when she walked into a room, someone said, "Woah! Was that a solar eclipse or did Free Willie just walk in?
Yo mamma's so fat, when she walked into a hotel and asked for a water bed, they put a blanket over the ocean!
Yo mamma's so fat, she rents shade!
Yo mamma's so fat, she invented the lowrider!
Yo mamma's so fat, she tripped over K-Mart, stumbled over Wal-Mart and landed on Target!
Yo mamma's so fat, when she puts on high heels in the morning, by the afternoon they're flats.
Yo mamma's so fat, her picture weighs ten pounds.
Yo mamma's so fat, she tripped over a rock and fell asleep trying to get up!
Yo mamma's so fat, when she stepped on a scale, it said, "to be continued."
Yo mamma's so fat, when she wears a yellow coat, people run after her yelling "taxi!"
Yo mamma's so fat, she's on both sides of the family.
Yo mamma's so fat, when she got lost (amazingly) they had to use all 4 sides of the milk carton.
#joke