Twins
A man was driving along the highway, and saw a rabbit hopping across the middle of the road. He swerved to avoid hitting the rabbit, but unfortunately the rabbit jumped in front of the car and was hit. The driver, being a sensitive man as well as an animal lover, pulled over to the side of the road and got out to see what had become of the rabbit. Much to his dismay, the rabbit was dead. The driver felt so awful he began to cry.
A woman driving down the highway saw the man crying on the side of the road and pulled over. She stepped out of her car and asked the man what was wrong.
"I feel terrible," he explained. "I accidently hit this rabbit and killed it."
The woman told the man not to worry. She knew what to do. She went to her car trunk and pulled out a spray can. She walked over to the limp, dead rabbit, and sprayed the contents of the can onto the rabbit. Miraculously, the rabbit came to life, jumped up, waved its paw at the two humans and hopped down the road. 50 feet away the rabbit stopped, turned around, waved at the two again, hopped down the road another 50 feet, turned, waved, and hopped another 50 feet. The man was astonished. He couldn't figure out what substance could be in the woman's spray can! He ran over to the woman and demanded, " What was in your spray can? What did you spray onto that rabbit?" The woman turned the can around so that the man could read the label. It said:
"'Hare Spray' Restores Life to Dead Hare. Adds Permanent Wave."
#joke
NED: I met a woman with water-...
NED: I met a woman with water-based breast implants!
ED: Really?
NED: It was nice to make her aqua-in-tits!
Funny video of the day - Funny video of the day Thursday, 09 September 2010
Officer to driver going the wr...
Officer to driver going the wrong way up a one way street, "And where do you think you are going?"
Driver: - "I'm not sure, but I must be late as everyone else is coming back."

50-50 partners...
A very successful businessman had a meeting with his new son-in-law. "I love my daughter, and now I welcome you into the family," said the man. "To show you how much we care for you, I'm making you a 50-50 partner in my business. All you have to do is go to the factory every day and learn the operations."
The son-in-law interrupted. "I hate factories. I can't stand the noise."
"I see," replied the father-in-law. "Well then you'll work in the office and take charge of some of the operations."
"I hate office work," said the son-on-law. "I can't stand being stuck behind a desk all day."
"Wait a minute," said the father-in-law. "I just make you half- owner of a moneymaking organization, but you don't like factories and won't work in a office. What am I going to do with you?"
"Easy," said the young man. "Buy me out."
#joke
Dog Steals Roast
A lawyer's dog, running about unleashed, beelines for a butcher shop and steals a roast. Butcher goes to lawyer's office and asks, "if a dog running unleashed steals a piece of meat from my store, do I have a right to demand payment for the meat from the dog's owner?"
The lawyer answers, "Absolutely."
"Then you owe me $8.50. Your dog was loose and stole a roast from me today."
The lawyer, without a word, writes the butcher a check for $8.50 Several days later the butcher opens the mail and finds a bill from the lawyer: $20 due for a consultation.
Jeff Caldwell: Not Good With Computers
Im just not good with computers. I remain not good. I had to call up the tech support guy this week, get some help with the home computer. He starts asking me questions, What kind of operating system have you got there, sir? Uh, electricity, I think. Yeah, Ive been plugging into my wall. Ive been having some luck with that.
#joke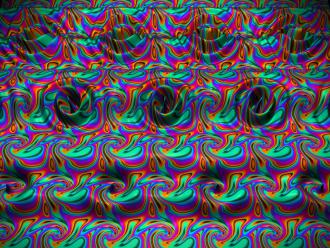 What is hidden in 3D image?
Stereogram - 3D Image
"An elementary school in ...
"An elementary school in Santa Monica is banning tag from the playground. They're afraid that the game could affect children's self esteem. This also could prevent the spread of 'kooties'."
--Jay Leno
A Blonde walks into a Restarau...
A Blonde walks into a Restaraunt, and she goes straight to the bulletin board in the back. The blonde is looking at the bulletin board and she sees a piece of paper that sais "Ocean Cruise Only 5$" She pulls the piece of paper off the wall and goes to the address listed on the back of paper. She walks into the building and hands the secretary the piece of paper. The secretary nods and asks if she had the five dollars. The blonde nods and pulls five dollars out of her pocket and hands it to the secretary. The secretary looks over to a burly black guy reading a news paper. She nods to the black guy. He stood up and nocks the blonde unconcious. When the blonde wakes up she's tied to a log and is floating down river. She started to think that this was a bad idea. When she sees one of her freinds (who is also blonde) tied to a log floating right next to her. In a Joking manner blonde she looks at her freind and says "So do you think they're going to serve us some food on this trip?"
The other blonde replies "They didn't serve any last year."
A Recently Spotted Bumper Sticker:
"Next time you think you're perfect, try walking on water."
Once upon a time in the Kingdo...
Once upon a time in the Kingdom of Heaven, God went missing for Six days. Eventually, Michael the Archangel found him, resting on the seventh day. He inquired of God, "Where have you been?"
God sighed a deep sigh of satisfaction and proudly pointed downwards through the clouds, "Look Michael, look what I've made." Archangel Michael looked puzzled and said, "What is it?"
"It's a planet, replied God, "and I've put LIFE on it. I'm going to call it Earth and it's going to be a great place of balance".
"Balance?" inquired Michael, still confused.
God explained, pointing to different parts of Earth.
"For example, Northern Europe will be a place of great opportunity and wealth while Southern Europe is going to be poor; the Middle East over there will be a hot spot."
"Over there I've placed a continent of white people and over there is a continent of black people" God continued, pointing to different countries. "And over there, I call this place America.
North America will be rich and powerful and cold, while South America will be poor, and hot and friendly. And the little spot in the middle is Central America which is a Hot spot. Can you see the balance?"
"Yes" said the Archangel, impressed by Gods work, then he pointed to a smallish land mass and asked, "What's that one?"
"Ah" said God. "That's New Zealand, the most glorious place on Earth. There are beautiful mountains, rainforests, rivers, streams and an exquisite coast line. The people are good looking, intelligent and humorous and they're going to be found traveling the world. They'll be extremely sociable, hard-working and high-achieving, and they will be known throughout the world as diplomats and carriers of peace. I'm also going to give them super- human, undefeatable, strong in character citizens who will be admired and feared by all who come across them".
Michael gasped in wonder and admiration but then exclaimed, "You said there will be BALANCE!"
God replied wisely. "Wait until you see the buggers I'm putting next to them"
#joke
The Biology Song 02
To the tune of "Send in the Clowns"
So this is it,
A few bases to go,
I've tried and I've tried but the techniques's so slow.
I've poured my gels,
I've run quite a few.
Full of bubbles, they leaked and why I never knew.
But where are the clones?
I've got to have clones,
The end is so near.
Is my broth rich?
Does it look clear?
Contamination is something I always fear.
Are my plaques blue?
They shouldnt be,
No DNA left I'm down on my knees,
So give me some clones?
I've got to have clones,
The end is so near.
I've had bad preps,
There've been quite a few,
Ive tried all brands of PEG, fresh buffers, but nothing would do.
And though they say,
Solutions will keep,
In my hands they last no more than a week.
So send me some clones?
I've got to have clones,
The end is so near.
I've read my gels,
My eyes are quite sore,
There's still sequence missing, of this I am sure.
But there it is!!
Finally done.
I've conquered this fragment and now I have won.
Whats's this I hear?
A voice from the door.
My supervisor wants 10kb more!
So give me some clones,
I've got to have clones,
Or I'll be here all year!
Bill Kalionis
#joke
Writing letters to son
The following is supposedly a true story. To be included, besides being true, the story is most likely strange, weird, surprising, or funny.
One student fell into a cycle of classes, studying, working and sleeping.
Didn't realize how long he had neglected writing home until he received the following note:
"Dear Son, Your mother and I enjoyed your last letter. Of course, we were much younger then, and more impressionable. Love, Dad."
#joke
Who Is the Real Virgin?

A ten-year-old, under the tutelage of her grandmother, was becoming knowledgeable about the Bible.

But one day, she surprised her grandmother by asking, "Which virgin was the mother of Jesus? The Virgin Mary or the King James Virgin?"

Two fraternity brothers...
Two fraternity brothers decide to go sailing one afternoon and become lost. After twenty hours with nothing to eat or drink, one of them spots a lamp floating by. He picks it up and a genie pops out. The genie notices the poor condition of the brothers and grants them one wish between the two of them.
After a lot of arguing over who gets the wish, one of them blurts out, "I wish the ocean was made of beer."
Magically, the ocean turns to beer.
Infuriated, the other guy yells, "You idiot! Now we have to piss in the boat!"
A Collection Of Insults
You must have gotten up on the wrong side of the cage this morning.
I would ask you how old you are, but I know you can't count that high.
In the next life, you'll blaze a way for us.
You are master in your own house -- the doghouse!
When you die, I'd like to go to your funeral, but I'll probably have to go to work that day. I believe in business before pleasure.
You make me believe in reincarnation. Nobody can be as stupid as you in one lifetime.
Believe me, I don't want to make a monkey out of you. Why should I take all the credit?
I hear you are very kind to animals, so please give that face back to the gorilla.
Keep talking. I always yawn when I'm interested.
Some day you will find yourself -- and wish that you hadn't.
People clap when they see you -- their hands over their eyes or ears.
Whatever is eating you -- must be suffering horribly.
#joke