Growing Tomatoes
A beautiful woman loved growing tomatoes, but couldn't seem to get her tomatoes to turn red. One day, while taking a stroll, she came upon a gentleman neighbor who had the most beautiful garden full of huge red tomatoes.
The woman asked the gentlemen,"What do you do to get your tomatoes so red?" The gentlemen responded, "Well, twice a day I stand in front of my tomato garden naked in my trench coat and flash them. My tomatoes turn red from blushing so much."
Well, the woman was so impressed; she decided to try doing the same thing to her tomato garden to see if it would work. So twice a day for two weeks she flashed her garden hoping for the best.
One day the gentleman was passing by and asked the woman, "By the way, how did you make out? Did your tomatoes turn red?"
No", she replied, "but my cucumbers are enormous."
#joke
A male strip club is a real do...
A male strip club is a real dong show.
Funny video of the day - Funny video of the day Saturday, 11 September 2010

Friendship between women:...
Friendship between women: A woman doesn't come home one night. The next day she tells her husband that she had slept over at a girlfriend's house.
The husband calls his wife's 10 best friends. None of them know anything about it.
Friendship between men: A man doesn't come home one night. The next day he tells his wife that he had slept over at a friend's house. The wife calls her husband's 10 best men friends. Eight of them confirm that he had slept over, and two claim that he was still there.
#joke
Three Bears
It's a sunny morning in the Big Forest and the Bear family are just waking up. Baby Bear goes downstairs and sits in his small chair at the table. He looks into his small bowl. It is empty!
"Who's been eating my porridge?!" he squeaks.
Daddy Bear arrives at the table and sits in his big chair. He looks into his big bowl. It is also empty!
"Who's been eating my porridge?!" he roars.
Mummy Bear puts her head through the serving hatch from the kitchen and screams, "For God's sake, how many times do we have to go through this? I haven't made the porridge yet!!"
#joke
A Collection Of Insults
At least you are not obnoxious like so many other people -- you are obnoxious in a different and worse way!
You have a lot of well-wishers. They would all like to throw you down one.
You remind me of Moses. Every time you open your mouth, the bull rushes.
They say that travel broadens oneself. You must have been around the world.
Look through your towels and tell us the name of the hotel you stayed at in Detroit.
You always have your ear to the ground. So how's life in the gutter?
Heard your family went to a restaurant where they serve crabs just so they could bring you along.
Before you came along we were hungry. Now we are fed up.
You are pretty as a picture and we'd love to hang you.
You will never be able to live down to your reputation!
Any friend of yours -- is a friend of yours.
Someone said that you are not fit to sleep with pigs. I stuck up for the pigs.
#joke
Starting At 8:05
A friend and I were golfing one day when at the 18th hole this guy comes out of nowhere and asks if he could join us. I tell him, "Well, we're just about done but if you want to join us tomorrow you can. We start at 8 o'clock."
He said, "Great! I'll be here at 8 o'clock, maybe 8:05..."
So next day he shows up at 8 o'clock and plays scratch golf; he was good. We were going to play again the next day and we invited him to join us. He said, "Great! I'll be here at 8 o'clock, maybe 8:05..."
So the next day he shows up at 8 o'clock, plays with his opposite hand, and shoots under par! I'm a bit amazed with this guy so I ask him, "You're a pretty good golfer, beating us with scratch golf and then showing-off by playing just as good with your opposite hand. Just what is you secret?"
He said, "Well...when I wake up in the morning and my wife is lying on her left side, I play left-handed. Or when I wake up in the morning and my wife is laying on her right side, I play right-handed."
So I ask, "what if she is laying on her back?"
"That's when I get here at 8:05."
#joke
FLEX WORDLE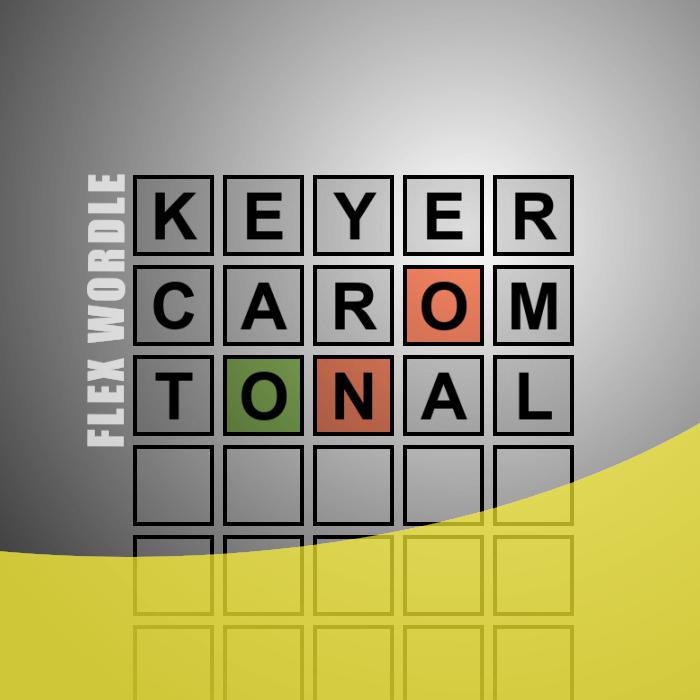 Guess the
WORDLE
in 3 tries. After each guess, the color of the tiles will change to show how close your guess was to the solution.
Dan Naturman: Airplane Movie Safety
Last time I was on JetBlue, there was a dude next to me who looked a little suspicious. I was nervous. He was watching a movie, though; so Im thinking, Would a hijacker watch a movie? Probably not, right?... But you know its a good movie if you land, and hes like, Oh my God, I forgot to hijack the plane.
#joke
FIght Competition #jokes #humor
The shopkeeper was dismayed when a brand new business much like his own opened up next door and erected a huge sign which read BEST DEALS.
He was horrified when another competitor opened up on his right, and announced its arrival with an even larger sign, reading LOWEST PRICES.
The shopkeeper was panicked, until he got an idea. He put the biggest sign of all over his own shop-it read... Main entrance.
#joke
A little boy asked his teacher...
A little boy asked his teacher if he could go to the bathroom,so she said yes. When he went to wipe his bum there was no toilet paper so he used his hands. When he got back to class his teacher asked, 'What do you have in your hand.'The boy said, 'A little leprechaun and if I open my hand he'll get scared away.'
He was then sent to the principals office and the principal asked him, 'What do you have in your hand.'
So the little boy said, 'A little leprechaun and if I open my hands he'll get scared away.' He was sent home and his mom asked him 'What do you have in your hand.'
So the little boy said, 'A little leprechaun and if I open my hands he'll get scared away.' He was sent to his room and his dad came in and said, 'What do you have in your hand.' So again the little boy said, 'A little leprechaun and if I open my hands he get scared away.'
Then his Dad got really mad and yelled, 'Open your hands!'
And the little boy said, 'Look Dad you scared the crap out of him.'
#joke
Two Aussie cattle drovers stan...
Two Aussie cattle drovers standing in an Outback bar.
One asked, "What are you up to, Mate?"
Ahh, I'm takin' a mob of 6000 from Goondiwindi to Gympie."
"Oh yeah ... and what route are you takin'?"
"Ah, probably the Missus; after all, she stuck by me durin' the drought."
#joke
A boy in Australia was raised ...
A boy in Australia was raised in the outback by his father. He'd just turned 18 and had yet to ever see a woman in his life. His father decided that it was time that his boy went to the big city to meet some women.
The two got into the city and the boy was dumbfounded by the plethora of women. His father told him to go up to their hotel room and he would have his "birthday present" sent up. The boy was waiting in the room when the prostitute made her entrance.
She started to undress and the boy suddenly realized what had been happening to his body in the last five years. So, he went over and opened the window and started to throw things outside. I mean everything. He started with the lamp, then threw out the bed sheets, then the desk, then the pillows, then the mattress, and then the TV. He was starting to move the bed frame over to the window when the prostitute asks what he's doing.
"If this is anything like it is with the kangaroos, then we're gonna need a lot of room."
#joke
Kissing a Nun
A cabbie picks up a nun. She gets into the cab, and the cab driver won't stop staring at her. She asks him why is he staring and he replies, "I have a question to ask you but I don't want to offend you."
She answers, "My dear son, you cannot offend me. When you're as old as I am and have been a nun a long as I have, you get a chance to see and hear just about everything. I'm sure that there's nothing you could say or ask that I would find offensive."
"Well, I've always had a fantasy to have a nun kiss me."
She responds, "Well, let's see if you qualify. #1, you have to be single and #2 you must be Catholic."
The cab driver is very excited and says, "Yes, I am single and I'm Catholic too!"
The nun says "OK, pull into the next alley."
He does and the nun fulfills his fantasy. But when they get back on the road, the cab driver starts crying.
"My dear child, said the nun, why are you crying?"
"Forgive me sister, but I have sinned. I lied, I must confess, I'm married and I'm Jewish."
The nun says, "That's OK, my name is Kevin and I'm on my way to a costume party."
- Joke shared by Beliefnet member socaliflady
#joke
Humor About The Irishmen
There is a story about the Irishman who drowned while he was digging a grave for a friend. He'd wanted to be buried at sea.

"Well, Mrs. O'Connor, so you want a divorce?" the solicitor questioned his client.
"Tell me about it. Do you have a grudge?"
"Oh, no," replied Mrs. O'Connor. "Shure now, we have a carport."
The solicitor tried again. "Well, does the man beat you up?"
"No, no," said Mrs. O'Connor, looking puzzled. "Oi'm always first out of bed."
Still hopeful, the solicitor tried once again.
"What I'm trying to find out are what grounds you have."
"Bless ye, sor. We live in a flat -- not even a window box, let alone grounds."
"Mrs. O'Connor," the solicitor said in considerable exasperation, "you need a reason that the court can consider.
"What is the reason for you seeking this divorce?"
"Ah, well now," said the lady,
"Shure it's because the man can't hold an intelligent conversation."



#joke
A ten-year-old Jewish boy was ...
A ten-year-old Jewish boy was failing math. His parents tried everything from tutors to hypnosis; but to no avail. Finally, at the insistence of a family friend, they decided to enroll their son in a private Catholic school.
After the first day, the boy's parents were surprised when he walked in after school with a stern, focused and very determined expression on his face.
He went straight past them, right to his room and quietly closed the door. For nearly two hours he toiled away in his room with math books strewn about his desk and the surrounding floor. He emerged long enough to eat, and after quickly cleaning his plate, went straight back to his room, closed the door and worked feverishly at his studies until bedtime.
This pattern of behavior continued until it was time for the first quarter's report card. The boy walked in with it unopened, laid it on the dinner table and went straight to his room.
Cautiously, his mother opened it and, to her amazement, she saw a large red 'A' under the subject of Math. Overjoyed, she and her husband rushed into their son's room, thrilled at his remarkable progress.
Was it the nuns that did it? the father asked. The boy shook his head and said "No."
Was it the one-to-one tutoring? The peer-mentoring? "No."
The textbooks? The teachers? The curriculum?
"No," said the son. "On that first day, when I walked in the front door and saw that guy nailed to the plus sign, I KNEW they were serious!
#joke
Elaine went to visit the...
Elaine went to visit the much heralded local fortune-teller.
In a dark and hazy room, peering into a crystal ball, the mystic delivered grave news: "There's no easy way to say this, so I'll just be blunt - prepare yourself to be a widow. Your husband will die a violent and horrible death this year."
Visibly shaken, Elaine stared at the woman's haggard face, then at the single, flickering candle, then down at her hands.
She took a few deep breaths to compose herself. She simply had to know. She met the fortune teller's gaze, steadied her voice and asked, "Will I be acquitted?"
#joke
Grass Eater
A man was riding in the back of his limousine when he saw a man eating grass by the roadside. He ordered his driver to stop and he got out to investigate.
"Why are you eating grass?" he asked the man.
"I don't have any money for food," the poor man replied.
"Oh, please come to my house!"
"But sir, I have a wife and four children..."
"Bring them along!" the rich man said.
They all climbed into the limo. Once underway, the poor fellow said, "Sir, you are too kind. Thank you for taking all of us in."
The rich man replied, "No, you don't understand. The grass at my house is over three feet tall!"
#joke
Join us on WhatsApp