Be prepared for Christmas, check out our latest
Christmas jokes
and quotes on:
Christmas jokes collection
The fruit juice entrepreneur w...
The fruit juice entrepreneur was quite snappley dressed.
The factory foreman inspected ...
The factory foreman inspected the shipment of crystal vases leaving the plant, and approached his new packer. He put his arm around the man's shoulder and said,
"Well, Ole, I see you did what I asked. Stamped the top of each box, 'This Side Up,
Handle With Care.'"
"Yes sir," the worker replied. "And just to make sure, I stamped it on the bottom too."
#joke
Funny video of the day - Funny video of the day Wednesday, 10 November 2010
Bumper Stickers
*Forget world peace. Visualize using your turn signal.
*I used to have a handle on life, but it broke.
*WANTED: Meaningful overnight relationship.
*Beauty is in the eye of the beer holder.
*IRS We've got what it takes to take what you've got.
*Out of my mind...Back in five minutes.
*Hang up and drive.
*I took an IQ test and the results were negative.
*Where there's a will...I want to be in it.
*It's lonely at the top, but you eat better.
*Ever stop to think, and forget to start again?
*Be nice to your kids...They will pick out your nursing home.
*Always remember you're unique...Just like everyone else.
*If you think nobody cares, try missing a couple of car payments.
*I've taken a vow of poverty. To annoy me, send money.
*Never take life seriously.
*Nobody gets out alive, anyway.
*Never knock on Death's door: Ring the doorbell and run (he hates that)
*I feel like I'm diagonally parked in a parallel universe.
*You have the right to remain silent.
*Anything you say will be misquoted, then used against you.
*You're just jealous because the voices only talk to me.
*The more you complain, the longer God lets you live.
*Procrastination is the art of keeping up with yesterday.
*If you try to fail, and succeed, which have you done?
*The early bird may get the worm, but the second mouse gets the cheese.
*Change is inevitable, except from vending machines.
*Men are from earth. Women are from earth. Deal with it.
*CATS: The other white meat
*I'm an imbecile and I vote
*Money Isn't Everything... But it Sure Keeps the Kids In Touch
*If you lived in your car, you'd be home by now
*Saw it... Wanted it... Had a fit... Got it!
*WARNING! Driver only carries $20.00 in ammunition
*If you can read this, I can slam on my brakes and sue you!
*Your gene pool needs a little chlorine.
*You're just jealous because the voices are talking to me not you!
*You are depriving some poor village of its IDIOT
*Grow your own dope, plant a man
When I was 16, I got a boyfrie...
When I was 16, I got a boyfriend, but there was no passion. So I decided I needed a passionate guy with a zest for life.
In college, I dated a passionate guy, but he was too emotional. Everything was an emergency, he was a drama queen, cried all the time and threatened suicide. So I decided I needed a boy with stability.
When I was 25, I found a very stable guy but he was boring. He was totally predictable and never got excited about anything. Life became so dull that I decided I needed a boy with some excitement.
When I was 28, I found an exciting boy, but I couldn't keep up with him. He rushed from one party to another, never settling on anything. He did mad impetuous things and flirted with everyone he met. He made me miserable as often as happy. He was great fun initially and very energetic, but directionless. So I decided to find a boy with some ambition.
When I turned 31, I found a smart ambitious boy with his feet planted firmly on the ground so I moved in with him. He was so ambitious that he dumped me and took everything I owned.
I am older now and am looking for a guy with a very big dick.
#joke
Marriage...A childs perspective
HOW DO YOU DECIDE WHO TO MARRY? (written by kids)
You got to find somebody who likes the same stuff. Like, if you like sports, she should like it that you like sports, and she should keep the chips and dip coming. -- Alan, age 10
No person really decides before they grow up who they're going to marry. God decides it all way before, and you get to find out later who you're stuck with. -- Kristen, age 10
WHAT IS THE RIGHT AGE TO GET MARRIED? Twenty-three is the best age because you know the person FOREVER by then. -- Camille, age 10
HOW CAN A STRANGER TELL IF TWO PEOPLE ARE MARRIED? You might have to guess, based on whether they seem to be yelling at the same kids. -- Derrick, age 8
WHAT DO YOU THINK YOUR MOM AND DAD HAVE IN COMMON? Both don't want any more kids. -- Lori, age 8
WHAT DO MOST PEOPLE DO ON A DATE? Dates are for having fun, and people should use them to get to know each other. Even boys have something to say if you listen long enough. -- Lynnette, age 8 (isn't she a treasure)
On the first date, they just tell each other lies and that usually gets them interested enough to go for a second date. -- Martin, age 10
WHAT WOULD YOU DO ON A FIRST DATE THAT WAS TURNING SOUR? I'd run home and play dead. The next day I would call all the newspapers and make sure they wrote about me in all the dead columns. -- Craig, age 9
WHEN IS IT OKAY TO KISS SOMEONE? When they're rich. -- Pam, age 7
The law says you have to be eighteen, so I wouldn't want to mess with that. - - Curt, age 7
The rule goes like this: If you kiss someone, then you should marry them and have kids with them. It's the right thing to do. -- Howard, age 8
IS IT BETTER TO BE SINGLE OR MARRIED? It's better for girls to be single but not for boys. Boys need someone to clean up after them. -- Anita, age 9 (bless you child)
HOW WOULD THE WORLD BE DIFFERENT IF PEOPLE DIDN'T GET MARRIED? There sure would be a lot of kids to explain, wouldn't there? -- Kelvin, age 8
And the #1 Favorite is........ HOW WOULD YOU MAKE A MARRIAGE WORK? Tell your wife that she looks pre tty, even if she looks like a dump truck. -- Ricky, age 10
#joke
Repairing The Phone
A friend of mine was a frequent user of a pay telephone at a popular truck stop, and was greatly inconvenienced when the phone went out of commission.
Repeated requests for repair brought only promises.
After several days, the phone company was again contacted and told that there was no longer a rush.
The phone was now working fine--except that all money was being returned upon completion of each call.
A repairman arrived within the hour!
#joke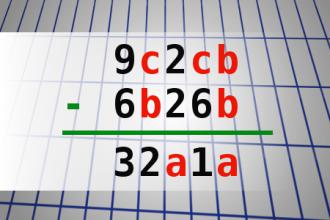 Find number abc
If 9c2cb - 6b26b = 32a1a find number abc. Multiple solutions may exist.
Denis Leary: Older Generation of Fun
Some kid took the time and the imagination to go down to the supermarket and figure out, if you take a whipped cream can container and you press the nozzle down just enough before the whipped cream comes out, some gas comes out -- you snort the gas, you get high for five seconds. We didnt have MTV. We had the f**king supermarket, thats what we had.
#joke
Twins
AUDI
Accelerates Under Demonic Influence
Always Unsafe Designs Implemented
All Un-informed Drivers Insulted
All Unnecessary Devices Installed
BMW
Big Money Works
Bought My Wife
Brutal Money Waster
BUICK
Big Ugly Indestructable Car Killer
CHEVROLET
Can Hear Every Valve Rap On Long Extended Trips Cheap, Hardly Efficient, Virtually Runs On Luck Every Time
DODGE
Dumb Old Dirty Gas Eater
Drips Oil, Drops Grease Everywhere
FORD
Fix Or Repair Daily
Found On Road, Dead
Fast Only Rolling Downhill
GM
General Maintenance
GMC
Garage Man's Companion
HONDA
Had One Never Did Again
Happy Owners Never Drive Anything else.
Hated Old Noisy Damaged Auto
HYUNDAI
Hope You Understand Nothing's Driveable And Inexpensive?
MAZDA
Most Always Zipping Dangerously Along
OLDSMOBILE
Old Ladies Driving Slowly Make Others Behind Infuriatingly Late Every day.
Overpriced, Leisurely Driven Sedan Made Of Buick's Irregular Leftover Equipment
SAAB
Send Another Automobile Back
TOYOTA
Too Often Yankees Overprice This Auto
VOLVO
Very Odd Looking Vehicular Object
VW
Virtually Worthless
#joke
A little girl asked her father...
A little girl asked her father:
"How did the human race appear?"
The father answered, "God made Adam and Eve;
they had children; and so was all mankind made."
Two days later the girl asked her mother the same question.
The mother answered,
"Many years ago there were monkeys from
which the human race evolved."
The confused girl returned to her father and said,
"Dad, how is it possible that you told me the
human race was created by God,
and Mom said they developed from monkeys?"
The father answered,
"Well, Dear, it is very simple.
I told you about my side of the family,
and your mother told you about hers."
#joke
An old man was sitting on a be...
An old man was sitting on a bench in the mall when a young man with spiked hair came over and sat down beside him. The boy's hair was bright yellow and green with orange tips, and he had blue makeup around his eyes. The old man kept looking at him. The boy said, "What's the matter, old man, haven't you ever done anything wild in your life?"
The old man answered, "Well yes, actually, I have. I got drunk once and had sex with a parrot. I was just wondering if you were my son."
#joke
Punishment for Missing Church
A country preacher decided to skip services one Sunday to spend the day hiking in the wilderness. Rounding a sharp bend in the trail, he collided with a bear and was sent tumbling down a steep grade. He landed on a rock and broke both legs.
With the ferocious bear charging at him from a distance, the preacher prayed, "O Lord, I'm so sorry for skipping services today. Please forgive me and grant me just one wish--make a Christian out of that bear that's coming at me!"
At that very instant, the bear skidded to a halt, fell to his knees, clasped his paws together, and began to pray aloud at the preacher's feet: "Dear God, please bless this food I am about to receive."
#joke
There was a man walking alone ...
There was a man walking alone along a beach. He comes across a bottle with a cork in it. The man picks up the bottle and pulls out the cork. A loud roar follows and a genie appears. The genie says to the man, "I'm a little tired today and I can only give you two wishes."
The man says "That's OK, two is enough." "First, I would like one-billion dollars in a Swiss bank account."
Poof - The genie hands the man a paper and says "Here's the number to your account."
Next the man says, "Second, I would like to be irresistible to women."
Poof - the genie turned him into a box of chocolates.
#joke
Superman
My uncle had surgery and became a superman, and then the anesthetic wore off.
A young man just had his first...
A young man just had his first customer, which turned out to be a BIG BURLY truck driver. The young man walked up to the table where the truck driver was sitting and asked; can I take your order sir? The truck driver replied, sure kid I want three flat tires and two headlights. The young man was very puzzled and said, I beg your pardon? The truck driver said again, look kid; I want three flat tires and two headlights. The young man was still puzzled, but replied; yes sir, whatever. The young man then took the request to his boss who was the head cook. He told him about the truck driver's order, and that he wanted three flat tires and two headlights, "I think he's in the wrong place." The head cook said, I know what he wants, he wants three flap jacks and two eggs sunny side up; the truck driver is just trying to be smart, I know him. The cook said to the waiter here, take this bowl of beans, give it to him and say this. The truck driver said, Listen kid, I didn't order this; I said I wanted three flat tires and two headlights. The waiter replied, Well sir, the head cook said while you wait for your parts, you can gas up!
#joke
A Jewish man was riding on the...
A Jewish man was riding on the subway reading a Nazi newspaper when his friend stepped aboard and was shocked by the sight.
"Moise," he said, "have you lost your mind? Why are you reading a Nazi newspaper?"
Moise replied, "I used to read the Jewish newspapers but what did I find? Jews being persecuted, Israel being attacked, Jews disappearing from assimilation and marriage, Jews living in poverty. So, I switched to the Nazi newspaper. Now what do I find? Jews own all the banks, Jews control the media, Jews rule the world. It's so much better."
#joke
One-Handed Man Crossing
Why did the one-handed man cross the road?
To get to the second hand shop.