Dear Pun Gents...
Dear Pun Gents, our company is having a Pictionary contest, and we'd like a punny name to cover four ladies who can't draw! ~Shari, Romeoville,IL
A magician was employed by a S...
A magician was employed by a Shipping Line to entertain the passengers during cruises. The captain owned a parrot which always insisted on being part of the acts put on by the magician. He would perch on the edge of the stage and screech, "He does it with a mirror" or "He's got it up his sleeve." The magician was furious, but since the bird was a favorite with the captain and he was anxious to retain his position for future cruises, he maintained an angry silence.
One evening as the magician worked, the parrot continued to harass the unfortunate man. Sadly the ship ran into a mine which had become detached from the sea floor after a storm. The explosion tore the bow off the ship which sank within a few minutes. Amid the wreckage and the lifeboats, the magician sat on one end of a table from the first class dining room. At the other end sat the parrot, dirty and disheveled, his feathers caked with fuel oil. For some time they eyed each other malevolently saying nothing. Finally the parrot shook himself and advanced across the table. He fixed the magician with a beady eye. "Okay, I give up," he squawked. "What did you do with the ship?"
#joke
Funny video of the day - Funny video of the day Thursday, 18 November 2010
Laws of the Natural Universe
Law of Mechanical Repair: After your hands become coated with grease your nose will begin to itch or you'll have to pee.
Law of the Workshop: Any tool, when dropped, will roll to the least accessible corner.
Law of probability: The probability of being watched is directly proportional to the stupidity of your act.
Law of the Telephone: When you dial a wrong number, you never get a busy signal.
Law of the Alibi: If you tell the boss you were late for work because you had a flat tire, the very next morning you will have a flat tire.
Variation Law: If you change lines (or traffic lanes), the one you were in will start to move faster than the one you are in now. (works every time)
Bath Theorem: When the body is fully immersed in water, the telephone will ring.
Law of Close Encounters: The probability of meeting someone you know increases when you are with someone you don't want to be seen with.
Law of the Result: When you try to prove to someone that a machine won't work, it will.
Law of Biomechanics: The severity of the itch is inversely proportional to the reach.
Theatre Rule: At any event, the people whose seats are furthest from the aisle arrive last.
Law of Coffee: As soon as you sit down to a cup of hot coffee, someone will ask you to do something which will last until the coffee is cold.
Murphy's Law of Lockers: If there are only two people in a locker room, they will have adjacent lockers.
Law of Dirty Rugs/Carpets: The chances of an open-faced jelly sandwich landing face down on a floor covering are directly correlated to the newness and cost of the carpet/rug.
Law of Location: No matter where you go, there you are.
Law of Logical Argument: Anything is possible if you don't know what you are talking about.
Brown's Law: If the shoe fits, it's ugly.
Oliver's Law: A closed mouth gathers no feet.
Wilson's Law: As soon as you find a product that you really like, they will stop making it.
#joke
Paging John Edward
Twenty happy years later, the man dies, and the woman, Mary, sticks to her vow and visits a seance four weeks later. It went something like this:
Mary: "Is there anybody there? I'm seeking my deceased husband John. Is he there?"
Strange, booming voice: "Mary? Is that you, Mary?"
Mary: "Yes John, is that you?"
John: "Yes, it's me."
Mary: "How are things where you are, John? What's it like?"
John: "Great, Mary. Everyday after breakfast we make love until lunchtime, which lasts about half-hour, then we make love until dinner. After dinner, we make love until we fall asleep. It's great. I can't wait until you get here."
Mary (shocked): "Is that what Heaven's like?"
John: "I'm not in Heaven."
Mary (fearing the worst): "Then where are you?"
John: "I'm a rabbit in Florida!"
#joke
"But all kidding aside, a...
"But all kidding aside, and in fairness to Dick Cheney, every five years he has to shed innocent blood or he violates his deal with the devil." -- Jimmy Kimmel
Mary Poppins
Mary Poppins was traveling home, but due to worsening weather, she decided to stop at a hotel for the night. She approached the receptionist and asked for a room for the night.
"Certainly madam," he replied courteously.
"Is the restaurant open still?" inquired Mary.
"Sorry, no," came the reply, "but room service is available all night.
Would you care to select something from this menu?"
Mary smiled and took the menu and perused it. "Hmm, I would like cauliflower cheese please," said Mary.
"Certainly, madam," he replied.
"And can I have breakfast in bed?" asked Mary politely.
The receptionist nodded and smiled.
"In that case, I would love a couple of poached eggs, please," Mary mused.
After confirming the order, Mary signed in and went up to her room for the night.
The night passed uneventfully and the next morning Mary came down early to check out. The same guy was still on the desk.
"Morning madam...sleep well?"
"Yes, thank you," Mary replied.
"Food to your liking?"
"Well, I have to say the cauliflower cheese was exceptional, I don't think I have had better. Shame about the eggs, though....they really weren't that nice at all," replied Mary truthfully.
"Oh...well, perhaps you could contribute these thoughts to our Guest Comments Book. We are always looking to improve our service and would value your opinion," said the receptionist.
"OK, I will...thanks!" replied Mary....who checked out, then scribbled a comment into the book. Waving, she left to continue her journey.
Curious, the receptionist picked up the book to see the comment Mary had written.
"Supercauliflowercheesebuteggswerequiteatrocious!"
#joke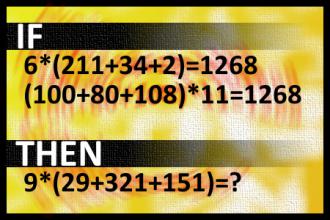 Calculate 9*(29+321+151)
FUNNY MATH: Calculate 9*(29+321+151) :)
You Might Be A Redneck If 53
You might be a redneck if...
You think you are an entrepreneur because of the "Dirt for Sale" sign in the front yard.
You're still scalping tickets after the concert is over.
You don't think Jeff's jokes are funny.
Your house has a kickstand.
You drive around a parking lot for fun.
Your girlfriend has ever called YOUR parents "Ma and Pa".
You have to duct tape your gloves on.
You've ever pruned your trees with a shotgun.
Someone says they spotted Bigfoot and you go buy tickets to the tractor pull.
You think that Marlboro is a cologne.
#joke
A New York Lawyer
A New York Divorce Lawyer died and arrived at the pearly gates.
Saint Peter asks him "What have you done to merit entrance into Heaven?"
The Lawyer thought a moment, then said, "A week ago, I gave a quarter to a homeless person on the street."
Saint Peter asked Gabriel to check this out in the record, and after a moment Gabriel affirmed that this was true.
Saint Peter said, "Well, that's fine, but it's not really quite enough to get you into Heaven."
The Lawyer said, "Wait Wait! There's more! Three years ago I also gave a homeless person a quarter."
Saint Peter nodded to Gabriel, who after a moment nodded back, affirming this, too, had been verified.
Saint Peter then whispered to Gabriel, "Well, what do you suggest we do with this fellow?"
Gabriel gave the Lawyer a sidelong glance, then said to Saint Peter, "Let's give him back his 50 cents and tell him to go to Hell."
Donald Glover: Gold Star Power
When you get called the n-word, as a black person you can do anything. Its like getting a gold star in Super Mario Brothers and junk. I hear the music when I hear the n-word. I get right into it; I get really into it. You can do anything. You could be in a fancy restaurant -- just start throwing poop at the walls. People be like, What are you doing? Someone called him the n-word.
#joke
There is no smoking in the cab...
There is no smoking in the cabin on this flight. There is also no smoking in the lavatories. If we see smoke coming from the lavatories, we will assume you are on fire and put you out. This is a free service we provide.
There are two smoking sections on this flight, one outside each wing exit.
We do have a movie in the smoking sections tonight ... hold on, let me check what it is ... Oh here it is; the movie tonight is Gone with the Wind.
#joke
A very shy guy goes into a bar...
A very shy guy goes into a bar and sees a beautiful woman sitting at thebar. After an hour of gathering up his courage he finally goes over to herand asks, tentatively, "Um, would you mind if I chatted with you for awhile?"
She responds by yelling, at the top of her lungs, "No, I won't sleep withyou tonight!" Everyone in the bar is now staring at them.
Naturally, the guy is hopelessly and completely embarrassed and he slinksback to his table.
After a few minutes, the woman walks over to him and apologizes. Shesmiles at him and says, "I'm sorry if I embarrassed you. You see, I'm agraduate student in psychology and I'm studying how people respond toembarrassing situations."
To which he responds, at the top of his lungs, "What do you mean $200?"
#joke
Two Irishmen, Patrick & Michae...
Two Irishmen, Patrick & Michael, were adrift in a lifeboat following a dramatic escape from a burning freighter. While rummaging through the boat's provisions, Patrick stumbled across an old lamp. Secretly hoping that a genie would appear, he rubbed the lamp vigorously. To the amazement of Patrick, a genie came forth.r>r> This particular genie, however, stated that he could only deliver one wish, not the standard three. Without giving much thought to the matter, Patrick blurted out, "Make the entire ocean into Guinness!" The genie clapped his hands with a deafening crash, and immediately the entire sea turned into the finest brew ever sampled by mortals. Simultaneously, the genie vanished. r>r> Only the gentle lapping of Guinness on the hull broke the stillness as the two men considered their circumstances. Michael looked disgustedly at Patrick whose wish had been granted. After a long, tension-filled moment, he spoke: r>r> "Nice going Patrick! Now we're going to have to pee in the boat."
#joke
The End Is Near!
A local priest and a pastor were fishing on the side of the road. They thoughtfully made a sign saying, "The End is Near! Turn yourself around now before it's too late!" and showed it to each passing car. One driver who drove by didn't appreciate the sign and shouted at them, "Leave us alone, you religious nuts!"
All of a sudden they heard a big splash, looked at each other, and the priest said to the pastor, "You think maybe we should have just said 'Bridge Out' instead?"
#joke
Nude Tiptoer...
A woman who plays cards one night a month with a group of friends was concerned that she always woke up her husband when she came home around 11:30.
So she decided to be considerate and not rouse him this time. She undressed in the living room and, purse over arm, tiptoed nude into the bedroom, only to find him sitting up in bed, reading.
"Oh No!" he exclaimed. "Did you lose EVERYTHING?!?"
#joke
Good Cause
It was about a month ago when a Dutchman in Amsterdam felt that he needed to confess. He went to the local priest. "Forgive me Father, for I have sinned. During WWII I hid a Jew in my attic."
"Well," answered the priest, "that is no sin."
"But I charged him 20 Gulden for every week he stayed there." "I admit that that wasn't good, but you did it for a good cause", replied the priest. "Yes, but I haven't told him that the war is over."
#joke
Photo Trap
A motorist gets caught in an automated speed trap that photographs his car.
He later receives a ticket in the mail for $40 with a photo of his car.
Instead of payment, he sends the police department a photograph of $40.
A few days later, he gets a letter from the police department with a picture of handcuffs.
#joke