On his birthday, Chuck Norris ...
On his birthday, Chuck Norris blows out his candles by blinking.
Piece of advice
In promulgating your esoteric cogitations or articulating your superficial sentimentalities, and amicable philosophical or psychological observations, beware of platitudinous ponderosity. Let your conversational communications possess a compacted conciseness, a clarified comprehensibility, a coalescent cogency, and a concatenated consistency. Eschew obfuscation and all conglomeration of flatulent garrulity, jejune babblement, and asinine affectations. Let your extemporaneous descantings and unpremeditated expatiations have intelligibility and voracious vivacity without rodomontade or thrasonical bombast. Sedulously avoid all polysyllabic profundity, pompous prolificacy, and vain vapid verbosity.
In short: "Be brief and don't use big words."
#joke
Funny video of the day - Leap Frog FAIL
To increase sensitivity to suc...
To increase sensitivity to such issues, we've tried to Uncle Kate awareness about transsexuals.

Why did the football coac...

Why did the football coach go to the bank?
To get his quarter back.

A Midget Down in Texas
There was a midget down in Texas whose testicles hurt and ached almost all the time. The midget went to the doctor and told him about his problem. The doctor told him to drop his pants and he would have a look. The midget dropped his pants. The doctor stood him up onto the examining table, and started to examine him. The doc put one finger under his left testicle and told the midget to turn his head and cough, the usual method to check for a hernia.
"Aha!" mumbled the doc and, as he put his finger under the right testicle, he asked the midget to cough again.
"Aha!" said the doctor again, and reached for his surgical scissors. Snip-snip-snip-snip on the right side, then snip-snip-snip-snip on the left side. The midget was so scared he was afraid to look, but noted with amazement that the snipping did not hurt. The doctor then told the midget to walk around the examining room to see if his testicles still hurt.
The midget was absolutely delighted as he walked around and discovered his testicles were no longer aching.
The doctor said, "How does that feel now?" The midget replied, "Perfect Doc, and I didn't even feel it. What did you do?"
The doctor replied, "I cut two inches off the top of your cowboy boots."
My Dad Is Better Than Your Dad
Three boys are in the school yard bragging about their fathers.
The first boy says, "My Dad scribbles a few words on a piece of paper, he calls it a poem, they give him $50."
The second boy says, "That's nothing. My Dad scribbles a few words on a piece of paper, he calls it a song, they give him $100."
The third boy says, "I got you both beat. My Dad scribbles a few words on a piece of paper, he calls it a sermon... and it takes eight people to collect all the money!"

#joke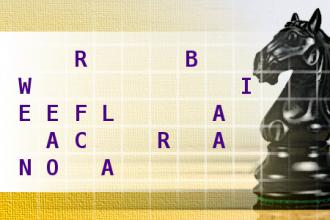 Chess Knight Move
Find the title of movie, using the move of a chess knight. First letter is L. Length of words in solution: 8,2,6.
Trip to Alcatraz...
A couple with three children waited in line at San Francisco's Pier 41 to purchase tickets for a boat trip to Alcatraz. Others watched with varying degrees of sympathy and irritation as the young children fidgeted, whined, and punched one another. The frazzled parents reprimanded them to no avail.
Finally they reached the ticket window. "Five tickets, please," the father said. "Two round trip, three one way."
#joke
First Experience Horse Riding
A blonde decides to learn and try horse back riding unassisted without prior experience or lessons. She mounts the horse with great effort, and the tall, shiny horse springs into motion.
It gallops along at a steady and rhythmic pace, but the blonde begins to slip from the saddle. Out of shear terror, she grabs for the horse's mane but cannot seem to get a firm grip. She tries to throw her arms around the horse's neck, but she slides down the side of the horse anyway. The horse gallops along, seemingly oblivious to its slipping rider.
Finally, giving up her frail grip, she leaps away from the horse to try and throw herself to safety.
Unfortunately, her foot has become entangled in the stirrup. She is now at the mercy of the horse's pounding hooves as her head is struck against the ground again and again. As her head is battered against the ground, she is mere moments away from unconsciousness or even death when Frank, the Wal-Mart manager runs out to shut the horse off.
How to Cure a Headache
A guy has been suffering from severe headaches for years
with no relief. After trying all the usual cures he's
referred to a headache specialist by his family doctor. The
doctor asks him what his symptoms are and he replies.
"I get these blinding headaches; kind of like a knife across
my scalp and...."
He is interrupted by the doctor, "And a heavy throbbing
right behind the left ear".
"Yes! Exactly! How did you know?"
"Well I am the world's greatest headache specialist, you
know. But I myself suffered from that same type of headache
for many years. It is caused by a tension in the scalp
muscles. This is how I cured it: Every day I would give my
wife oral sex. When she came she would squeeze her legs
together with all her strength and the pressure would relieve
the tension in my head. Try that every day for two weeks and
come back and let me know how it goes".
Two weeks go by and the man is back, "Well, how do you
feel?"
"Doc, I'm a new man! I feel great! I haven't had a headache
since I started this treatment! I can't thank you enough.
And, by the way you have a lovely home."
Jim Breuer: Stumping a Stoner
You can stump any stoner with one question: what were we just talking about?
Guy comes into the clubhouse a...
Guy comes into the clubhouse and a fellow golfer asks him, "How did you shoot?"

The guy replies, "The best two balls I hit all day were on the 8th hole when I stepped on a rake in the sand trap!"
Two hikers were walking throug...
Two hikers were walking through central Pennsylvania when they came upon a 6 foot wide hole in the ground. They figured it must be the opening for a vertical air shaft from an old abandoned coal mine. Curious as to the depth of the hole, the first hiker picked up a nearby rock and tossed it into the opening. They listened... and heard nothing.
The second hiker picked up an even larger rock and tossed it into the opening. They listened... and still heard nothing. Then they both picked up an old railroad tie, dragged it to the edge of the shaft, and hurled it down. Seconds later a dog came running up between the two men and jumped straight into the hole. Bewildered, the two men just looked at each other, trying to figure out why a dog would do such a thing.
Soon a young boy ambled onto the scene and asked if either man had seen a dog around here. The hikers told him about the dog that had just jumped into the hole.
The young boy laughed and said, "That couldn't be my dog. My dog was tied to a railroad tie!"
#joke
My memory's not as sharp as it...
My memory's not as sharp as it used to be.
Also, my memory's not as sharp as it used to be
Little Johnny had finished his...
Little Johnny had finished his summer vacation and gone back to school. Two days later his teacher phoned his mother to
tell her that he was misbehaving.
"Wait a minute," she said. "I had Johnny with me for three months and I never called you once when he misbehaved.
One who runs in front of the c...
One who runs in front of the car gets tired. One who runs behind gets exhausted.
ATTORNEY: She had three chi...
ATTORNEY: She had three children, right?
WITNESS: Yes.
ATTORNEY: How many were boys?
WITNESS: None.
ATTORNEY: Were there any girls?
WITNESS : Are you shittin' me? Your Honor, I think I need a different attorney. Can I get a new attorney?
#joke