Be rady for Thanksgiving
, check out our latest
Thanksgiving jokes of 2021
on:
Thanksgiving jokes collection
Tattoos
A woman walks into a tattoo parlour and asks 'Do you do custom work?'
'Why of course!'
'Good. I'd like a portrait of Robert Redford on the inside of my right thigh, and a portrait of Paul Newman on the inside of my left thigh.' 'No problem,' says the artist. 'Strip from the waist down and get up on the table.'
After two hours of hard work, the artist finishes. The woman sits up and examines the tattoos.
'That doesn't look like them!' she complains loudly.
'Oh yes it does,' the artist says indignantly, 'and I can prove it.'
With that, he runs out of the shop and grabs the first man off the street he can find; it happens to be the town drunk.
'Well, what do you think?' the woman asks, spreading her legs. 'Do you know who these men are?'
The drunk studies the tattoos for a couple of minutes and says. 'I'm not sure who the guys on either side are, but the fellow in the middle is definitely Willie Nelson!'
#joke
Chuck Norris doesn't bowl stri...
Chuck Norris doesn't bowl strikes, he just knocks down one pin and the other nine faint.
Funny video of the day - Punch The Bag Fail
Reading glasses
I took my 5 year old grandson to the optometrist to pick up his new glasses. The glasses were prescribed "to help him read and be able to see the computer better".
When we got back home, he got on the computer to play a game. In a few minutes he called me and said there was something wrong with his glasses.
I asked him what was the problem and he said, "I still can't read."
#joke
I made my son do sit-ups. He c...
I made my son do sit-ups. He claimed it was child ab use.
An Illinois man left the snow-...
An Illinois man left the snow-filled streets of Chicago for a vacation in Florida. His wife was on a business trip and was planning to meet him there the next day.
When he reached his hotel, he decided to send his wife a quick email. Unable to find the scrap of paper on which he had written her email address, he did his best to type it in from memory.
Unfortunately, he missed one letter and his note was directed instead to an elderly preacher's wife, whose husband had passed away only the day before. When the grieving widow checked her email, she took one look at the monitor, let out a piercing scream and fell to the floor in a dead faint. At the sound, her family rushed into the room and saw this note on the screen:
DEAREST WIFE: JUST GOT CHECKED IN. EVERYTHING PREPARED FOR YOUR ARRIVAL TOMORROW.
P.S. SURE IS HOT DOWN HERE.
#joke
Words of wisdom...
Always wanted to be a procrastinator, but never got around to it.
My friend has kleptomania, but when it gets bad, he takes something for it.
Never be afraid to try something new, Remember amateurs built the ark - Professionals built the Titanic.
Love is grand - divorce is a hundred grand.
Politicians and diapers have one thing in common, they should both be changed regularly and for the same reason.
One of life's mysteries - How can a two pound box of candy make a person gain five pounds.
Time may be a great healer, but it's also a lousy beautician.
Age doesn't always bring wisdom, sometimes age comes alone.
Life not only begins at forty, it begins to show.
#joke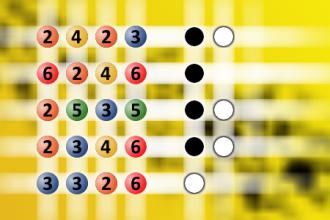 What a winning combination?
The computer chose a secret code (sequence of 4 digits from 1 to 6). Your goal is to find that code. Black circles indicate the number of hits on the right spot. White circles indicate the number of hits on the wrong spot.
Rare Art Of Work
A man decides to take the opportunity while his wife is away to paint the toilet seat. The wife comes home sooner than expected, sits, and gets the seat stuck to her rear. She is understandably distraught about this and asks her husband to drive her to the doctor. She puts on a large overcoat in order to hide the stuck seat, and they go. Soon as they reach the doctor's clinic, the husband lifts his wife's coat to show their predicament. Then he asks, "Doctor, have you ever seen anything like this before?" "Well yes," the doctor replies, "but never framed." John
Pearly Gates
A man dies and goes to heaven.
As he's standing in line, the pearly gates slam open and a man charges out.
He's dressed in a scrub suit and a white lab-coat, with a stethoscope around his neck. He knocks over most of the people standing in line in his rush to move through the crowd. The man asked St. Peter, "Who was that?"
St. Peter answered "That's just God. Sometimes he likes to play doctor."
Christian Finnegan: Car Alarm
If I ever have a car alarm, if I ever have a car, its just gonna be a big speaker on the back of my car, and whenever anybody tries to break in, its just gonna go, Attention: free bags of weed! Come get your free bags of weed! Because then, people are gonna come running -- maybe not the kind of people who can help a whole lot, but people, nonetheless.
#joke
A little boy opened the big an...
A little boy opened the big and old family Bible with fascination, he looked at the old pages as he turned them. Then something fell out of the Bible and he picked up and looked at it closely. It was an old leaf from a tree that has been pressed in between pages.
"Momma, look what I found," the boy called out. "What have you got there, dear?" his mother asked. With astonishment in the young boy's voice he answered:
"It's Adam's suit!!!!!"
#joke
Blessing a Body…?
A newly ordained deacon was asked to hold a graveside service for someone with no family or friends. It was his first official assignment, so he eagerly agreed.
Taking his duties very seriously, the deacon let early the next morning for the cemetery. However, he made several wrong turns and quickly got himself lost. When he finally arrived more than an hour late, the hearse was nowhere to be seen and the two workmen were eating lunch.
The deacon got out of his car, quickly threw on his vestments, and hurried to the open grave. Looking into the pit, he saw that the vault lid was already in place. With a sign, he took out his prayer book and read the burial service.
After he had left, one of the workmen said to the other, "Maybe we should have told him he just blessed a septic tank."
This joke was reprinted from "The Book of Catholic Jokes" by Deacon Tom Sheridan, with permission of ACTA Publications. Copyright 2008. All rights reserved.
#joke
OLD IS WHEN...
"OLD" IS WHEN - Your sweetie says, "Let's go upstairs and make love," and you answer, "Pick one; I can't do both!"
"OLD" IS WHEN - Your friends compliment you on your new alligator shoes and you're barefoot.
"OLD" IS WHEN - A sexy babe catches your fancy and your pacemaker opens the garage door.
"OLD" IS WHEN - Going braless pulls all the wrinkles out of your face.
"OLD" IS WHEN - You don't care where your spouse goes, just as long as you don't have to go along.
"OLD" IS WHEN - You are cautioned to slow down by the doctor instead of by the police.
"OLD" IS WHEN - "Getting a little action" means you don't need to take any fiber today
"OLD" IS WHEN - "Getting lucky" means you find your car in the parking lot.
"OLD" IS WHEN - An "all nighter" means not getting up to use the bathroom.
"OLD" IS WHEN - You are not sure these are jokes.
Know how to prevent sagging? <...
Know how to prevent sagging?
Just eat till the wrinkles fill out.

Being black
It is hard being black.
We get the bad end of the deal with every sport.
Hockey, you're slappin a black puck around.
Pool, you have a white ball trying to knock you in a hole.
The only thing we have is bowling, where you have a black ball trying to knock down ten rednecks.
Submitted by Curtis
Edited by calamjo
#joke
An Ideal Marriage
Adam and Eve had an ideal marriage. He didn't have to hear about all the men she could have married, and she didn't have to hear about the way his mother cooked.
10 words that do not exist...but should...
1. AQUADEXTROUS (ak wa deks' trus) adj. Possessing the ability to turn the bathtub faucet on and off with your toes.
2. CARPERPETUATION (kar' pur pet u a shun) n. The act, when vacuuming, of running over a string or a piece of lint at least a dozen times, reaching over and picking it up, examining it, then putting it back down to give the vacuum one more chance.
3. DISCONFECT (dis kon fekt') v. To sterilize the piece of candy you dropped on the floor by blowing on it, assuming this will somehow `remove' all the germs.
4. ELBONICS (el bon' iks) n. The actions of two people maneuvering for one armrest in a movie theater.
5. FRUST (frust) n. The small line of debris that refuses to be swept onto the dust pan and keeps backing a person across the room until he finally decides to give up and sweep it under the rug.
6. LACTOMANGULATION (lak' to man gyu lay' shun) n. Manhandling the 'open here' spout on a milk container so badly that one has to resort to the `illegal' side.
7. PEPPIER (pehp ee ay') n. The waiter at a fancy restaurant whose sole purpose seems to be walking around asking diners if they want ground pepper.
8. PHONESIA (fo nee' zhuh) n. The affliction of dialing a phone number and forgetting whom you were calling just as they answer.
9. PUPKUS (pup' kus) n. The moist residue left on a window after a dog presses its nose to it.
10. TELECRASTINATION (tel e kras tin ay' shun) n. The act of always letting the phone ring at least twice before you pick it up, even when you're only six inches away.
#joke
Lewis Black: Earth Day
We came up with Earth Day so we would have one day every year that would remind us what planet we were living on.
Why did the robber take a bath...
Why did the robber take a bath before he stole from the bank?


He wanted to make a clean getaway.