Have a great time for
Christmas
, check out our latest
Christmas jokes of 2022
on:
Christmas jokes collection
Golf Shot
Vic stood over his tee shot on the 450 yard 18th hole for what seemed an eternity. He waggled, looked up, looked down, waggled again, but didn't start his back swing.
Finally his exasperated partner asked, 'What the heck is taking so long?'
'My wife is watching me from the clubhouse balcony', Vic explained. 'I want to make a perfect shot.'
His companion said 'You don't have a chance in hell of hitting her from here.'
#joke
The ocean was once fresh water...
The ocean was once fresh water but Chuck Norris likes his shrimp salty.
Funny video of the day - Casteller by Mike Randolph
Perks of being over 55
Kidnappers are not very interested in you.
In a hostage situation you are likely to be released first.
No one expects you to run into a burning building.
People call at 9 PM and ask, "Did I wake you?"
People no longer view you as a hypochondriac.
There is nothing left to learn the hard way.
Things you buy now won't wear out.
You can eat dinner at 4 P.M.
You enjoy hearing about other peoples operations.
You get into heated arguments about pension plans.
You have a party and the neighbors don't even realize it.
You no longer think of speed limits as a challenge.
You quit trying to hold your stomach in, no matter who walks into the room.
You sing along with elevator music.
Your eyes won't get much worse.
Your investment in health insurance is finally beginning to pay off.
Your joints are more accurate meteorologists than the National Weather Service.
Your secrets are safe with your friends because they can't remember them either.
Your supply of brain cells is finally down to a manageable size.

#joke
Elementary school talent shows...
Elementary school talent shows are intense. Some of the competitors really go for the juggler.
Mr. Trent always scheduled the...
Mr. Trent always scheduled the weekly staff meeting for four thirty on Friday afternoons. When one of the employees finally got up the nerve to ask why, he explained. "I will tell you why … I've leaned that's the only time of the week when none of you seem to want to argue with me."
A farmer has 200 hens, but no ...
A farmer has 200 hens, but no rooster, and he wants chicks. So, he goes down the road to the next farmer and asks if he has a rooster which he would sell. The other farmer says, "Yeah, I've got this great rooster, named Randy. He'll service every chicken you got, no problem."
Well, Randy the rooster costs a lot of money, but the farmer decides he'd be worth it. So, he buys Randy.
The farmer takes Randy home and sets him down in the barnyard first giving the rooster a pep talk, "Randy, I want you to pace yourself now. You've got a lot of chickens to service here, and you cost me lot of money. Consequently, I'll need you to do a good job. So, take your time and have some fun," the farmer said, with a chuckle.
Randy seemed to understand, so the farmer points toward the hen house, and Randy took off like a shot.
WHAM! - Randy nails every hen in the hen house three or four times, and the farmer is really shocked.
After that the farmer hears a commotion in the duck pen, sure enough, Randy is in there. Later, the farmer sees Randy after flock of geese, down by the lake. Once again - WHAM! He gets all the geese!
By sunset he sees Randy out in the fields chasing quail and pheasants. The farmer is distraught-worried that his expensive rooster won't even last 24 hours. Sure enough, the farmer goes to bed and wakes up the next day, to find Randy dead as a doorknob-stone cold in the middle of the yard. Buzzards are circling overhead. The farmer, saddened by the loss of such a colorful - and expensive animal, shakes his head and says, "Oh, Randy, I told you to pace yourself. I tried to get you to slow down, now look what you've done to yourself."
Randy opens one eye, nods toward the buzzards circling in the sky and says, "Shhh, they're getting closer."
#joke
FLEX WORDLE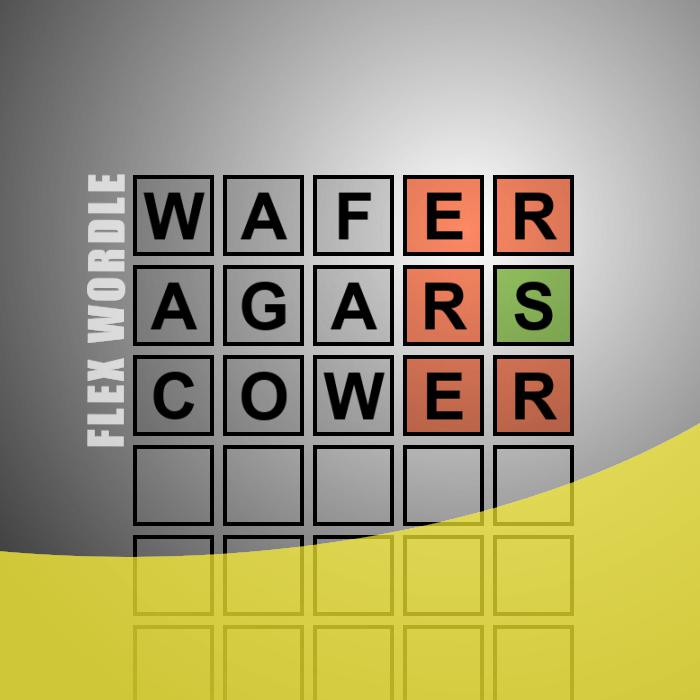 Guess the
WORDLE
in 3 tries. After each guess, the color of the tiles will change to show how close your guess was to the solution.
Mail order....
An old fisherman wrote to a mail order house the following: "Please send me one of those gasoline engines for my boat that you show on page 438, and if it's any good, I'll send you a check."
In a short time, he received the following reply: "Please send check. If it's any good, we'll send the engine."
#joke
David Alan Grier: Stopped Smoking Reefer
I stopped smoking reefer because I started thinking, if great men throughout history had smoked reefer, no tellin what would have happened. Like if somebody like Martin Luther King Jr. had smoked reefer, he would have been giving speeches like, I had a dream, but the hell if I could remember what it was about. It was either about freedom or Fritos.
#joke
One day an engineer dies.He wa...
One day an engineer dies.He was kind that built lots of things, like air conditioners.When he went to heaven he met God. God says "Go to hell, you're not on my list."
So after going 30,255,391 stairs to hell, he lets the devil know who he is and so the devil says "Hey, come on in!"
In hell the engineer built airplanes, buildings, cars, etc. God sees this and says "Hey devil, you know that engineer guy. He needs to come back to heaven."
The devil says "Are you crazy, I'm not gonna let you have him." To which God says "If you dont let me have him, I'll sue."
Devil says "You can't sue! You dont even have lawyers up there!"
A Yogi Goes to the Dentist...
Did you hear about the Hindu yogi who was having a filling put in a tooth? When the dentist asked him if he wanted novocaine, the yogi said, "No. I can transcend dental medication."
Visiting A Barber
A man enters a barber shop for a shave. While the barber is foaming him up, he mentions the problems he has getting a close shave around the cheeks.
"I have just the thing," says the barber taking a small wooden ball from a nearby drawer. "Just place this between your cheek and gum."
The client places the ball in his mouth and the barber proceeds with the closest shave the man has ever experienced. After a few strokes the client asks in garbled speech.
"And what if I swallow it?"
"No problem," says the barber. "Just bring it back tomorrow like everyone else does."
#joke
The Wailing Wall
A journalist assigned to the Jerusalem bureau takes an
apartment overlooking the Wailing Wall. Every day when she
looks out, she sees an old Jewish man praying vigorously. So,
the journalist goes down and introduces herself to the old
man.
She asks, "You come every day to the wall. How long have you
done that and what are you praying for?" The old man
replies, "I have come here to pray every day for 25 years. In
the morning I pray for world peace and then for the
brotherhood of man. I go home have a cup of tea and I come
back and pray for the eradication of illness and disease from
the earth."
The journalist is amazed. "How does it make you feel to come
here every day for 25 years and pray for these things?" she
asks.
The old man looks at her sadly. "Like I'm talking to a
wall."
#joke
A guy walks into a bar and dem...
A guy walks into a bar and demands to know "Who's the strongest in here?"
The toughest guy looks at him and says "I am the strongest around here!"
The other guy politely asks "Can you help me push my car to the gas station?"
An engineer dies and reports t...
An engineer dies and reports to the pearly gates. St. Peter checks his dossier and says, "Ah, you're an engineer -- you're in the wrong place."
So the engineer reports to the gates of hell and is let in. Pretty soon, the engineer gets dissatisfied with the level of comfort in hell, and starts designing and building improvements. After a while, they've got air conditioning and flush toilets and escalators, and the engineer is a pretty popular guy.
One day God calls Satan up on the telephone and says with a sneer, "So, how's it going down there in hell?"
Satan replies, "Hey, things are going great. We've got air conditioning and flush toilets and escalators, and there's no telling what this engineer is going to come up with next."
God replies, "What??? You've got an engineer? That's a mistake -- he should never have gotten down there, send him up here."
Satan says, "No way! I like having an engineer on the staff, and I'm keeping him."
God says, "Send him back up here, or I'll sue."
Satan laughs uproariously and answers, "Yeah, right. And just where are you going to get a lawyer?"
Forgetful...
The man looked a little worried when the doctor came in to administer his annual physical, so the first thing the doctor did was to ask whether anything was troubling him.
"Well, to tell the truth, Doc, yes," answered the patient. "You see, I seem to be getting forgetful. I'm never sure I can remember where I put the car, or whether I answered a letter, or where I'm going, or what it is I'm going to do once I get there -- if I get there. So, I really need your help. What can I do?"
The doctor mused for a moment, then answered in his kindest tone, "Pay me in advance."
A Recently Spotted Bumper Sticker:
"Life isn't too short. It's the longest thing anyone will ever do."
Two cannibals
There are two cannibals eating a clown, one turns to the other and says, 'Does this taste funny to you?!'
Once upon a time in the Kingdo...
Once upon a time in the Kingdom of Heaven, God went missing for Six days. Eventually, Michael the Archangel found him, resting on the seventh day. He inquired of God, "Where have you been?"
God sighed a deep sigh of satisfaction and proudly pointed downwards through the clouds, "Look Michael, look what I've made." Archangel Michael looked puzzled and said, "What is it?"
"It's a planet, replied God, "and I've put LIFE on it. I'm going to call it Earth and it's going to be a great place of balance".
"Balance?" inquired Michael, still confused.
God explained, pointing to different parts of Earth.
"For example, Northern Europe will be a place of great opportunity and wealth while Southern Europe is going to be poor; the Middle East over there will be a hot spot."
"Over there I've placed a continent of white people and over there is a continent of black people" God continued, pointing to different countries. "And over there, I call this place America.
North America will be rich and powerful and cold, while South America will be poor, and hot and friendly. And the little spot in the middle is Central America which is a Hot spot. Can you see the balance?"
"Yes" said the Archangel, impressed by Gods work, then he pointed to a smallish land mass and asked, "What's that one?"
"Ah" said God. "That's New Zealand, the most glorious place on Earth. There are beautiful mountains, rainforests, rivers, streams and an exquisite coast line. The people are good looking, intelligent and humorous and they're going to be found traveling the world. They'll be extremely sociable, hard-working and high-achieving, and they will be known throughout the world as diplomats and carriers of peace. I'm also going to give them super- human, undefeatable, strong in character citizens who will be admired and feared by all who come across them".
Michael gasped in wonder and admiration but then exclaimed, "You said there will be BALANCE!"
God replied wisely. "Wait until you see the buggers I'm putting next to them"
#joke