And God Created Dog and Cat
A newly discovered chapter in the Book of Genesis has provided the answer to 'Where do pets come from?'
Adam said, 'Lord, when I was in the garden, you walked with me every day. Now I do not see you any more. I am lonesome here and it is difficult for me to remember how much you love me.'And God said 'No problem. I will create a companion for you that will be with you forever and who will be a reflection of my love for you so that you will love me even when you cannot see me. Regardless of how selfish or childish or unlovable you may be, this new companion will accept you as you are and will love you as I do, in spite of yourself.'
And God created a new animal to be a companion for Adam. And it was a good animal. And God was pleased. And the new animal was pleased to be with Adam and it wagged its tail.
And Adam said, 'Lord, I have already named all the animals in the Kingdom and I cannot think of a name for this new animal.'
And God said, 'No problem. Because I have created this new animal to be a reflection of my love for you his name will be a reflection of my own name, and you will call him Dog.'
And Dog lived with Adam and was a companion to him and loved him. And Adam was comforted. And God was pleased. And Dog was content and wagged his tail.
After a while, it came to pass that Adam's guardian angel came to the Lord and said, 'Lord, Adam has become filled with pride. He struts and preens like a peacock and he believes he is worthy of adoration. Dog has indeed taught him that he is loved, but perhaps too well.'
And the Lord said, 'No problem. I will create for him a companion who will be with him forever and who will see him as he is. The companion will remind him of his limitations, so he will know that he is not always worthy of adoration.'
And God created Cat to be a companion to Adam. And Cat would not obey Adam. And when Adam gazed into Cat's eyes, he was reminded that he was not the Supreme Being. And Adam learned humility.
And God was pleased. And Adam was greatly improved. And Dog was happy.
And Cat didn't care one way or the other.
#joke
What does receiving a beating ...
What does receiving a beating by police actually taste like? Try the delicious new snack :
Truncheon Munch
.
Funny video of the day - Dog vs Girl car race
A woman who died found herself...
A woman who died found herself standing outside the Pearly Gates, being greeted by St. Peter.
She asked him, "Oh, is this place what I really think it is? It's so beautiful.
Did I really make it to heaven?"
To which St. Peter replied, "Yes, my dear, these are the Gates to Heaven. But you must do one more thing before you can enter." The woman was very excited, and asked of St. Peter what she must do to pass through the gates. "Spell a word," St. Peter replied. "What word?" she asked.
"Any word," answered St. Peter. "It's your choice." The woman promptly replied, "Then the word I will spell is love.L-o-v-e."
St. Peter congratulated her on her good fortune to have made it to Heaven, and asked her if she would mind taking his place at the gates for a few minutes while he went to the bathroom.
"I'd be honored," she said, "but what should I do if someone comes while you are gone?"
St. Peter reassured her, and instructed the woman to simply have any newcomers to the Pearly Gates to spell a word as she had done.
So the woman is left sitting in St. Peter's chair and watching the beautiful angels soaring around her when a man approaches the gates. She realizes it is her loser husband.
"What happened?" she cried, "Why are you here?"
Her husband stared at her for a moment, then said, "I was so drunk when I left your funeral, I was in an accident. And now I am here? Did I really make it to Heaven?"
To which the woman replied, "Not yet. You must spell a word first."
"What word?" he asked.
The woman responded, "Czechoslovakia."
#joke
Alaskan Birthday Party
Sam has been in business for 25 years and is finally sick of the stress. He quits his job and buys 50 acres in Alaska as far from humanity as possible. He sees the postman once a week and gets groceries once a month. Otherwise it's total peace and quiet. After six months or so of almost total isolation, someone knocks on his door. He opens it and there's a big, bearded man standing there.
"Name's Lars ...Your neighbor from forty miles away....Having a birthday party Friday ... Thought you might like to come. About 5...
"Great," says Sam, "after six months out here I'm ready to meet some local folks. Thank you."
As Lars is leaving, he stops. "Gotta warn you...There's gonna be some drinkin'."
"Not a problem... after 25 years in business, I can drink with the best of em."
Again, as he starts to leave, Lars stops. "More'n'likely gonna be some fightin' too."
Sam says, "Well, I get along with people. I'll be there. Thanks again."
Once again Lars turns from the door. "I've seen some wild sex at these parties, too."
"Now that's really not a problem," says Sam. "I've been all alone for six months! I'll definitely be there. By the way, what should I bring?"
Lars stops in the door again and says, "Whatever you want, just gonna be the two of us".
Just like mom...
Manny is almost 29 years old. His friends have already gotten married, but Manny still just dates and dates.
Finally, a friend asks him, "What's the matter, are you looking for the perfect woman? Are you that particular? Can't you find anyone who suits you?"
"No," Manny replies. "I meet many nice girls, but as soon as I bring them home to meet my parents, my Mother doesn't like them. So I keep on looking!"
"Listen," his friend suggests, "Why don't you find a girl who's just like your dear ole Mother?"
Many weeks go by and again Manny and his friend get together. "So, Manny, did you find that perfect girl yet--one that's just like your Mother?"
Manny shrugs his shoulders, "Yes, I found one just like Mom. And my mother loved her, and they became fast friends."
So should I congratulate you? "Are you and this girl engaged, yet?"
"I'm afraid not. My Father can't stand her!"
#joke
No Wool Downstairs
A husky foreigner, looking for sex, accepted a prostitute's terms.
When she undressed, he noticed that she had no pubic hair.
The man shouted, "What, no wool? In my country all women have wool down there."
The prostitute snapped back, "What do you want to do, knit or have sex?"
#joke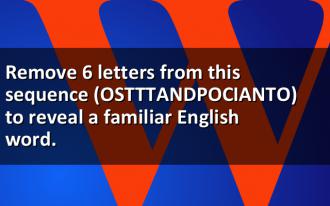 Remove 6 letters from this seq...
Remove 6 letters from this sequence (OSTTTANDPOCIANTO) to reveal a familiar English word.
School theatre
Billy's father picked him up from school to take him to a dental appointment. Knowing the acting roles for the school play were being posted that day, he asked Billy if he got a part.
Billy enthusiastically announced that he'd gotten a part. "I play a man who's been married for twenty years."
"That's great, son. Keep up the good work and before you know it they'll be giving you a speaking part."
#joke
Dan Naturman: Airplane Movie Safety
Last time I was on JetBlue, there was a dude next to me who looked a little suspicious. I was nervous. He was watching a movie, though; so Im thinking, Would a hijacker watch a movie? Probably not, right?... But you know its a good movie if you land, and hes like, Oh my God, I forgot to hijack the plane.
#joke
A man placed some flowers o...
A man placed some flowers on the grave of his dearly departed mother and started back toward his car when his attention was diverted to another man kneeling at a grave. The man seemed to be praying with profound intensity and kept repeating, "Why did you have to die? Why did you have to die?" The first man approached him and said, "Sir, I don't wish to interfere with your private grief, but this demonstration of pain is more than I've ever seen before. For whom do you mourn so deeply? A child? A parent?" The mourner took a moment to collect himself, then replied, "My wife's first husband."
#joke
A guy walks into a clinic to h...
A guy walks into a clinic to have his blood type taken.
The nurse goes about taking the blood sample from his finger after finishing she looks around for a piece of cotton to wipe away the excess blood.
She can't find it so she looks innocently at the guy and takes his finger and sucks it.
The guy is so pleased he asks; "Do you think i could have a urine test done?"
#joke
Surfing The Internet
Surfin' the Net
So I think I'm in the clear
the boss is no where in sight
I logon to the web and start to surf
and then my hair stands up with fright
the footsteps coming down the hall
are quickening in pace
there is no time to exit
no way to save my face
so I press the power button
and relax just a bit
there is no way he can tell
exactly what I hit
I act all surprised
don't know why my machine died
"simply unpredictable these
computers are!" I cried
"So we'll get you a new one
a computer that won't crash" he exclaims
Do you think he'll wonder
when the new one acts the same?
#joke
John Oliver: Taxation Without Representation
Frankly, I could not f**king believe I was not allowed to vote. Three and a half years Ive lived here! I work hard -- relatively speaking for someone who does this for a living. I pay my taxes. I try to fit in. Ive learnt your rudimentary language. I dont know what more you could reasonably expect me to do. And thats when it hit me. I know why Im so angry. I know what this is -- taxation without representation. Now I get it. Now I see why you got so pissy about it all those years ago. It is annoying. You were right. It is annoying and consider that as close to an apology as you are ever going to get.
#joke
For beer drinkers
"Sometimes when I reflect back on all the beer I drink I feel ashamed. Then I look into the glass and think about the workers in the brewery and all of their hopes and dreams. If I didn't drink this beer, they might be out of work and their dreams would be shattered. Then I say to myself, "It is better that I drink this beer and let their dreams come true than be selfish and worry about my liver." ~ Jack Handy
~~~~~~~~~~~~~
"I feel sorry for people who don't drink. When they wake up in the morning, that's as good as they're going to feel all day. " ~ Frank Sinatra
~~~~~~~~~~~~~
"When I read about the evils of drinking, I gave up reading." ~ Henny Youngman
~~~~~~~~~~~~~
"24 hours in a day, 24 beers in a case. Coincidence? I think not." ~ Stephen Wright
~~~~~~~~~~~~~
"When we drink, we get drunk. When we get drunk, we fall asleep. When we fall asleep, we commit no sin. When we commit no sin, we go to heaven. Sooooo, let's all get drunk and go to heaven!" ~ Brian O'Rourke
~~~~~~~~~~~~~
"Beer is proof that God loves us and wants us to be happy." ~ Benjamin Franklin
~~~~~~~~~~~~~
"Without question, the greatest invention in the history of mankind is beer. Oh, I grant you that the wheel was also a fine invention, but the wheel does not go nearly as well with pizza." ~ Dave Barry
~~~~~~~~~~~~~
~~~~~~~~~~~~~
Remember "I" before "E", except in Budweiser.
Submitted by Curtis
Edited by calamjo, yisman and Tantilazing
Welles and Link were lost in t...
Welles and Link were lost in the desert and hadn't eaten in weeks. Suddenly they stumbled on a dead coyote covered with maggots.
Welles, at the point of starvation, couldn't control himself. He threw himself on the rotting animal and began eating it. Ten minutes later, he threw up all over the place.
At that moment, Link began eating what his friend had just vomited. He stopped for a moment and said, "I knew if I waited long enough I'd have a hot meal!"
#joke
The grandfather clock
Harvey's grandfather clock suddenly stops working right one day, so he loads it into his van and takes it to a clock repair shop. In the shop is a little old man who insists he is Swiss, and has a heavy German accent. He asks Harvey, "Vat sims to be ze problem?"
Harvey says, "I'm not sure, but it doesn't go 'tick- tock-tick-tock' anymore. Now it just goes 'tick...tick...tick.'"
The old man says, "Mmm-Hm!" and steps behind the counter, where he rummages around a bit. He emerges with a huge flashlight and walks over to the grandfather clock. He turns the flashlight on, and shines it directly into the clocks face. Then he says in a menacing voice, "Ve haf vays of making you tock!"
#joke