Happy New Year 2021!!
Chuck Norris let the dogs out....
Chuck Norris let the dogs out.
A minister was asked to dinner...
A minister was asked to dinner by one of his parishioners who was known for being a poor housekeeper.
When he sat down at the table, he noticed that the dishes were the dirtiest that he had ever seen in his life.
"Have these dishes ever been washed?" he asked his hostess, running his fingers over the grit and grime.
She replied, "They're as clean as soap and water could get them."
He felt a bit apprehensive but blessed the food anyway and started eating. It was really delicious, and he said so, despite the dirty dishes.
When dinner was over, the hostess took the dishes outside, whistled and yelled, "Here, Soap! Here, Water!"
#joke
Funny video of the day - Ski Fail! Kid hits boat dock!
Address me as...
The manager of a large office noticed a new man one day and told him to come into his office. "What is your name?" was the first thing the manager asked the new guy.
"John," the new guy replied.
The manager scowled, "Look, I don't know what kind of a namby-pamby place you worked at before, but I don't call anyone by his first name. It breeds familiarity and that leads to a breakdown in authority. I refer to my employees by their last name only – Smith, Jones, Baker – that's all. I am to be referred to only as Mr. Robertson. Now that we got that straight, what is your last name?"
The new guy sighed and said, "Darling. My name is John Darling."
"Okay, John, the next thing I want to tell you is…"
#joke
A guy walks into a bar. He say...
A guy walks into a bar. He says to the bartender "I'd like a Whiskey Sour." The bartender replies "How do you make that?" The guy says "You put in whiskey to make it strong, water to make it weak, lemon to make it sour and sugar to make it sweat. You mix it all together and you say 'Here's to you' and then you drink it yourself." The bartender says "That's not a drink! That's a contradiction!"
#joke #walksintoabar
Way To True
Eino and Toivo, two upper Michigan handymen were hired to paint a flag pole and were going to be paid by the inch. As they were standing at the base of the flagpole looking up, trying as they may to figure how much to charge, a young woman walked by and asked what they were doing.
"We are supposed to find the height of this flag pole" said Toivo, "But we don't have a ladder. The woman took a wrench from her purse, loosened a few bolts and laid the pole down. She then took a tape measure from her pocket, took a measurement and announced, "Eighteen feet, six inches" and walked away.
Eino shook his head and laughed, "Ain't that just like a woman! We asked for the height and she gives us the length!!"
Eino and Toivo are currently working for the government......
#joke
A woman steps into an elevator...
A woman steps into an elevator. There is already a fellow standing there, patiently. As the doors close, the woman turns to the man and says "T-G-I-F".
The man replies "S-H-I-T".
The woman is perplexed as she repeats "T-G-I-F".
The man states again "S-H-I-T".
"I am sorry," she says "but I think there is a misunderstanding. I meant T-G-I-F, Thank Goodness It's Friday."
The man smiles sympathetically and says. "S-H-I-T. Sorry Honey, It's Thursday."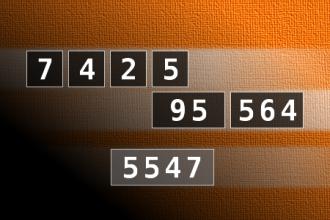 Calculate the number 5547
NUMBERMANIA: Calculate the number 5547 using numbers [7, 4, 2, 5, 95, 564] and basic arithmetic operations (+, -, *, /). Each of the numbers can be used only once.
Dealing With A Lawyer
A new York Divorce Lawyer died and arrived at the pearly gates. Saint Peter asks him "What have you done to merit entrance into Heaven?" The Lawyer thought a moment, then said, "A week ago, I gave a quarter to a homeless person on the street." Saint Peter asked Gabriel to check this out in the record, and after a moment Gabriel affirmed that this was true.
Saint Peter said, "Well , that's fine, but it's not really quite enough to get you into Heaven." The Lawyer said, "Wait Wait! There's more! Three years ago I also gave a homeless person a quarter." Saint Peter nodded to Gabriel, who after a moment nodded back, affirming this, too, had been verified.
Saint Peter then whispered to Gabriel, "Well, what do you suggest we do with this fellow?"
Gabriel gave the Lawyer a sidelong glance, then said to Saint Peter,
"Let's give him back his 50 cents and tell him to go to Hell."
Touring guide for North
Northerners visiting the South Information for Northerners Visiting the Southern States
If you are from the northern states and planning on visiting or moving to the south, there are a few things you should know that will help you adapt to the difference in life styles:
1. If you run your car into a ditch, don't panic. Four men in a four-wheel-drive pickup truck with a 12-pack of beer and a towchain will be along shortly. Don't try to help them, just stay out of their way. This is what they live for.
2. Don't be surprised to find movie rentals and bait in the same store. Do not buy food at this store.
3. Remember: "Y'all" is singular, "All y'all" is plural, and "All y'alls'" is plural possessive.
4. Get used to hearing "You ain't from around here, are ya?"
5. You may hear a Southerner say "Oughta!" to a dog or child. This is short for "Y'all oughta not do that!" and is the equivalent of saying "No!"
6. Don't be worried about not understanding what people are saying; they can't understand you, either.
7. The first Southern expression to creep into a transplanted Northerner's vocabulary is the adjective "big ol'," as in "big ol' truck " or "big ol' boy." Most Northerners begin their new Southern-influenced dialect this way. All of them are in denial about it.
8. The proper pronunciation you learned in school is no longer proper.
9. Be advised that "He needed killin'" is a valid defense here.
10. If you hear a Southerner exclaim "Hey, y'all, watch this," stay out of the way. These are likely to be the last words he'll ever say.
11. If there is the prediction of the slightest chance of even the smallest accumulation of snow, your presence is required at the local grocery store. It doesn't matter whether you need anything or not. You just have to go there.
12. When you come upon a person driving 15 mph down the middle of the road, remember that most folks here learn to drive on a John Deere, and that this is the proper speed and position for that vehicle.
Dane Cook: In the Year 3000
In the year 3000, everything will be instant... but the DMV will still take, like, nine f**king seconds.
There was a beautiful young bl...
There was a beautiful young blonde at a soda machine in Vegas, and she arrived there just before a business man coming to quench his thirst.
She opened her purse and put in 50 cents, studied the machine a short while, pushed a Diet Coke selection, and out came a Diet Coke. She placed it on a counter next to the machine.
Then she reached in her purse again and pulled out a dollar and inserted it in the machine. Studying the machine carefully, she pushed the button for Coke Classic and out came a Coke Classic and 50 cents change.
She immediately took the 50 cents and put it in the machine, studied it for a moment and pushed the Mountain Dew button. Out came a Mountain Dew. She placed them both on the counter next to the Diet Coke.
As she was reaching into her purse again, the business man, who'd been waiting patiently for several minutes by then, spoke up. "Excuse me, miss, but are you done yet?"
She looked at him and indignantly asked, "Well Duh! Can't you see I'm still winning?"
Dating a Nun
Did you hear about the guy who tried to date a nun?
He wanted to take her to the county fair, but she declined on account of she had taken a vow abstaining from Carnival pleasures.
- Joke shared by Beliefnet member BeerLover
Burglary Witness
An old man was a witness in a burglary case.
The defense lawyer asked Sam, "Did you see my client commit this burglary?"
"Yes," said Sam, "I saw him plainly take the goods."
The lawyer asks Sam again, "Sam, this happened at night. Are you sure you saw my client commit this crime?"
"Yes, says Sam. "I saw him do it."
Then the lawyer asks Sam, "Sam, listen, you are an 80-year-old, and your eyesight is probably bad. Just how far can you see at night?"
Sam says, "I can see the moon. How far is that?"
Blonde and computers
Yesterday I came back to my office from Court. There was a new secretary (a very attractive blonde, of course?) in the office down the hall from me. She flagged me down and asked for help. "My floppy drive won't work, can you help me ?" she asked.
I told her I'd take a look and proceeded over to her machine, where I found shredded up clear plastic Baggie-like stuff hanging out of her 3.5" floppy drive. While I spent the next 20 minutes getting out her disk and digging out the plastic, I noticed two guys, John and Dave, in the hall trying awfully hard to keep straight faces. Suspecting some mischief, I asked her how the plastic got into the drive.
"Oh, you mean the condom!", she said.
"Condom???", I asked.
"Yes, John & Dave over there told me to always put a condom on my disk before inserting it, to prevent catching viruses."
By this point, John & Dave were roaring, and it was all I could do to keep from joining them. The "condom" turned out to be a standard 3.5" plastic sleeve. I delicately explained to her that a practical joke had been played, and she shouldn't do that anymore, when she asked (as serious as one could be):
"Does that mean I don't have to stroke it ten times or blow on it either???"
Larry was startled to see the ...
Larry was startled to see the nonchalant way Jason was taking the fact that his girlfriend was seen with another man. "You said you loved her and yet you saw her with another man and you didn't knock the guy down?"
"I'm waiting."
"Waiting for what?" asked Larry
"Waiting to catch her with a smaller feller."
#joke
1. ONE TEQUILA, TWO TEQUILA, T...
1. ONE TEQUILA, TWO TEQUILA, THREE TEQUILA, FLOOR.
2. ATHEISM IS A NON-PROPHET ORGANIZATION.
3. CAN AN ATHEIST GET INSURANCE AGAINST ACTS OF GOD?
4. IF MAN EVOLVED FROM MONKEYS AND APES, WHY DO WE STILL HAVE MONKEYS AND APES?
5. THE MAIN REASON THAT SANTA IS SO JOLLY IS BECAUSE HE KNOWS WHERE ALL THE BAD GIRLS LIVE.
6. I WENT TO A BOOK STORE AND ASKED THE SALESWOMAN, 'WHERE'S THE SELF-HELP SECTION?' SHE SAID IF SHE TOLD ME, IT WOULD DEFEAT THE PURPOSE.
7. WHAT IF THERE WERE NO HYPOTHETICAL QUESTIONS?
8. IF A DEAF PERSON SIGNS SWEAR WORDS, DOES HIS MOTHER WASH HIS HANDS WITH SOAP?
9. IF SOMEONE WITH MULTIPLE PERSONALITIES THREATENS TO KILL HIMSELF, IS IT CONSIDERED A HOSTAGE SITUATION?
10. IS THERE ANOTHER WORD FOR SYNONYM?
11. WHERE DO FOREST RANGERS GO TO 'GET AWAY FROM IT ALL?'
12. WHAT DO YOU DO WHEN YOU SEE AN ENDANGERED ANIMAL EATING AN ENDANGERED PLANT?
13. IF A PARSLEY FARMER IS SUED, CAN THEY GARNISH HIS WAGES?
14. WOULD A FLY WITHOUT WINGS BE CALLED A WALK?
15. WHY DO THEY LOCK GAS STATION BATHROOMS? ARE THEY AFRAID SOMEONE WILL CLEAN THEM?
16. IF A TURTLE DOESN'T HAVE A SHELL, IS HE HOMELESS OR NAKED?
17. CAN VEGETARIANS EAT ANIMAL CRACKERS?
18. IF THE POLICE ARREST A MUTE, DO THEY TELL HIM HE HAS THE RIGHT TO REMAIN SILENT?
19. WHAT WAS THE BEST THING BEFORE SLICED BREAD?
20. ONE NICE THING ABOUT EGOTISTS: THEY DON'T TALK ABOUT OTHER PEOPLE.
21. HOW IS IT POSSIBLE TO HAVE A CIVIL WAR?
22. IF ONE SYNCHRONIZED SWIMMER DROWNS, DO THE REST DROWN TOO?
23. IF YOU ATE BOTH PASTA AND ANTIPASTO, WOULD YOU STILL BE HUNGRY?
24. IF YOU TRY TO FAIL, AND SUCCEED, WHICH HAVE YOU DONE?
25. WHOSE CRUEL IDEA WAS IT FOR THE WORD LISP TO HAVE 'S' IN IT?
26. WHY ARE HAEMORRHOIDS CALLED HAEMORRHOIDS INSTEAD OF ASSTEROIDS?
27. WHY IS IT CALLED TOURIST SEASON IF WE CAN'T SHOOT AT THEM?
28. WHY IS THERE AN EXPIRATION DATE ON SOUR CREAM?
29. IF YOU SPIN AN ORIENTAL PERSON IN A CIRCLE THREE TIMES DO THEY BECOME DISORIENTED?
#joke
A railfan was discussing the N...
A railfan was discussing the NSW C-79 class, pointing out its tall funnel, large driving wheels, and other characteristics which gave it an Edwardian appearance. Then his young brother, a Thomas the Tank Engine fan, came up with a picture of an unstreamlined 38-class, claiming for it a "Gordonian" appearance!
Translation: Nobody could fail to recognise the allusion to Gordon of the Fat Controller's railway!
#joke