Teacher jokes-Sleeping student
The teacher is droning away in the classroom when he notices a student sleeping way up in the back row. The teacher shouts to the sleeping student's neighbor, "Hey wake that student up!"
The neighbor yells back, "You put him to sleep, you wake him up!"
What I Want in a Man
What I Want in a Man, Original List (age 22):
1. Handsome
2. Charming
3. Financially successful
4. A caring listener
5. Witty
6. In good shape
7. Dresses with style
8. Appreciates finer things
9. Full of thoughtful surprises
10. An imaginative, romantic lover.
What I Want in a Man, Revised List (age 32):
1. Nice looking (prefer hair on his head)
2. Opens car doors, holds chairs
3. Has enough money for a nice dinner
4. Listens more than talks
5. Laughs at my jokes
6. Carries bags of groceries with ease
7. Owns at least one tie
8. Appreciates a good home-cooked meal
9. Remembers birthdays and anniversaries
10. Seeks romance at least once a week.
What I Want in a Man, Revised List (age 42):
1. Not too ugly (bald head OK)
2. Doesn't drive off until I'm in the car
3. Works steady — splurges on dinner out occasionally
4. Nods head when I'm talking
5. Usually remembers punch lines of jokes
6. Is in good enough shape to rearrange the furniture
7. Wears a shirt that covers his stomach
8. Knows not to buy champagne with screw-top lids
9. Remembers to put the toilet seat down
10. Shaves most weekends.
What I Want in a Man, Revised List (age 52):
1. Keeps hair in nose and ears trimmed
2. Doesn't belch or scratch in public
3. Doesn't borrow money too often
4. Doesn't nod off to sleep when I'm venting
5. Doesn't re-tell the same joke too many times
6. Is in good enough shape to get off couch on weekends
7. Usually wears matching socks and fresh underwear
8. Appreciates a good TV dinner
9. Remembers my name on occasion
10. Shaves some weekends.
What I Want in a Man, Revised List (age 62):
1. Doesn't scare small children
2. Remembers where bathroom is
3. Doesn't require much money for upkeep
4. Only snores lightly when asleep
5. Remembers why he's laughing
6. Is in good enough shape to stand up by himself
7. Usually wears clothes
8. Likes soft foods
9. Remembers where he left his teeth
10. Remembers that it's the weekend.
What I Want in a Man, Revised List (age 72):
1. Breathing
2. Doesn't miss the toilet
#joke
Funny video of the day - Best Fails Of The Week 2 June 2012
There was a student who was de...
There was a student who was desirous of taking admission for a study course.
He was smart enough to get through the written test, a GD and was to appear for the personal interview. Later, as the interview progressed, the interviewer found this boy to be bright since he could answer all the questions correctly. The interviewer got impatient and decided to corner the boy.
"Tell me your choice;" said he to the boy, "What's your choice: I shall either ask you ten easy questions or ONE real difficult. Think well before you make up your mind."
The boy thought for a while and said, "My choice is ONE real difficult question."
"Well, good luck to you, you have made your own choice!" said the man on the opposite side. Tell me: What comes first, Day or Night?"
The boy was jolted first but he waited for a while and said: "It's the DAY, sir."
"How???????" the interviewer was smiling ("At last, I got you!" he said to himself.)
"Sorry sir, you promised me that you will not ask me a SECOND difficult question!"
Admission for the course was thus secured.
#joke
Damien Lemon: Absentee Fathers
Fathers Day just be Mothers Day the sequel.
Nuns at the Hospital
A man suffered a serious heart attack and had bypass surgery. He awakened to find himself in the care of nuns at a Catholic hospital.

As he was recovering, a nun asked how he was going to pay the bill. He replied, in a raspy voice, "No health insurance."

The nun asked if he had money in the bank. He replied, "No money in the bank."

The nun asked, "Do you have a relative who could help you?"
He said, "Just a spinster sister, who is a nun."

The nun, slightly perturbed, said, "Nuns are not spinsters! Nuns are married to God."

The patient replied, "Then send the bill to my brother-in-law."
#joke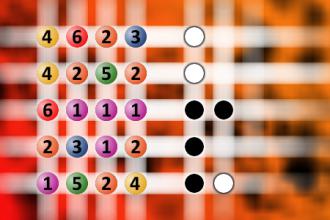 Which is a winning combination of digits?
The computer chose a secret code (sequence of 4 digits from 1 to 6). Your goal is to find that code. Black circles indicate the number of hits on the right spot. White circles indicate the number of hits on the wrong spot.
When Chuck Norris does a pushu...
When Chuck Norris does a pushup, he isn't lifting himself up, he's pushing the Earth down.
A lady is walking down the str...
A lady is walking down the street to work and see's a parrot in a pet store. She stops to admire the bird. The parrot says to her, "hey lady, you are really ugly."
Well, the lady is furious! She storms past the store to her work.
On the way home she saw the same parrot in the window and the parrot upon seeing her says, "hey lady, you are really ugly."
She was incredibly ticked now. The next day on the way to work she saw the same parrot and once again it said, "hey lady, you are really ugly."
The lady was so furious that she stormed into the store and threatened to sue the store and have the bird killed. The store manager appologized profusely and promised the bird wouldn't say it again.
When the lady walked past the store after work the parrot said to her, "hey lady."
She paused and said," yes?"
The bird said, "you know."
#joke
Coroners refer to dead people ...
Coroners refer to dead people as "ABC's". Already Been Chucked.
Christopher Titus: Drunk Driving Lecture
Every weekend, I would get the drunk driving lecture. Of course, Dad drank and drove all the time. I guess it wasnt a lecture; it was helpful tips from the master.
Taliban TV Guide
Taliban TV Guide
MONDAYS:
8:00 - "Husseinfeld"
8:30 - "Mad About Everything"
9:00 - "Suddenly Sanctions"
9:30 - "The Brian Benben Bin Laden Show"
10:00 - "Allah McBeal"
TUESDAYS:
8:00 - "Wheel of Terror and Fortune"
8:30 - "The Price is Right If Osama Says Its Right"
9:00 - "Children Are Forbidden From Saying The Darndest Things"
9:30 - "Afganistans Wackiest Public Execution Bloopers"
10:00 - "Buffy The Yankee Imperialist Dog Slayer"
WEDNESDAYS:
8:00 - "U.S. Military Secrets Revealed"
8:30 - "Bowling For Food"
9:00 - "Two Guys, a Girl, and a Pita Bread"
9:30 - "Just Shoot Everyone"
10:00 - "Veilwatch"
THURSDAYS:
8:00 - "Matima Loves Chachi"
8:30 - "M*U*S*T*A*S*H"
9:00 - "Veronicas Closet Full of Long, Black, Shapeless Dresses and Veils"
9:30 - "My Two Baghdads"
10:00 - "Diagnosis: Heresy"
FRIDAYS:
8:00 - "Judge Laden"
8:30 - "Funniest Super 8 Home Movies"
9:00 - "Who Wants To Execute A Multimillionaire"
9:30 - "Achmeds Creek"
10:00 - "No-witness News"
Hang your @
Home is where you hang your @.
Socks...
A young man and a young woman were soon to be married, but they both had a problem they had never told anyone else about. The man approached his father one day before the wedding and told him about his problem. His feet REALLY stunk, even if he washed them constantly, he was worried that this would scare off his new bride, so he needed a solution, fast. His father pondered the situation and finally told his son to wear socks constantly (even to bed) and always wash his feet whenever he got a chance. The son thought about this and went along happy.
The same day the young lady approached her mother and told her about her problem. Her morning breath was horrid. Her mother reassured her and told her everyone had bad morning breath. The young woman told her mother that this was not normal morning breath but easily the worst in the world. The mother thinks about this and comes up with this bright idea. She tells her daughter to get up earlier than everyone else and don't say a thing, go make breakfast and then brush her teeth while the others are eating. The young woman thinks and then runs off to get ready for the wedding, happy.
The couple is married and they are happy, him with his perpetual socks and her with her morning silences. One morning about 5:30 am the young man wakes up to find one sock missing. He starts rustling around in the bed looking for it, which of course wakes up his wife, who without thinking asks what's wrong.
With a look of shock on his face the young man says, "OH MY GOD! You've swallowed my sock!"
#joke