Short funny jokes-Fit more pigs
Laurel: How do I fit more pigs in my farm?
Hardy: Build a sty-scraper!
Q: What do you get if you put...
Q: What do you get if you put 20 ducks in a box?

A: A box of Quakers.

Funny video of the day - Kitten fall - FAIL
Bubba and Johnny Ray, two good...
Bubba and Johnny Ray, two good ole boys from North Carolina, were sitting' on the front porch drinking beer when a large truck hauling rolls and rolls of sod went by.
"I'm gonna do that when I win the lottery," said Bubba.
"Do what?" asked Johnny Ray.
"Send my grass out to be mowed," answered Bubba.
The Haircut
A young boy had just gotten his driving permit. He asked his father, who was a minister, if they could discuss the use of the car. His father took him to his study and said to him, "I'll make a deal with you. You bring your grades up, study your Bible a little and get your hair cut and we'll talk about it." After about a month the boy came back and again asked his father if they could discuss use of the car. They again went to the father's study where his father said, "Son, I've been real proud of you. You have brought your grades up, you've studied your Bible diligently, but you didn't get your hair cut!"
The young man waited a moment and replied, "You know Dad, I've been thinking about that. Samson had long hair, Moses had long hair, Noah had long hair, and even Jesus had long hair...."
To which his father replied, "Yes, and they walked everywhere they went!"
#joke
The answer....
A businessman was in a great deal of trouble. His business was failing, he had put everything he had into the business, he owed everybody-- it was so bad he was even contemplating suicide. As a last resort he went to a priest and poured out his story of tears and woe.
When he had finished, the priest said, "Here's what I want you to do: Put a beach chair and your Bible in your car and drive down to the beach. Take the beach chair and the Bible to the water's edge, sit down in the beach chair, and put the Bible in your lap. Open the Bible; the wind will rifle the pages, but finally the open Bible will come to rest on a page. Look down at the page and read the first thing you see. That will be your answer, that will tell you what to do."
A year later the businessman went back to the priest and brought his wife and children with him. The man was in a new custom-tailored suit, his wife in a mink coat, the children shining. The businessman pulled an envelope stuffed with money out of his pocket, gave it to the priest as a donation in thanks for his advice.
The priest recognized the benefactor, and was curious. "You did as I suggested?" he asked.
"Absolutely," replied the businessman.
"You went to the beach?"
"Absolutely."
"You sat in a beach chair with the Bible in your lap?"
"Absolutely."
"You let the pages rifle until they stopped?"
"Absolutely."
"And what were the first words you saw?"
"Chapter 11."
#joke
The Helpful Priest
A priest is walking down the street one day when he notices
a very small boy trying to press a doorbell on a house across
the street. However, the boy is very small and the doorbell
is too high for him to reach.
After watching the boys efforts for some time, the priest
moves closer to the boy's position. He steps smartly across
the street, walks up behind the little fellow and, placing
his hand kindly on the child's shoulder leans over and gives
the doorbell a sold ring. Crouching down to the child's
level, the priest smiles benevolently and asks, "And now
what, my little man?"
To which the boy replies, "Now we run!"
#joke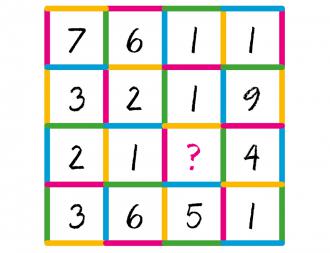 Replace the question mark with a number
MATH PUZZLE: Can you replace the question mark with a number?
Why Dogs Are Better Than Kids
It doesn't take 45 minutes to get a dog ready to go outside in the winter.
Dogs cannot lie.
Dogs never resist nap time.
You don't need to get extra phone lines for a dog.
Dogs don't pester you about getting a kid.
Dogs don't care if the peas have been touched by the mashed potatoes.
Dogs are housebroken by the time they are 12 weeks old.
Your dog is not embarrassed if you sing in public.
Average cost of sending a dog to school: $42
Average cost of sending a kid: $103,000
#joke
Sheng Wang: Toilet With No Water
I took a dump in a toilet with no water. I had to tell my friends, Yeah, I dropped the kids off at the skate park.
The chief export of Chuck Norr...
The chief export of Chuck Norris is pain.
A chicken and an egg are lying...
A chicken and an egg are lying in bed.
The chicken is smoking a cigarette with a satisfied smile on its face.
The egg is frowning and looking a bit pissed off.
The egg mutters, to no one in particular, "Well, I guess we answered THAT question!"
Demetri Martin: Cool Leather
I was at a party the other night, and I saw a guy wearing a leather jacket, and I thought, That is cool. Like 10 minutes later, I saw a guy wearing a leather vest and I thought, That is not cool. Thats when I realized cool is all about leather sleeves.
Johnnie Cochrane Closing Arguments for US v. Clinton
From the law offices of Johnnie Cochrane, Esquire, here are
the top ten proposed closing arguments in the matter of
United States v. William J. Clinton:
10. If the dress aint a mess, he won't need to confess
9. The economy's great, let the White Boy skate
8. If the Bitch didn't spit, you must acquit
7. If she is not spread eagle, then it is not illegal
6. Lewinsky's a whore, and Bill's better than Gore
5. So he lied to the masses, he was just saving some asses
4. He cheats on his wife, but its his personal life
3. Bill can't tell the truth till he sees Ken Starr's
proof
2. Bill is not sleazy, Lewinsky's just easy
And the number one closing argument by Johnny Cochrane:
1. If the sex is just oral, it is not really immoral
#joke
Dollars Equal Ten Cents
Theorem: 1$ = 10 cent
Proof:
We know that $1 = 100 cents
Divide both sides by 100
$ 1/100 = 100/100 cents
=> $ 1/100 = 1 cent
Take square root both side
=> squr($1/100) = squr (1 cent)
=> $ 1/10 = 1 cent
Multiply both side by 10
=> $1 = 10 cent
#joke
A Handicap parking sign does n...
A Handicap parking sign does not signify that this spot is for handicapped people. It is actually in fact a warning, that the spot belongs to Chuck Norris and that you will be handicapped if you park there.