Happy New Year 2021!!
Fallen...
There's this old priest who got sick of all the people in his parish who kept confessing to adultery. One Sunday, in the pulpit, he said, "If I hear that word one more time, I'll quit!"
Everyone liked him, so they came up with a code word. Someone who had committed adultery would say they had "fallen." This seemed to satisfy the old priest and things went well, until the priest died at a ripe old age.
About a week after the new priest arrived, he visited the mayor of the town and seemed very concerned. The priest said, "You have to do something about the roads and sidewalks in town. When people come into the confessional, they keep talking about having fallen."
The mayor started to laugh, realizing that no one had told the new priest about the code word. Before the mayor could explain, the priest shook an accusing finger at the mayor and said, "I don't know what you're laughing about, your own wife fell three times this week already, and your daughter fell twice!"
#joke
The good son
Unable to attend his father's funeral, a son who lived far away called his brother who lived near his father and said: "Do something nice for Dad and send me the bill."
The next month, he got a bill for $200.00, which he paid. But the next month, he got another bill for $200.00, which he also paid, assuming it was some incidental expense.
But when the third month yet another bill for $200.00 arrived, he finally called his brother to see what was going on.
#joke
Funny video of the day - QWOP cosplayer at anime north
Short funny jokes-Rough up
Bubba was arrested for killing a man with sandpaper.
In court, Bubba said in his defense : I never wanted to kill him, all I did was rough him up a bit.
#joke
Why Helicopters are Better than Women
1. A helicopter will kill you quickly . . . a woman takes
her time.
2. Helicopters can be turned on by a flick of a switch.
3. A helicopter does not get mad if you 'touch and go.'
4. A helicopter does not object to a preflight inspection.
5. Helicopters come with manuals.
6. Helicopters have strict weight and balance limits.
7. You can fly a helicopter any time of the month.
8. Helicopters don't come with in-laws.
9. Helicopters don't whine unless something is really
wrong.
10. Helicopters don't care about how many other helicopters
you have flown.
11. When flying, you and your helicopter both arrive at the
same time.
12. Helicopters don't mind if you look at other helicopters,
or if you buy helicopter magazines.
13. It's OK to use tie-downs on your helicopter.
#joke
Iliza Shlesinger: Bumper Sticker
It said, War Is Not the Answer. I disagree. I think war absolutely is the answer. And if you dont agree with me, happy Fourth of July.
Q: What do you call 13 bunn...
Q: What do you call 13 bunnies in a row, hopping backwards?

A: A receding hairline!!!!!!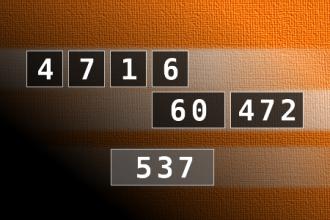 Calculate the number 537
NUMBERMANIA: Calculate the number 537 using numbers [4, 7, 1, 6, 60, 472] and basic arithmetic operations (+, -, *, /). Each of the numbers can be used only once.
If Restaurants Functioned Like Tech Support
Patron: Waiter!
Waiter: Hi, my name is Bill, and I'll be your Support. What seems to be the problem?
Patron: There's a fly in my soup!
Waiter: Try again, maybe the fly won't be there this time.
Patron: No, it's still there.
Waiter: Maybe it's the way you're using the soup. Try eating it with a fork instead.
Patron: Even when I use the fork, the fly is still there.
Waiter: Maybe the soup is incompatible with the bowl. What kind of bowl are you using?
Patron: A SOUP bowl!
Waiter: Hmmm, that should work. Maybe it's a configuration problem. How was the bowl set up?
Patron: You brought it to me on a saucer. What has that to do with the fly in my soup?!
Waiter: Can you remember everything you did before you noticed the fly in your soup?
Patron: I sat down and ordered the Soup of the Day!
Waiter: Have you considered upgrading to the latest Soup of the Day?
Patron: You have more than one Soup of the Day each day??
Waiter: Yes, the Soup of the Day is changed every hour.
Patron: Well, what is the Soup of the Day now?
Waiter: The current Soup of the Day is tomato.
Patron: Fine. Bring me the tomato soup, and the check. I'm running late now.
[waiter leaves and returns with another bowl of soup and the check]
Waiter: Here you are, Sir. The soup and your check.
Patron: This is potato soup.
Waiter: Yes, the tomato soup wasn't ready yet.
Patron: Well, I'm so hungry now, I'll eat anything.
[waiter leaves.]
Patron: Waiter! There's a gnat in my soup!
The check:
Soup of the Day . . . . . . . $5.00
Upgrade to newer Soup of the Day. . $2.50
Access to support . . . . . . $1.00
#joke
Chuck Norris got his drivers l...
Chuck Norris got his drivers license at the age of 16. Seconds.
A Silent Bomb in Church
An elderly couple were in church. The wife leaned over and whispered to her husband, "I just let out a long silent fart... what should I do?"
The husband replied, "Replace the batteries in your hearing aid."
- Joke shared by Beliefnet member eyesoftheworld
#joke
Recently a teacher, a garbage ...
Recently a teacher, a garbage collector, and a lawyer wound up together at the Pearly Gates. St. Peter informed them that in order to get into Heaven, they would each have to answer one question. St. Peter addressed the teacher and asked, "What was the name of the ship that crashed into the iceberg? They just made a movie about it."
The teacher answered quickly, "That would be the Titanic." St. Peter let him through the gate. St. Peter turned to the garbage man and, figuring Heaven didn't REALLY need all the odors that this guy would bring with him, decided to make the question a little harder: "How many people died on the ship?"
Fortunately for him, the trash man had just seen the movie and answered, "about 1,500." "That's right! You may enter." St. Peter then turned to the lawyer. "Name them."
Kevin Hart: When You Lost a Fight to Your Woman
One time, she got me so mad, we got into a fist fight. You know how you know when you lost a fight to your woman? When the cops come to your house and ask you do you want to press charges. Thats how you know it didnt go as you planned.
Chuck Norris has to use a stun...
Chuck Norris has to use a stunt double when he does crying scenes.
Answering Machine Message 208

(Gameshow-announcer voice:) Hello, and welcome to Phone Tag! (Cheers in background.) If you'd like to join the game, please leave your name and number at the beep, and we'll try to reach you when you're not around. And thanks once again for playing Phone Tag!


Happy Birthday
A young blonde woman goes to an office for a job interview.
The interviewer decides to start with the basics. "So, miss, can you tell us your age, please?"
The blonde counts carefully on her fingers for about 3 seconds before replying "Ehh... 23!".
The interviewer tries another straightforward one to break the ice. "And can you tell us your height, please?"
The young lady stands up and produces a measuring tape from her handbag. She then traps one end under her foot and extends the tape to the top of her head. She checks the measurement and announces, "Five foot three!"
This isn't looking good so the interviewer goes for the real basics. "And ehh, just to confirm for our records, your name please?"
The blonde bobs her head from side to side for about twenty seconds, mouthing something silently to herself, before replying "Stephanie".
The interviewer is completely baffled at this stage, so he asks "Just out of curiosity, miss. We can understand your counting on your fingers to work out your age, and the measuring tape for your height is obvious, but what were you doing when we asked you your name?"
"Ohh that!" replies the blonde, "That's just me running through 'Happy birthday to you, happy birthday to you...'"
Submitted by Calamjo
Edited by Glaci