Funny jokes-You might be a Lawyer if
You Might Be a Lawyer if...
you are charging someone for reading these jokes.
you believe that a forty words' sentence is a short one.
you have a daughter named Sue and a son named Bill.
you can look at a contract and instantly tell whether it's verbal or written.
your other car is a BMW.
when you look in a mirror, you see a lawyer.
when your wife says "I love you," you cross-examine her.
Bought A Porsche
A fifteen year-old boy came home with a Porsche and his parents began to scream, "Where did you get that car???!!!" He calmly told them, "I bought it today."

"With what money?" demanded his parents. "We know what a Porsche costs."
"Well," said the boy, "this one cost me fifteen dollars."
So the parents began to yell even louder. "Who would sell a car like that for fifteen dollars?" they said.
"It was the lady up the street," said the boy." I don't know her name--they just moved in. She saw me ride past on my bike and asked me if I wanted to buy a Porsche for fifteen dollars."
"Oh No," moaned the mother, "she must be a child abuser. Who knows what she will do next? John, you go right up there and see what's going on."
So the boy's father walked up the street to the house where the lady lived and found her out in the yard calmly planting petunias! He introduced himself as the father of the boy to whom she had sold a Porsche for fifteen dollars and demanded to know why she did it.
"Well," she said, "this morning I got a phone call from my husband. I thought he was on a business trip, but it seems he has run off to Hawaii with his secretary and doesn't intend to come back. He asked me to sell his new Porsche and send him the money. So I did."
#joke
Funny video of the day - Does not care
Actual instruction lables found on products...
ON A HAIR DRYER:
Do not use while sleeping.
ON A BAG OF FRITOS:
You could be a winner! No purchase necessary. Details inside.
ON A BAR OF DIAL SOAP:
Directions: Use like regular soap.
ON A FROZEN DINNER:
Serving suggestion: Defrost.
ON A HOTEL-PROVIDED SHOWER CAP:
Fits one head.
ON TESCO'S TIRAMISU DESERT:
Do not turn upside down. (Printed on the bottom of the box.)
ON MARKS & SPENCER BREAD PUDDING:
Product will be hot after heating.
ON PACKAGING FOR A ROWENTA IRON:
Do not iron clothes on body.
ON BOOTS CHILDRENS' COUGH MEDICINE:
Do not drive car or operate machinery.
ON NYTOL (A SLEEP AID):
Warning: may cause drowsiness.
ON A KITCHEN KNIFE:
Warning keep out of children.
ON A STRING OF CHRISTMAS LIGHTS: For indoor or outdoor use only.
ON A FOOD PROCESSOR:
Not to be used for the other use.
ON SAINSBURY'S PEANUTS:
Warning: contains nuts.
ON AN AMERICAN AIRLINES PACKET OF NUTS:
Instructions: open packet, eat nuts.
ON A CHAINSAW:
Do not attempt to stop chain with your hands.
Eugene Mirman: Kids Say the Darnedest Things
A lot of people think kids say the darnedest things, but so would you if you had no education.
Flustered
As an instructor in driver education at the local area High School, I've learned that even the brightest students can become flustered behind the wheel.
One day I had three beginners in the car, each scheduled to drive for 30 minutes.
When the first student had completed his time, I asked him to change places with one of the others.
Gripping the wheel tightly and staring straight ahead, he asked in a shaky voice, "Should I stop the car first?"
#joke
Chuck Norris sleeps with a nig...
Chuck Norris sleeps with a night light. Not because Chuck Norris is afraid of the dark, but the dark is afraid of Chuck Norris.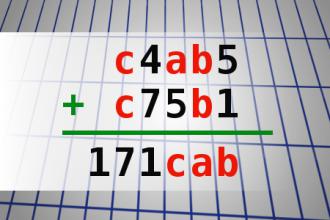 Find number abc
If c4ab5 + c75b1 = 171cab find number abc. Multiple solutions may exist.
There was a beautiful young bl...
There was a beautiful young blonde at a soda machine in Vegas, and she arrived there just before a business man coming to quench his thirst.
She opened her purse and put in 50 cents, studied the machine a short while, pushed a Diet Coke selection, and out came a Diet Coke. She placed it on a counter next to the machine.
Then she reached in her purse again and pulled out a dollar and inserted it in the machine. Studying the machine carefully, she pushed the button for Coke Classic and out came a Coke Classic and 50 cents change.
She immediately took the 50 cents and put it in the machine, studied it for a moment and pushed the Mountain Dew button. Out came a Mountain Dew. She placed them both on the counter next to the Diet Coke.
As she was reaching into her purse again, the business man, who'd been waiting patiently for several minutes by then, spoke up. "Excuse me, miss, but are you done yet?"
She looked at him and indignantly asked, "Well Duh! Can't you see I'm still winning?"
Alien Sex
A Martian couple and an Earthling couple have met and are talking about all sorts of things. Finally, the subject of sex comes up.
"Just how do you guys do it?"
asked the Earthling.
"Pretty much the way you do," responded the Martian.
Discussion ensues and finally the couples decide to swap partners for the night and experience one another. The female Earthling and the male Martian go off to a bedroom where the Martian strips. He's got only a teeny, weeny member; very short and very narrow.
"What can you do with THAT!?"
exclaims the woman.
"Why?"
he asked, "What's the matter?"
"Well," she replied, "it's nowhere near long enough. It'll never reach!"
"No problem," he said and proceeded to slap his forehead with his palm. With each slap of his forehead, his member grew until it was quite impressively long.
"Well," she said.
"That's quite impressive, but it's still pretty narrow."
"No problem," he said again and started pulling his ears. With each pull his member grew wider and wider until the entire measurement was extremely exciting to the woman.
"Wow!" she exclaimed as they fell into bed and made mad, passionate love. The next day the couples rejoined their normal partners and went off together.
As they walked along the Earthling male said, "Well, was it any good?"
"I hate to say it," she said, "but it was really wonderful. How about you?"
"Well," he said, "It was the weirdest thing. She kept slapping me on the forehead and pulling my ears all night."
#joke
100 pound pig
Mike Mooney A Yankee was driving through the south when he decided he wanted to buy a pig. He stopped at a pig farm and told the farmer he wanted to buy a 100 pound pig.
The farmer nodded, walked out into the sty, bent over and picked up a pig by its tail with his teeth. The farmer said, "This one will go a little over a 100".
Astonished the Yankee said, "Who are you trying to fool? You can't weigh a pig that way".
The farmer laughed and called to his young son, "Boy, come over here and weigh that pig for this man".
The boy obliged by bending over and picking up the pig by its tail with his teeth. Turning to his father the boy said, " This here pig weighs about 100 pounds".
The Yankee was having no part of this so in order to convince him the farmer told his son to go to the house and get his mother so she could weigh the pig. After a short delay the son returned and said, "Ma says she will be right down after she's finished weighing the mailman".
#joke
A passenger in a taxi leaned o...
A passenger in a taxi leaned over to ask the driver a question and tapped him on the shoulder. The driver screamed, lost control of the cab, nearly hit a bus, drove up over the curb, and stopped just inches from a large plate glass window.
For a few moments everything was silent in the cab, and then the still shaking driver said, "I'm sorry but you scared the daylights out of me."
The frightened passenger apologized to the driver and said he didn't realize a mere tap on the shoulder could frighten him so much.
The driver replied, "No, no, I'm sorry, it's entirely my fault. Today is my first day driving a cab. I've been driving a hearse for the last 25 years."
#joke
Eugene Mirman: If a Bear Attacks
Does anybody here know what to do if a bear attacks? A lot of people do think youre supposed to play dead, which is not what youre supposed to do. And the best thing about playing dead is -- thats like a rumor that bears spread.