Match
A redneck farmer from back in the hills walked twelve miles, one way, to the general store. "Heya, Wilbur," said Sam, the store owner. "Tell me, are you and Myrtle still making fires up there by rubbing stones and flint together?"
"You betcha, Sam. Ain't no 'tother way. Why?"
"Got something to show you. Something to make fire. It's called a Match."
'Match? Never heard of it."
"Watch this. If you want a fire you just do this," Sam says, taking a match and striking it on his pants."
"Huh. Well, that's something, but that ain't for me, Sam."
"Well, why not?"

"I can't be walking twelve miles to borrow your pants every time I want a fire."
#joke
Really funny jokes-The patch up job
Newly married Tina had committed a blunder in her husband's absence. As soon as the man returned from work, she blurted; "Here I was ironing your finest suit and burnt this hole in the seat of your trousers."
The husband, large hearted that he was, said; "I have another pair of trousers that matches that suit, so do not worry."
Tina: " Thank God for that, because I was able to patch up the hole using those trousers only."

#joke
Funny video of the day - How to Turn Left in the UP
What happened?
A man was complaining to a friend: "I had it all - money, magnificent house, big car, the love of beautiful woman, then, POW! It was all gone!"
"What happened?," asked the friend.
"My wife found out..."
A 17 year-old Antartican boy w...
A 17 year-old Antartican boy was hired to paint a white line down the middle of the highway. On the first day, he got off to a good start and he painted a white line 7 miles long. The next day, however, he painted a line only 4 miles long. On the third day, he was down to less than a mile. Finally, his friend Max asked him why he was doing less each day. The boy replied, "I guess it takes me longer and longer to get back to the bucket each day."
#joke
Family Bible
A little boy opened the big and old family Bible with fascination, looking at the old pages as he turned them. Then something fell out, and he picked it up and looked at it closely. It was an old leaf from a tree that had been pressed in between the pages.
"Momma, look what I found," the boy called out.
"What have you got there, dear?" his mother asked.
With astonishment in the his voice, he answered, "It's Adam's Suit!"
#joke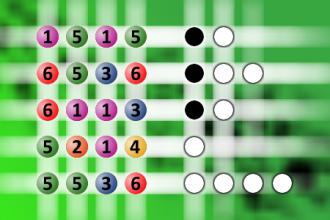 Which is a winning combination of digits?
The computer chose a secret code (sequence of 4 digits from 1 to 6). Your goal is to find that code. Black circles indicate the number of hits on the right spot. White circles indicate the number of hits on the wrong spot.
Moving Testimony
The second guy says, "I would like to hear that I was a wonderful husband and school teacher which made a huge difference in our children of tomorrow."
The last guy replies, "I would like to hear them say, 'Look! He's moving!'"
One night, a man on his way...
One night, a man on his way home happened upon a drunk, down on his hands and knees searching for something under a street light. The man asked the drunk what he was looking for so diligently and the drunk said he had tripped and his Rolex wrist watch had broken loose from his wrist. The man, being a kindhearted soul, got down on his hands and knees and began assisting the drunk looking for his watch. After about ten minutes without any success, the man asked the drunk exactly where he tripped. "About a half a block up the street," the drunk said. "Why, pray tell," the man asked the drunk, "are you looking for your watch here if you lost it a half a block up the street?" The drunk replied, "The light is a lot better here."
#joke
A burglar broke into a house o...
A burglar broke into a house one night. He shone his flashlight around looking for valuables, and when he picked up a CD player to place in his sack, a strange, disembodied voice echoed from the dark saying, "Jesus is watching you."
He nearly jumped out of his skin, clicked his flashlight off and froze. When he heard nothing more after a bit, he shook his head, promised himself a vacation after the next big score, then clicked the light back on and began searching more valuables. Just as he pulled the stereo out so he could disconnect the wires, clear as a bell he heard, "Jesus is watching you."
Totally rattled, he shone his light around frantically, looking for the source of the voice. Finally, in the corner of the room, his flashlight beam came to rest on a parrot. "Did you say that?" He hissed at the parrot.
"Yes," the parrot confessed, then squawked, "I'm just trying to warn you."
The burglar relaxed. "Warn me, huh? Who do you think you are any way?"
"Moses," replied the bird.
"Moses," the burglar laughed. "What kind of stupid people would name a parrot 'Moses'?"
The bird promptly answered: "The same kind of people that would name a Rottweiler 'Jesus'!"
#joke
Nuns at the Hospital
A man suffered a serious heart attack and had bypass surgery. He awakened to find himself in the care of nuns at a Catholic hospital.

As he was recovering, a nun asked how he was going to pay the bill. He replied, in a raspy voice, "No health insurance."

The nun asked if he had money in the bank. He replied, "No money in the bank."

The nun asked, "Do you have a relative who could help you?"
He said, "Just a spinster sister, who is a nun."

The nun, slightly perturbed, said, "Nuns are not spinsters! Nuns are married to God."

The patient replied, "Then send the bill to my brother-in-law."
#joke
When Bruce Banner gets mad, he...
When Bruce Banner gets mad, he turns into the Hulk. When the Hulk gets mad, he turns into Chuck Norris.
Angelic Assistance?
An old-time pastor was riding furiously down the road, hurrying to get to church on time. Suddenly, his horse stumbled and threw him to the ground.
Lying in the dirt, his body wracked with pain, the pastor called out, "All you angels in heaven, help me get up on my horse!"
With extraordinary strength, he leaped onto the horse's back and fell off the other side.
From the ground again, he called out, "All right, just half of you angels this time!"

#joke