"The crusty, ill-temp...
"The crusty, ill-tempered baker was a scone's throw from becoming toast."
Sharing Everything
A young man saw an elderly couple sitting down to lunch at McDonald's. He noticed that they had ordered one meal, and an extra drink cup. As he watched, the gentleman carefully divided the hamburger in half, then counted out the fries, one for him, one for her, until each had half of them. Then he poured half of the soft drink into the extra cup and set that in front of his wife. The old man then began to eat, and his wife sat watching, with her hands folded in her lap.
The young man decided to ask if they would allow him to purchase another meal for them so that they didn't have to split theirs.
The old gentleman said, "Oh no. We've been married 50 years, and everything has always been and will always be shared, 50/50."

The young man then asked the wife if she was going to eat, and she replied, "It's his turn with the teeth."
#joke
Ode to a Cat
Ode To A Cat

I think that I shall never see
A cat that sheds as much as thee
Thy fur that sticks is all around
On chairs, on mats in little mounds
I sweep the floor, you shed some more
I wash the rug and you just shrug
You should give thanks I tolerate that
Or you would be a crew cut cat.
#joke
Two drunks are walking along. ...
Two drunks are walking along. One drunk says to the other, "What a beautiful night, look at the moon."
The other drunk stops and looks at his drunken friend, "You are wrong. That's not the moon, that's the sun."
Both started arguing for a while when they came upon another drunk walking, so they stopped him. "Sir, could you please help settle our argument? Tell us what that thing is up in the sky that's shining. Is it the moon or the sun?"
The third drunk looked at the sky and then looked at them and said, "Sorry, I don't live around here."
#joke
The captains shirt...
Long ago, when sailing ships ruled the sea, a captain and his crew were in danger of being boarded by a pirate ship. As the crew became frantic, the captain bellowed to his First Mate, "Bring me my red shirt!"
The First Mate quickly retrieved the captain's red shirt, the captain put it on and led the crew to battle the pirate ship. Although some casualties occurred among the crew, the pirates were repelled.
Later that day, the lookout screamed that there were two pirate vessels about to attack. The crew cowered in fear, but the captain, calm as ever, bellowed, "Bring me my red shirt!" And once again the battle was on.
This time, the Captain and his crew repelled both pirate ships, although this time more casualties occurred. Weary from the battles, the men sat around on deck that night recounting the day's occurrences when an ensign looked to the Captain and asked, "Sir, why did you call for your red shirt before the battles?"
The Captain, giving the ensign a look that only a captain can give, exhorted, "If I am wounded in battle, the red shirt does not show the wound, and thus, you men will continue to fight unafraid."
The men sat in silence marveling at the courage of such a man. As dawn came the next morning, the lookout screamed more pirate ships were approaching, 10 of them, all ready to attack. The men became silent and looked to the Captain, their leader, for his usual command. The Captain, calm as ever, bellowed, "Bring me my brown pants!"
#joke
Debate About The Box
An engineer, a physicist, and a mathematician are trying to set up a fenced-in area for some sheep, but they have a limited amount of building material. The engineer gets up first and makes a square fence with the material, reasoning that it's a pretty good working solution. "No no," says the physicist, "there's a better way." He takes the fence and makes a circular pen, showing how it encompasses the maximum possible space with the given material.
Then the mathematician speaks up: "No, no, there's an even better way." To the others' amusement he proceeds to construct a little tiny fence around himself, then declares:
"I define myself to be on the outside."
#joke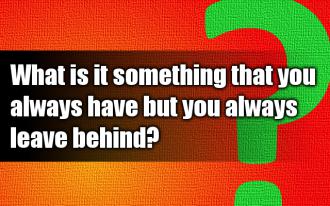 What is it something that yo...
What is it something that you always have but you always leave behind?
Clean Jokes about Ireland
An American and an Irishman were enjoying a ride in the country when they came upon an unusual sight - an old gallows. The American thought he would have a joke on his Irish companion. "You see that, I reckon," said he to the Irishman, pointing to the gallows. "And now where would you be if the gallows had its due?" "Riding alone," coolly replied Paddy.
An Englishman, a Scotsman and an Irishman were without tickets for the opening ceremonies of the summer Olympics but hoped to be able to talk their way in at the gate. Security was very tight, however, and each of their attempts was met with a stern refusal.
While wandering around outside the stadium, the Englishman came upon construction site, which gave him an idea. Grabbing a length of scaffolding, he presented himself at the gate and said, "Johnson, the pole vault," and was admitted.
The Scotsman, overhearing this, went at once to search the site. When he came up with a sledge hammer, he presented himself at the gate and said, "McTavish, the hammer." He was also admitted.
The Irishman combed the site for an hour and was nearly ready to give up when he spotted his ticket in. Seizing a roll of barbed wire, he presented himself at the gate and announced, "O'Sullivan, fencing."
#joke
A grasshopper walks into a bar...
A grasshopper walks into a bar and the bartender says, 'Hey, we have a drink named after you!'
The grasshopper looks surprised and says, 'You have a drink named Steve?'
Life insurance premiums are ba...
Life insurance premiums are based on how far you live from Chuck Norris.
A drunk walks into a crowded b...
A drunk walks into a crowded bar and takes the last barstool next to an older woman. After awhile, the woman starts to smell this horrible odor coming from the direction of the drunk. She turns to him and says, "Excuse me Mister, but did you just shit yourself?" The drunk replied, "Yes ma'am, I have indeed shit myself." The woman says, "Well, why don't you go somewhere and clean yourself up?"
The drunk says, "'Cause I'm not finished yet..."
#joke
Donnell Rawlings: Friends With Cool Jobs
Comedys a tough job, man. Ive got friends who got cool jobs. One of my friends, hes a porno star. Guess how he got discovered? This girl sat on his lap, and she was like, Ooh, you should do porno! Same girl sat on my lap and was like, Ooh, you should tell jokes!
Jeff Dunham: Sex Life of the Elderly
Jeff: I had grandparents that were well into their 80s and still were having fun.
Walter: Their 80s? The hell kind of sex is that? Was it good for you? I dont remember. It was three minutes ago!, Who are you?!?.
President Roosevelt once rode ...
President Roosevelt once rode his horse 100 miles. Chuck Norris carried his the same distance in half the time.
Paul F. Tompkins: Name in Print
I do not understand why people write letters to magazines. It accomplishes nothing; its pointless. [If] you want to see your name in print that bad, write on a piece of paper and look at it: Ah, there it is. Just as I always dreamed.