"Workers in an uphols...
"Workers in an upholstery business demanded a wage hike to cushion the high cost of living."
Barking Dog
Paddy and his missus are lying in bed listening to the next door neighbor's dog barking. It had been barking for hours and hours.
Suddenly, Paddy jumps out of bed and says, "I've had enough of this," and goes downstairs.
Paddy finally comes back up to bed and his wife says, "The dog is still barking. What have you been doing?"
Paddy says, "I've put their dog in our yard - now we'll see how they like it!"
#joke
Funny video of the day - Thanksgiving Fails Compilation
Kids jokes-Sales call
Dean, an electronics salesman, makes a sales call and a little kid answers the phone.

Dean: Hello, little fellow. Can I speak to your mother?

Little kid : She is not at home.

Dean: Well, is anyone else at home?

Little kid: Ya, my sis.

Dean: Okay. May I speak to her?

Little kid: All right.

There was a long silence. Then:

Little kid: Hello?

Dean: Oh, it's you again. I thought you were going to call your sister.

Little kid: I tried. The trouble is, I can't get her out of the playpen.
#joke
Only in America
Only in A...
Only in America
Only in America... can a pizza get to your house faster than an ambulance.
Only in America... are there handicap parking places in front of a skating rink.
Only in America... do drugstores make the sick walk all the way to the back of the store to get their prescriptions while healthy people can buy cigarettes at the front.
Only in America... do people order double cheese burgers, large fries, and a diet Coke.
Only in America... do banks leave both doors to the vault open and then chain the pens to the counters.
Only in America... do they leave cars worth thousands of dollars in the driveway and put our useless junk in the garage.
Only in America... do they use answering machines to screen calls and then have call waiting so they won't miss a call from someone they didn't want to talk to in the first place.
Only in America... do they buy hot dogs in packages of ten and buns in packages of eight.
Only in America... do they use the word "politics" to describe the process so well; "Poli" in Latin meaning "many" and "tics" meaning "bloodsucking creatures".
Only in America... do they have drive-up ATM machines with Braille lettering
#joke
Hearing aid...
John: I got this great new hearing aid the other day.
Mary: Are you wearing it now?
John: Yup. Cost me four thousand dollars, though. But it's top of the line.
Mary: What kind is it?
John: Twelve-thirty.
Pretending to be a Lawyer
There was a loser who couldn't get a date. He went to a bar
and asked this one guy how to get a date.
The guy said, "It's simple. I just say, I'm a lawyer."
So, the guy went up to a pretty woman and asked her out.
After she said no,
he told her that it was probably a good thing because he had
a case early in the morning. She said, "Oh! You're a
lawyer?"
He said, "Why yes I am!"
She liked the idea and they went to his place. When they
were in bed making love, he started to laugh to himself.
When she asked what was so funny, he answered, "Well, I've
only been a lawyer for 15 minutes, and I'm already screwing
someone!"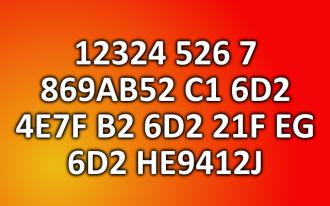 Decrypt hidden message
Can you decrypt hidden message (12324 526 7 869AB52 C1 6D2 4E7F B2 6D2 21F EG 6D2 HE9412J)?
Amish jobs
Q. What do you call an Amish guy with his hand up a horse's ass?
A. A mechanic!
Chuck Norris doesn't call the ...
Chuck Norris doesn't call the wrong number. You answer the wrong phone.
Question And Answer Blond Jokes
Q: Why does it work?
A: "Does 3 come before E, between M and W, or at the end?"
Q: How do you know when a blonde has been making chocolate chip cookies?
A: You find M&M shells all over the kitchen floor.
Q: What job function does a blonde have in an M&M factory?
A: Proofreading.
Q: Do you know why the blonde got fired from the M&M factory?
A: For throwing out the W's.
Q: Why don't blondes like making KOOL-AID?
A: Because they can't fit 8 cups of water in the little packet.
Q: Why do blondes wear shoulder pads?
A: To keep from bruising their ears.
Q: Why did the blonde keep ice cubes in the freezer?
A: So she could keep the refrigerator cold.
Not tonight, Adam
After a few days, the Lord called to Adam and said, "It is time for you and Eve to begin the process of populating the earth, so I want you to kiss her."
Adam answered, "Yes, Lord, but what is a 'kiss'?"
The Lord gave a brief description to Adam, who then took Eve by the hand and led her to a nearby bush.
A few minutes later, Adam emerged and said, "Thank you, Lord. That was enjoyable."
And the Lord replied, "Yes, Adam, I thought you might enjoy that. Now I'd like you to caress Eve."
And Adam said, "What is 'caress'?"
So the Lord again gave Adam a brief description and Adam went behind the bush with Eve.
Quite a few minutes later, Adam returned, smiling, and said, "Lord, that was even better than the kiss!"
And the Lord said, "You've done well, Adam. Now I want you to make love to Eve."
And Adam asked, "What is 'make love' Lord?"
So the Lord again gave Adam directions and Adam went again to Eve behind the bush, but this time he reappeared in two seconds.
And Adam said, "Lord, what is a 'headache'?"
#joke
A woman goes into Wal-Mart...
A woman goes into Wal-Mart to buy a rod and reel. She doesn't know which one to get so she just grabs one and goes over to the register. There is a Wal-Mart "associate" standing there with dark shades on. She says, "Excuse me sir...can you tell me anything about this rod and reel?" He says, "Ma'am I'm blind but if you will drop it on the counter I can tell you everything you need to know about it from the sound that it makes." She didn't believe him, but dropped it on the counter anyway. He said, "That's a 6' graphite rod with a Zebco 202 reel and 10 lb. test line...It's a good all around rod and reel and it's $20.00". She says, "Thats amazing that you can tell all that just by the sound Of it dropping on the counter. I think it's what I'm looking for so I'll take it." He walks behind the counter to the register, and in the meantime the woman farts. At first she is embarrassed but then realizes that there is no way he could tell it was her..being blind he wouldn't know that she was the only person around. He rings up the sale and says, "That will be $25.50." She says, "But didn't you say it was $20.00?" He says, "Yes ma'am, the rod and reel is $20.00, the duck call is $3.00, and the stink bait is$2.50."
#joke
Adam Ferrara: Love This Girl
The biggest thing in my life right now is my girlfriend. I love this girl. I know I love her because she told me.
A doctor and a lawyer were att...
A doctor and a lawyer were attending a cocktail party when the doctor was approached by a man who asked advice on how to handle his ulcer. The doctor mumbled some medical advice, then turned to the lawyer and remarked, 'I never know how to handle the situation when I'm asked for medical advice during a social function. Is it acceptable to send a bill for such advice?'
The lawyer replied that it was certainly acceptable to do so.
The next day, the doctor sent the ulcer-stricken man a bill. The lawyer also sent one to the doctor.
Now What? (world's funniest joke)
Two hunters are out in the woods when one of them collapses. He doesn't seem to be breathing and his eyes are glazed. The other guy whips out his phone and calls the emergency services. .
He gasps, "My friend is dead! What can I do?". .
The operator says "Calm down. I can help. First, let's make sure he's dead." .
There is a silence, then a shot is heard. .
Back on the phone, the guy says "OK, now what?" .
This is The "world's funniest joke", as by the THE SCIENTIFIC SEARCH FOR THE WORLD'S FUNNIEST JOKE by Richard Wiseman, of the University of Hertfordshire in 2002
The Winning joke, which was later found is based on a 1951 Goon Show sketch by Spike Milligan
Photo by Rhett Noonan on Unsplash
Happy International Joke Day July the first!
#joke
To Do List
When I returned home from college for a break, I noticed a paper posted on the refrigerator. It listed some goals my dad had set for himself: Help wife more; lose weight; be more productive at work.
I promptly added: "Send Michelle money every month."
A few days later my brother wrote: "Make payments on car for Jason."
Then my boyfriend joined in with: "Buy Tom a Jeep."
Finally my father added a new goal to his amended list: "Wean kids."
#joke