New prefix
If blondes and bimbos were the same thing, the prefix 'bim' could be used to create new words that describe them:
Bimbabble - noises coming from a group of blondes
Bimbaffled - constant mental state of blondes
Bimbait - short skirts, sheer blouses, string bikinis or other clothing worn by blondes in an attempt to attract the attention of males
Bimbar - a bar where blondes hang out wearing bimbait
Bimbag - a blonde's purse
Bimbrushes - essential equipment in a bimbag
Bimbastic surgeon - specialist in breast enhancements for blondes
Bimbeeper - special instrument used as a homing device for lost blondes
Bimbellow - sound emanating from a blonde after she finally got the most recent blonde joke she heard
Bimbillion? - a blonde giving an estimate of anything
Bimblaze - the result of a blonde trying to cook
Bimblues - a blonde's state of mind after her latest boyfriend ditched her
Bimboette - a young blonde
Bimbonese - language spoken by blondes, largely unintelligible to anyone else
Bimbonique behavior - airhead behavior, unique to blondes
Bimboozle - to fool a blonde
Bimbore - a blonde who uses "like" more than 10 times in a sentence
Bimbozo - another name for a blonde
Bimboron - a blonde even less intelligent than most other blondes
Bimbrownie - a well-tanned blonde
Bimbrunette - a blonde who dyes her hair brunette, usually to appear smarter than she actually is
Bimburden - blonde carrying too many bags at the mall
Wife: "I look fat. Can you gi...
Wife: "I look fat. Can you give me a compliment?"
Husband: "You have perfect eyesight."
TEACHER: Why are you late, Fra...
TEACHER: Why are you late, Frank?
FRANK: Because of the sign.
TEACHER: What sign?
FRANK: The one that says, "School Ahead, Go Slow."
Marriage counselor
Husband to counselor: We were very happy for 22 years.
Counselor: What happened?
Husband: We got married.
Counselor, turning to wife: Do you agree with your husband's assessment of your marriage?
Wife: Yes, the only thing my husband and I have in common is that we were married on the same day.
#joke
Angelic Love
"My wife is an angel."
"Lucky you. Mine's still alive."
"An avionics warning ...
"An avionics warning is a flier alarm."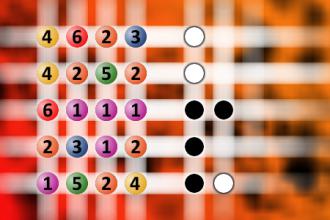 Which is a winning combination of digits?
The computer chose a secret code (sequence of 4 digits from 1 to 6). Your goal is to find that code. Black circles indicate the number of hits on the right spot. White circles indicate the number of hits on the wrong spot.
Ponderings Collection 04
Why is it called a "building" when it is already built?
Why do they call them "apartments" when they are all stuck together?
Why is there an expiration date on SOUR cream?
If you keep trying to prove Murphy's Law, will something keep going wrong?
Why does flammable and inflammable mean the same thing?
How can someone "draw a blank"?
Shouldn't there be a shorter word for "monosyllabic"?
Why is the word "abbreviate" so long?
Why did kamikaze pilots wear helmets?
What is another word for "thesaurus"?
#joke
Cruise Control
My family has a tradition of naming the cruise control on our cars. We were used to hearing my father proclaim, "Take it, Max," as he flipped on the cruise control during long trips in our station wagon.
Recently, I was travelling with my parents in their new car when we hit a wide-open expanse of highway. My dad leaned back and said, "I think I'll let Tom drive for a while."
"Tom who?" I asked.
My mother translated for me: "Tom Cruise, of course."
#joke
It was the kindergarten teache...
It was the kindergarten teachers birthday and the students decided that they would each buy their teacher a gift.
The first student, whose parents own a florist shop, gave her a present. She held it and said "I guess that it is flowers".
"How did you guess?" asked the little boy. She laughed and thanked him.
The second student, whose parents own a candy store, gave her a present. She held it and said, "I guess that is some candy."
"How did you guess?" asked the little boy. She again laughed and thanked him also.
The third student, whose parents own a bottle shop, gave her a box which was leaking. The teacher touched the liquid with her finger and tasted it. "Mmmmm is it wine?" she asked.
"No," said the little girl.
So she tasted it again. "Is it champaigne?" she asked.
"No," replied the little girl, "It is a puppy.
#joke
Kyle Kinane: Not a Hobby
At this age, its really not a hobby, its just a drinking problem now.
Ted Alexandro: Personal Trainer
My sisters a personal trainer. Thats a tough job. I dont think I can do that. You gotta help people with their fitness goals. Can you help me define my abs? Yeah -- disgusting, sloppy, gelatinous.
How Far To The Town?
A unit of soldiers was marching a long dusty march across the rolling prairie. It was a hot blistering day and the men, longing for water and rest, were impatient to reach the next town.
A rancher rode past.
"Say, friend", called out one of the men, "how far is it to the next town?"
"Oh, a matter of two miles or so, I reckon," called back the rancher. Another long hour dragged by, and another rancher was encountered.
"How far to the next town?" the men asked him eagerly.
"Oh, a good two miles."
A nearly half hour longer of marching, and then a third rancher. "Hey, how far's the next town?"
"Not far," was the encouraging answer, "only about two miles."
"Well," sighed the optimistic sergeant, "thank God, we're holding our own, anyhow!"
#joke