Happy Thanksgiving
Check out our latest
Thanksgiving jokes
and quotes on:
Thanksgiving jokes collection
What did the zero say to the e...
What did the zero say to the eight? I like your belt!
"When Australian shee...
"When Australian sheep get lost, they bleat around the bush."
Funny video of the day - Ultimate Football/Soccer Fails 2014
Fooling Around
One Sunday morning George burst into the living room and said, "Dad! Mom! I have some great news for you! I am getting married to the most beautiful girl in town. She lives a block away and her name is Susan. After dinner, George's dad took him aside, "Son, I have to talk with you. Look at your mother, George. She and I have been married 30 years, she's a wonderful wife and mother, but, she has never offered much excitement in the bedroom, so I used to fool around with women a lot."
"Susan is actually your half sister, and I'm afraid you can't marry her." George was brokenhearted.
After eight months he eventually started dating girls again. A year later he came home and very proudly announced, "Diane said yes! We're getting married in June." Again his father insisted on another private conversation and broke the sad news. "Diane is your half sister too, George.
"I'm awfully sorry about this." George was livid! He finally decided to go to his mother with the news his father had shared.
"Dad has done so much harm. I guess I'm never going to get married," he complained. "Every time I fall in love, Dad tells me the girl is my half sister."
"Hee hee," his mother chuckled, shaking her head, "Don't pay any attention to what he says. He's not really your father."
#joke
Baseball Field
What goes all the way around a baseball field but never moves?
The fence
What a talent....
A family was visiting an Indian reservation when they happened upon an old tribesman lying face down in the middle of the road with his ear pressed firmly against the blacktop.
The father of the family asked the old tribeman what he was doing. The tribesman began to speak..."woman, late thirties, three kids, one barking dog in late model, white, four-door station wagon, traveling at 65 m.p.h.
"That's amazing!" exclaimed the father. "You can tell all that just by listening to the ground?"
"No," said the old tribesman, weakly. "They just ran over me five minutes ago!"
#joke
Fight Competition
The shopkeeper was dismayed when a brand new business much like his own opened up next door and erected a huge sign which read BEST DEALS.
He was horrified when another competitor opened up on his right, and announced its arrival with an even larger sign, reading LOWEST PRICES.
The shopkeeper was panicked, until he got an idea. He put the biggest sign of all over his own shop-it read... Main entrance.
#joke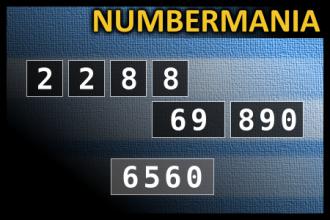 Calculate the number 6560
NUMBERMANIA: Calculate the number 6560 using numbers [2, 2, 8, 8, 69, 890] and basic arithmetic operations (+, -, *, /). Each of the numbers can be used only once.
The National Game warden put o...
The National Game warden put out a warning to all hikers in his area. Warning that they should wear small bells on their boots so not to startle the bears. To distinguish the grizzly bear the notice read-- small bears droppings are small with nut and berries in it. Grizzly bear droppings are much larger with nuts and berries and little tiny bells in it.
#joke
Wrinkled
What's wrinkled and hangs out your underwear?
Your mother.
A Birthday Wish
Little Sonia was shouting her prayers. "Please God send me a new doll for my birthday."
Her mother, overhearing this, said, "Don't shout dear, God isn't deaf."
"No, but Grandad is, and he's in the next room," Sonia replied.
Chuck Norris is the reason why...
Chuck Norris is the reason why Waldo is hiding.
Surfing The Internet
Surfin' the Net
So I think I'm in the clear
the boss is no where in sight
I logon to the web and start to surf
and then my hair stands up with fright
the footsteps coming down the hall
are quickening in pace
there is no time to exit
no way to save my face
so I press the power button
and relax just a bit
there is no way he can tell
exactly what I hit
I act all surprised
don't know why my machine died
"simply unpredictable these
computers are!" I cried
"So we'll get you a new one
a computer that won't crash" he exclaims
Do you think he'll wonder
when the new one acts the same?
#joke