Why did I get divorced? Well, ...
Why did I get divorced? Well, last week was my birthday. My wife didn't wish me a happy birthday. My parents forgot and so did my kids. I went to work and even my colleagues didn't wish me a happy birthday. As I entered my office, my secretary said, "Happy birthday, boss!" I felt so special. She asked me out for lunch. After lunch, she invited me to her apartment. We went there and she said, "Do you mind if I go into the bedroom for a minute?" "Okay," I said. She came out 5 minutes later with a birthday cake, my wife, my parents, my kids, my friends, & my colleagues all yelling, "SURPRISE!!!" while I was waiting on the sofa... naked.
#joke
"I was terrified anae...
"I was terrified anaesthetising my first big cat, but I had to feel the fur and do it anyway."
The golf challange...
The Pope met with his Cardinals to discuss a proposal from Benjamin Netanyahu, the leader of Israel. "Your Holiness", said one of his Cardinals, Mr. Netanyahu wants to challenge you to a game of golf to show the friendship and ecumenical spirit shared by the Jewish and Catholic faiths."
The Pope thought this was a good idea, but he had never held a golf club in his hand. "Don't we have a Cardinal to represent me?" he asked.
"None that plays very well," a Cardinal replied. "But," he added, "there is a man named Jack Nicklaus, an American golfer who is a devout Catholic. We can offer to make him a Cardinal, then ask him to play Mr. Netanyahu as your personal representative. In addition, to showing our spirit of cooperation, we'll also win the match."
Everyone agreed it was a good idea. The call was made. Of course, Nicklaus was honored and agreed to play. The day after the match, Nicklaus reported to the Vatican to inform the Pope of the result. "I have some good news and some bad news, your Holiness, " said the golfer.
"Tell me the good news first, Cardinal Nicklaus," said the Pope.
"Well, your Holiness, I don't like to brag, but even though I've played some pretty terrific rounds of golf in my life, this was the best I have ever played, by far. I must have been inspired from above. My drives were long and true, my irons were accurate and purposeful, and my putting was perfect. With all due respect, my play was truly miraculous.
"There's bad news?", the Pope asked.
"Yes," Nicklaus sighed. "I lost to Rabbi Tiger Woods by seven strokes."
#joke
One Carat too Many
Two cuties were comparing notes concerning their latest boyfriends.
The first said, "He took me to his condo in Ocean City and showed me all these expensive jewels. There was an emerald-cut diamond of at least five carats, a tennis bracelet of six carats, and even a wrist watch with eleven carats."
"Impressive."
said the second young thing.
"Well... yes."
the first agreed.
"But the downside was that with all those carats, he expected me to behave like a rabbit."
#joke
Good News
A woman phones up her husband at work for a chat...
Says He: "I'm sorry honey but I'm up to my neck in work today"
Says She: "But I've got some good news and some bad news for you dear."
Says He: "OK darling, but since I've got no time now, just give me the good news, OK?"
Says She: "Well, the air bag works..."
#joke
A Collection Of Insults
A brief synopsis... When you're at a loss for words but want to tell someone that he or she is stupid, remember some these quips from our collection here at Aha! Jokes.
---
Has the attention span of an overripe grapefruit.
Has the brains of a house plant.
Has the Grand Canyon under the crew cut.
Has the IQ of a salad bar / an ice cube / three below houseplant.
Has the keen awareness of an ostrich in hiding.
Has the mental agility of a soap dish.
Has the personality of a snail on Valium.
Has the same talent as Dr. Doolittle.
Has two brains; one is lost and the other is out looking for it.
Hasn't caught on that X and Y are relative values.
Hasn't got all his china in the cupboard.
Hasn't got the brains God gave a cat.
Having a party in his head, but no one else is invited.
He can only type in upper case.
He can push but he can't pop.
#joke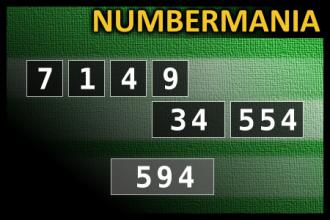 Calculate the number 594
NUMBERMANIA: Calculate the number 594 using numbers [7, 1, 4, 9, 34, 554] and basic arithmetic operations (+, -, *, /). Each of the numbers can be used only once.
Chuck Norris has more Facebook...
Chuck Norris has more Facebook friends than Facebook has users.
Punishment for Missing Church
A country preacher decided to skip services one Sunday to spend the day hiking in the wilderness. Rounding a sharp bend in the trail, he collided with a bear and was sent tumbling down a steep grade. He landed on a rock and broke both legs.
With the ferocious bear charging at him from a distance, the preacher prayed, "O Lord, I'm so sorry for skipping services today. Please forgive me and grant me just one wish--make a Christian out of that bear that's coming at me!"
At that very instant, the bear skidded to a halt, fell to his knees, clasped his paws together, and began to pray aloud at the preacher's feet: "Dear God, please bless this food I am about to receive."
#joke
How God Created the Computer
In the beginning, God created the bit. And the bit was a zero; nothing.
On the first day, He toggled the 0 to 1, and the Universe was. (In those days, bootstrap loaders were simple, and "active low" signals didn't yet exist.)
On the second day, God's boss wanted a demo, and tried to read the bit. This being volatile memory, the bit reverted to a 0. And the universe wasn't. God learned the importance of backups and memory refresh, and spent the rest of the day ( and his first all-nighter ) reconstructing the universe.
On the third day, the bit cried "Oh, Lord! If you exist, give me a sign!" And God created rev 2.0 of the bit, even better than the original prototype. Those in Universe Marketing immediately realized the the "new and improved" wouldn't do justice to such a grand and glorious creation. And so it was dubbed the Most Significant Bit, or the Sign bit. Many bits followed, but only one was so honored.
On the fourth day, God created a simple ALU with 'add' and 'logical shift' instructions. And the original bit discovered that by performing a single shift instruction, it could become the Most Significant Bit. And God realized the importance of computer security.
On the fifth day, God created the first mid-life kicker, rev 2.0 of the ALU, with wonderful features, and said "Screw that add and shift stuff. Go forth and multiply." And God saw that it was good.
On the sixth day, God got a bit overconfident, and invented pipelines, register hazards, optimizing compilers, crosstalk, restartable instructions, microinterrupts, race conditions, and propagation delays. Historians have used this to convincingly argue that the sixth day must have been a Monday.
On the seventh day, an engineering change introduced UNIX into the Universe, and it hasn't worked right since.
A Rabbi and a Priest Buy a Car…
A priest and a rabbi operated a church and a synagogue across the street from each other. Since their schedules intertwined, they decided to go in together to buy a car. After the purchase, they drove it home and parked it on the street between them.
A few minutes later, the rabbi looked out and saw the priest sprinkling water on their new car. It didn't need a wash, so he hurried out and asked the priest what he was doing.
"I'm blessing it," the priest replied.
The rabbi considered this a moment, then went back inside the synagogue.
He reappeared a moment later with a hacksaw, walked over to the back of the car and cut off two inches of the tailpipe.
#joke
Cowboy's Canine
A cowboy was walking down the street with his new pet dachshund. The passerby asked him why a cowboy would own that kind of dog.
The cowboy answered, "Well, somebody told me to get along little doggie."