"The thought of becom
"The thought of becoming a gymnast springs in my mind however much I suppress it!"
As in many homes on New Year'
As in many homes on New Year's Day, Janet and Nigel, a happily married couple, faced the annual conflict of which was more important: the football match on television, or the lunch itself.
Hoping to keep the peace Nigel ate lunch with the rest of the family, and even lingered for some pleasant after-lunch chat before retiring to the lounge to turn on the television.
Some minutes later, Janet looked in to see how he was and graciously even bought a cold beer for Nigel. She smiled, kissed him on the cheek and asked what the score was. Nigel told her it was half time and that the score was still 0-0.
"See?" Janet said happily, "You didn't miss a thing."
Funny video of the day - Top 5 Videos of the Year 2015
A Day on the Bus
A woman got on a bus holding a baby. The busdriver said:"That's the ugliest baby I've ever seen." In a huff, the woman slammed her fare into the fare box and took an aisle seat near the rear of the bus.
The man seated next to her sensed that she was agitated and asked her what was wrong.
"The bus driver insulted me." she fumed.
The man sympathized and said: "Why, he's a public servant and shouldn't say things to insult passengers."
You're right." She said. "I think I'll go back up there and give him a piece of my mind."
"That's a good idea." the man said. "Here, let me hold your monkey."
#joke
A Collection Of Insults
A brief synopsis... When you're at a loss for words but want to tell someone that he or she is stupid, remember some these quips from our collection here at Aha! Jokes.
---
Lights not burning too bright.
Like a barometer -- vacuum at the top.
Like a loose-leaf folder in winter.
Like a one-armed man climbing a rope.
Likes dunking for french fries.
Little red choo-choo's gone chugging 'round the bend / jumped the track.
Lives in La-la-land.
Lives in the same world, but a different universe.
Living proof that nature does not abhor a vacuum.
Long on dry wall, short on studs.
Looking for a nickel in the corner of a circular room.
Looks for the "Any" key.
Loose chip on the microprocessor board.
Loose wire to his headset/ringer.
Low on thinking gas.
#joke
I can't run fast in the
I can't run fast in the slush; I'm sleet of foot.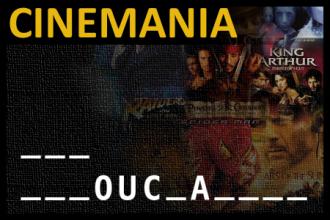 CINEMANIA: Guess the movie title
Film was made in 2011.
A Jewish Mother After Hanukkah
A man received two sweaters for Hanukkah from his mother. The next time he visited her, he made sure to wear one of the two sweaters.
As he entered her home, instead of the expected smile, she said, "What's the matter? You didn't like the other one?"
I don't suffer from insanity...
I don't suffer from insanity; I enjoy every minute of it.
I work hard because millions on welfare depend on me!
I used to have a handle on life, but it broke.
Don't take life too seriously; No one gets out alive.
You're just jealous because the voices only talk to me.
Beauty is in the eye of the beer holder.
Earth is the insane asylum for the universe.
I'm not a complete idiot. Some parts are missing.
Out of my mind. Back in five minutes.
NyQuil, the stuffy, sneezy, why-the-heck-is-the-room-spinningmedicine.
God must love stupid people; He made so many.
The gene pool could use a little chlorine.
Consciousness: That annoying time between naps.
Ever stop to think, and forget to start again?
Being "over the hill" is much better than being under it!
Procrastinate Now!
I have a degree in liberal arts; do you want fries with that?
A hangover is the wrath of grapes.
A journey of a thousand miles begins with a cash advance.
Stupidity is not a handicap. Park elsewhere!
He who dies with the most toys is nonetheless dead.
A picture is worth a thousand words, but it uses up threethousand times the memory.
Ham and eggs. A day's work for a chicken, a lifetimecommitment for a pig.
The original point and click interface was a Smith and Wesson.
Make your words sweet & tender today, for tomorrow youmay have to eat them.
A frog walks into a bank. He g...
A frog walks into a bank. He goes to the only open teller, and sees that her name is Paddy Whack. "Hey, listen" says the frog. "I really need a loan! I'm out of work, and my wife and tadpoles are at home starving! I need money so I can feed them and provide for them!"
Now Paddy feels very sorry for the poor frog and asks him if he has any collateral. He holds up a small glass elephant. Paddy is a little surprised by this, and quite unsure, but she feels so sorry for the the poor frog that she takes the elephant to her manager. "Mr. Manager, sir," Paddy begins "there is a frog out there who deperately needs a loan. He's out of work and he has a wife and tadpoles who are at home starving. He needs some money so he can provide for them! But all he has for collateral is this little glass elephant. What should I do?"
Well, Mr. Manager takes a good hard look at that elephant, thinks about it a little, and then replies, "It's a knick-knack, Paddy Whack, give the frog a loan!"
#joke
Chuck Norris destroyed the per...
Chuck Norris destroyed the periodic table, because Chuck Norris only recognizes the element of surprise.
Three Guys In A Bar...
Three guys are drinking in a bar when a drunk comes in, staggers up to them, and points at the guy in the middle, shouting, "Your grandma's the best sex in town!" Everyone expects a fight, but the guy ignores him, so the drunk wanders off and bellies up to the bar at the far end.
Ten minutes later, the drunk comes back, points at the same guy, and says, "I just did your grandma, and it was suh-weeeet!" Again the guy refuses to take the bait, and the drunk goes back to the far end of the bar.
Ten minutes later, he comes back and announces, "And your grandma liked it!!"
Finally the guy interrupts ..."Go home, Grandpa, you're drunk."
#joke
Problem With Women
"Doc," said the young man lying down on the couch, "You've got to help me! Every night I have the same horrible dream. I'm lying in bed when all of a sudden five women rush in and start tearing off my clothes."
The psychiatrist nodded, "And what do you do?"
"I push them away!"
"I see. And what can I do to help you with this?"
The patient implored, "Please--break my arms!"
#joke