Software Development Cycles
Software Development Cycles
1. Programmer produces code he believes is bug-free.
2. Product is tested. 20 bugs are found.
3. Programmer fixes 10 of the bugs and explains to the testing department that the other 10 aren't really bugs.
4. Testing department finds that five of the fixes didn't work and discovers 15 new bugs.
5. Repeat three times steps 3 and 4.
6. Due to marketing pressure and an extremely premature product announcement based on overly-optimistic programming schedule, the product is released.
7. Users find 137 new bugs.
8. Original programmer, having cashed his royalty check, is nowhere to be found.
9. Newly-assembled programming team fixes almost all of the 137 bugs, but introduce 456 new ones.
10. Original programmer sends underpaid testing department a postcard from Fiji. Entire testing department quits.
11. Company is bought in a hostile takeover by competitor using profits from their latest release, which had 783 bugs.
12. New CEO is brought in by board of directors. He hires a programmer to redo program from scratch.
13. Programmer produces code he believes is bug-free…
#joke
"I moved onto a boat
"I moved onto a boat in Hong Kong's harbour to avoid unsolicited advertising material but all I got was junk mail."
Panicked father
After the baby was born, the panicked Japanese father went to see the obstetrician.
"Doctor," he said, "I don't mind telling you, but I'm a little upset because my daughter has red hair. She can't possibly be mine."
"Nonsense," the doctor said. "Even though you and your wife both have black hair, one of your ancestors may have contributed red hair to the gene pool."
"It isn't possible," the man insisted. "We're pure Asian."
"Well," said the doctor, "let me ask you this. How often do you have sex?"
The man seemed ashamed. "I've been working very hard for the past year. We only made love once or twice a month."
"There you have it!" the doctor said confidently. "It's just rust."
I Have A Big Problem
Bill and Boris are taking a break from a long summit. Boris says to Bill, "Bill, you know, I have a big problem. I don't know what to do about it. I have a hundred bodyguards and one of them is a traitor. I don't know which one."
"Not a big deal Boris, I'm stuck with a hundred economists I have to listen to all the time before any policy decision, and only one tells the truth but it's never the same one."
#joke
Hate Your Job?
Try this...
On your way home from work, stop at a pharmacy and purchase a rectal thermometer made by Johnson & Johnson. Be very sure to get this brand.
When you get home, lock your doors, close the blinds and take the phone off the hook so you will not be disturbed. Change into very comfortable clothing and sit in your favorite chair.
Open the package and remove the thermometer. Now, carefully place it on a table or a surface so that it will not become chipped or broken. Take out the literature and read it carefully. You will notice that in small print there is a statement....
"Every Rectal Thermometer made by Johnson & Johnson is personally tested."
#joke
One day, Jimmy Jones was walki...
One day, Jimmy Jones was walking down Main Street when he saw his buddy Bubba driving a brand new pickup.Bubba pulled up to him with a wide grin.
Bubba, where'd you git that truck?!?"
Tammie give it to me" Bubba replied.
"She give it to ya?
I know'd she wuz kinda sweet on ya, but a New truck?"
"Well, Jimmy Jones, let me tell you what happened.
We wuz drivin' out on County Road 6, in the middle of nowheres.Tammie pulled off the road, put the truck in 4-wheel drive, and headed into the woods. She parked the truck, got out, threw off all her clothes and said,'Bubba, take whatever you want.' So I took the truck! "
"Bubba, yore a smart man! Them clothes woulda never fit you!"
#joke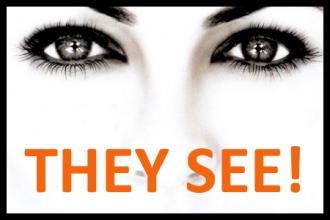 Anagram: THEY SEE! (3,4)
Anagram: THEY SEE! (3,4)
Chuck Norris was originally ca...
Chuck Norris was originally cast as Jack Bauer in 24, but was replaced by the producers when he managed to kill every terrorist and save the day in 12 minutes and 37 seconds.
Whitney Cummings: Silent Treatment
Ladies, next time your man pisses you off, do not give him the silent treatment. Instead, go Google the most important game of the season, sit next to him during that game and just ask as many f**king questions as possible. I dont understand, whos that guy in the striped shirt? Does he work at Foot Locker? I dont understand, why are they all wearing the same outfit? When are we going to have a baby? Eventually he will shoot himself in the face, and you f**king win that argument.
#joke
When I was married, my wife us...
When I was married, my wife used to call me handsome. As a matter of fact, we are now divorced but she STILL calls me handsome.
Every time I have some money, she says, HANDSOME OVER.
Cow insults can be very hard t...
Cow insults can be very hard to diss heifer.