Happy New Year 2021!!
One day in philosophy class th...
One day in philosophy class they spent a great deal of time debating whether the glass was half full or half empty. After the class, one student was feeling pretty good about himself and what he was learning at university, so when he went home he tried to continue the discussion with his family.
With maximum drama, he took a 12 ounce glass from the cupboard and poured in 6 ounces of water. Then took it into the dining room and placed it in the middle of the table. He proudly asked his family, "can anyone tell me whether this glass is half full or half empty?"
Without missing a beat, his grandmother replied, "Depends if you're drinking or pouring."
#joke
The Thoughtfulness of a Friars Club Waiter
One of our waiter brought me the steak I ordered, with his thumb on the steak.
'Are you nuts?' I said, 'What's with your hand on my steak?'
'Sorry Webmonk,' answered the waiter, 'I don't want it to fall on the floor again.'
So I thanked him
I wanted to take hom...
"I wanted to take home the left-overs from the BBQ, but someone else foiled my plans."
Fighting Back...
HUSBAND: When I get mad at you, you never fight back. How do you control your anger?
WIFE: I clean the toilet.
HUSBAND: How does that help?
WIFE: I use your toothbrush.
A Man Takes The Ferry Home From Work
John Smith lived in Staten Island, New York and worked in Manhattan. He had to take the ferryboat home every night. One evening, he got down to the ferry and found there was a wait for the next boat, so John decided to stop at a nearby tavern. Before long he was feeling no pain.
When he got back to the ferry slip, the ferryboat was just eight feet from the dock. Smith, afraid of missing this one and being late for dinner, took a running leap and landed right on the deck of the boat.
"How did you like that jump, buddy?" said a proud John to a deck hand.
"It was great," said the sailor. "But why didn't you wait? We were just pulling in!"
#joke
Jesus Visits After the Resurrection
This story cannot be found in the scriptures, but it is told that after his resurrection, Jesus appeared to an old fisherman. "I am Jesus and I have returned to show God's love and power.""No, you're not Jesus. Go away! You're scaring all the fish," answered the old fisherman. "I see you are full of doubt. What would you have me do to show who I am?" "Walk across the river," the old fisherman tells Jesus. Jesus starts walking across the river, but he sinks and disappears under the water. After he swims back to shore, the old fisherman says to him, "See, you're not Jesus. You can't walk on water!" Jesus responds, "Well, I used to be able to do it, but then I got these holes in my feet!" From
EasterHumor.com
#joke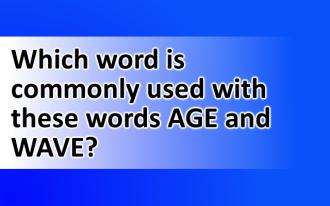 Which word is commonly used ...
Which word is commonly used with these words AGE and WAVE?
An exhausted looking blond dra
An exhausted looking blond dragged himself in to the doctor's office. "Doctor, there are dogs all over my neighborhood. They bark all day and all night, and I can't get a wink of sleep."
"I have good news for you," the doctor answered, rummaging through a drawer full of sample medications. "Here are some new sleeping pills that work like a dream. A few of these and your trouble will be over."
"Great," the blond answered, "I'll try anything. Let's give it a shot."
A few weeks later the blond returned, looking worse than ever. "Doc, your plan is no good. I'm more tired than before!"
"I don't understand how that could be", said the doctor, shaking his head. "Those are the strongest pills on the market!"
"That may be true," answered the blond wearily, "but I'm still up all night chasing those dogs and when I finally catch one it's hard getting him to swallow the pill!"
When my son graduated from hig
When my son graduated from high school, he had to give a speech. He began by reading from his prepared text.
"I want to talk about my mother and the wonderful influence she has had on my life," he told the audience. "She is a shining example of parenthood, and I love her more than words could ever do justice."
At this point he seemed to struggle for words. After a pause, he looked up with a sly grin and said, "Sorry, but it's really hard to read my mother's handwriting."
#joke
A linguistics professor was le...
A linguistics professor was lecturing to his class one day. "In English," he said, "a double negative forms a positive. In some languages, though, such as Russian, a double negative is still a negative. However, there is no language wherein a double positive can form a negative."
Then a voice from the back of the room piped up: "Yeah, right."
#joke
It was a stifling hot day and ...
It was a stifling hot day and a man fainted in the middle of a busy intersection.
Traffic quickly piled up in all directions, so a woman rushed to help him.
When she knelt down to loosen his collar, a man emerged from the crowd, pushed her aside, and said, "It's all right honey, I've had a course in first aid."
The woman stood up and watched as he took the ill man's pulse and prepared to administer artificial respiration.
At this point she tapped him on the shoulder and said, "When you get to the part about calling a doctor, I'm already here."
Answering Machine Message 32
Hi, you've reached the home of George Ledec. If you are calling to collect a student loan, gambling debt, or other obligation, please press 1 and hang up now. If you are selling any product or service, or requesting charitable donations, please press 2 and hang up now. Otherwise, press 3 and leave your message now. Pressing 3 is optional.
#joke