Just Part of My Job
A salesman dropped in to see a business customer. Not a soul was in the office except a big dog emptying wastebaskets. The salesman stared at the animal, wondering if his imagination could be playing tricks on him.
The dog looked up and said, 'Don't be surprised. This is just part of my job.'
'Incredible!' exclaimed the man.
'I can't believe it! Does your boss know what a prize he has in you? An animal that can talk!'
'No, no,' pleaded the dog. 'Please don't!
If that man finds out I can talk, he'll make me answer the phone as well!'
#joke
"I told a pun in civi
"I told a pun in civics class. It went down in history."
The Cockatoo Hair Academy is s
The Cockatoo Hair Academy is suffering from budgie cuts.
New Years Resolutions
An overweight business associate of mine decided it was time to shed some excess pounds. He took his new diet seriously, even changing his driving route to avoid his favorite bakery.
One morning, however, he arrived at work carrying a gigantic coffeecake. We all scolded him, but his smile remained cherubic.
"This is a very special coffeecake," he explained. "I accidentally drove by the bakery this morning and there in the window were a host of goodies. I felt this was no accident, so I prayed, `Lord, if you want me to have one of those delicious coffeecakes, let me have a parking place directly in front of the bakery.'
"And sure enough," he continued, "the eighth time around the block, there it was!"
#joke #newyear
Doctor Doctor Collection 09
Doctor: You seem to be in excellent health. Your pulse is as regular as clockwork.
Patient: That's because you've got your hand on my watch!
Doctor, Doctor I've had tummy ache since I ate three crabs yesterday.
Did they smell bad when you took them out of their shells?
What do you mean "took them out of their shells!"
Doctor, Doctor, everyone keeps ignoring me.
Next please!
Doctor, Doctor, some days I feel like a tee-pee and other days I feel like a wig-wam.
You're too tents.
Doctor, Doctor I keep thinking I'm a dog.
Sit on the couch and we will talk about it.
But I'm not allowed up on the couch!
Doctor, Doctor I've a split personality
Well, you'd better both sit down then!
Doctor, Doctor I keep thinking I'm a nit
Will you get out of my hair!
A man in a hurry, taking his 8
A man in a hurry, taking his 8-year-old son to school, made a turn at a red light where it was prohibited.
"Uh-oh, I just made an illegal turn!" the man said.
"Aw, Dad, it's probably okay," the son said. "The police car right behind us just did the same thing."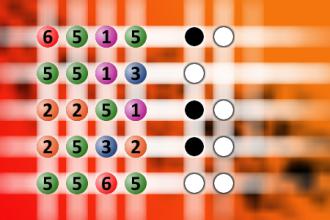 Find the right combination
The computer chose a secret code (sequence of 4 digits from 1 to 6). Your goal is to find that code. Black circles indicate the number of hits on the right spot. White circles indicate the number of hits on the wrong spot.
Who Shot the Big Buck?
Three friends decided to go hunting together. One was a lawyer, one a doctor, and the other a preacher. As they were walking, along came a big buck. The three of them shot at the same time and the buck dropped immediately. The hunting party rushed to see how big it actually was. Upon reaching the fallen deer, they found out that it was dead but had only one bullet hole.A debate followed concerning whose buck it was. When a game warden came by, he offered to help. A few moments later, he had the answer.He said with much confidence, "The pastor shot the buck!" The friends were amazed that he could determine that so quickly and with so little examination. The game warden just smiled. "It was easy to figure out. The bullet went in one ear and out the other."
A man is dining in a fancy res...
A man is dining in a fancy restaurant, and there is a gorgeous redhead sitting at the next table. He had been checking her out since he sat down, but lacked the nerve to talk with her.
Suddenly she sneezes and her glass eye comes flying out of its socket towards the man. He reflexively reaches out, grabs it out of the air, and hands it back.
"Oh my, I am so sorry," the woman says as she pops her eye back in place. "Let me buy you dessert to make it up to you."
They enjoy a wonderful dessert together, and afterwards, the woman invites him to the theater followed by drinks. After paying for everything, she asks him if he would like to come to her place for a nightcap...and stay for breakfast the next morning.
The next morning, she cooks a gourmet meal with all the trimmings. The guy is amazed! Everything has been incredible!
"You know," he said, "you are the perfect woman. Are you this nice to every guy you meet?"
"No," she replies...
... "You just happened to catch my eye
#joke
The banker fell overboard from
The banker fell overboard from a friend's sailboat.
The friend grabbed a life preserver, held it up, not knowing if the banker could swim, and shouted, "Can you float alone?"
"Obviously," the banker replied, "but this is a heck of a time to talk business."

Stopped By The Police
John and Jessica were on their way home from the bar one night and John got pulled over by the police. The officer told John that he was stopped because his tail light was burned out. John said, "I'm very sorry officer, I didn't realize it was out, I'll get it fixed right away."
Just then Jessica said, "I knew this would happen when I told you two days ago to get that light fixed."
So the officer asked for John's license and after looking at it said, "Sir your license has expired."
And again John apologized and mentioned that he didn't realize that it had expired and would take care of it first thing in the morning.
Jessica said, "I told you a week ago that the state sent you a letter telling you that your license had expired."
Well by this time, John is a bit upset with his wife contradicting him in front of the officer, and he said in a rather loud voice, "Jessica, shut your mouth!"
The officer then leaned over toward Jessica and asked. "Does your husband always talk to you like that?"
Jessica replied, "only when he's drunk."
#joke
Three old ladies are sitting i...
Three old ladies are sitting in a diner, chatting about various things. One lady says, "You know, I'm getting really forgetful. This morning, I was standing at the top of the stairs, and I couldn't remember whether I had just come up or was about to go down." The second lady says, "You think that's bad? The other day, I was sitting on the edge of my bed, and I couldn't remember whether I was going to bed or had just waken up!" The third lady smiles smugly. "Well, my memory's just as good as it's always been, knock on wood." She raps the table. With a startled look on her face, she asks, "Who's there?!"
#joke
So this sardarji is walking th...
So this sardarji is walking the other day and comes across a banana peel on the road.
Can you guess what he might be thinking??
Saala aaj bhi girna padega!!!
A Meeting With the Board
After a long, dry sermon, the minister announced that he wished to meet with the church board after the service. The first man to arrive was a stranger.
"You misunderstood my announcement. This is a meeting of the board," said the minister.
"I know," said the man. "If there is anyone here more bored than I am, I'd like to meet him."
#joke