Start with a cage containing f
Start with a cage containing five apes. In the cage, hang a banana on a string and put stairs under it. Before long, an ape will go to the stairs and start to climb towards the banana. As soon as he touches the stairs, spray all of the apes with cold water. After a while, another ape makes an attempt with the same result - all the apes are sprayed with cold water. This continues through several more attempts. Pretty soon, when another ape tries to climb the stairs, the other apes all try to prevent it.
Now, turn off the cold water. Remove one ape from the cage and replace it with a new one. The new ape sees the banana and wants to climb the stairs. To his horror, all of the other apes attack him. After another attempt and attack, he knows that if he tries to climb the stairs, he will be assaulted.
Next, remove another of the original five apes and replace it with a new one. The newcomer goes to the stairs and is attacked. The previous newcomer takes part in the punishment with enthusiasm.
Again, replace a third original ape with a new one. The new one makes it to the stairs and is attacked as well. Two of the four apes that beat him have no idea why they were not permitted to climb the stairs, or why they are participating in the beating of the newest ape.
After replacing the fourth and fifth original apes, all the apes, which have been sprayed with cold water, have been replaced. Nevertheless, no ape ever again approaches the stairs. Why not? Because that's the way they've always done it and that's the way it's always been around here.
And that's how company policy begins....
#joke
"Vikings were expert
"Vikings were expert mariners - you can lead a Norse to water, but you can't make him sink."
Fruit flavoured candy fills me
Fruit flavoured candy fills me with jujubilation.
In California Unleaded gas wen
In California Unleaded gas went to $4.00 a gallon last Thursday.
Sister Mary Ann, who worked for a home health agency, was out making herrounds visiting homebound patients when she ran out of gas. Fortunately, anExxon station was just a block away. She walked to the station to borrow agas can and buy some gas.
The attendant told her that the only gas can he owned had been loaned out,but she could wait until it was returned. Since Sister Mary Ann was on theway to see a patient, she decided not to wait, and walked back to her car.
She looked for something in her car that she could fill with gas, andspotted the bedpan she was taking to the patient. Always resourceful,Sister Mary Ann carried the bedpan to the station, filled it with gasoline,and carried the full bedpan back to her car.
As she was pouring the gas into her tank, two Baptist ladies watched fromacross the street. One of them turned to the other and said, 'If it starts,I'm turning Catholic.'
#joke
Marriage counselor
Husband to counselor: We were very happy for 22 years.
Counselor: What happened?
Husband: We got married.
Counselor, turning to wife: Do you agree with your husband's assessment of your marriage?
Wife: Yes, the only thing my husband and I have in common is that we were married on the same day.
#joke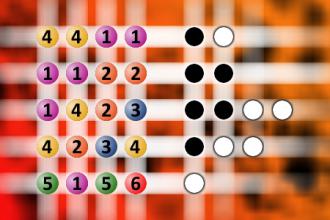 Which is a winning combination of digits?
The computer chose a secret code (sequence of 4 digits from 1 to 6). Your goal is to find that code. Black circles indicate the number of hits on the right spot. White circles indicate the number of hits on the wrong spot.
Flying Near Athens
As the plane was flying low over some hills near Athens, a lady asked the stewardess: "What's that stuff on those hills?"
"Just snow," replied the stewardess.
"That's what I thought," said the lady, "but this fellow in front of me said it was Greece."
#joke
Kyle Kinane: Loving Parents
I can't believe I made it anywhere creatively, though, because I was raised by two loving and supportive parents. Nothing squashes creativity more than unconditional love and support from a functional household. If you have kids, sh*t on their dreams a little bit.
Back to the Honeymoon
A couple married thirty years were revisiting the same places they went to on their honeymoon. Driving through the secluded countryside, they passed a ranch with a tall deer fence running along the road.
The woman said, "Sweetheart, let's do the same thing we did here thirty years ago."
The guy stopped the car. His wife backed against the fence, and they made love like never before.
Back in the car, the guy says, "Darling, you sure never moved like That thirty years ago, or any time since that I can remember!"
The woman says, "thirty years ago that fence wasn't electrified!"
#joke
Who Shot the Big Buck?
Three friends decided to go hunting together. One was a lawyer, one a doctor, and the other a preacher. As they were walking, along came a big buck. The three of them shot at the same time and the buck dropped immediately. The hunting party rushed to see how big it actually was. Upon reaching the fallen deer, they found out that it was dead but had only one bullet hole.A debate followed concerning whose buck it was. When a game warden came by, he offered to help. A few moments later, he had the answer.He said with much confidence, "The pastor shot the buck!" The friends were amazed that he could determine that so quickly and with so little examination. The game warden just smiled. "It was easy to figure out. The bullet went in one ear and out the other."
Kids in Church
Six-year-old Angie and her four-year-old brother Joel were sitting together in church. Joel giggled, sang, and talked out loud. Finally, his big sister had enough of his antics.
"You're not supposed to talk out loud in church."
"Why? Who's going to stop me?" Joel asked.
Angie pointed to the back of the church and said, "See those two men standing by the door? They're hushers."
#joke
One Last Confession
While a man was dying, his wife was maintaining a candlelight vigil by his side. She held his fragile hand, tears running down her face.
Her praying woke him from his slumber. He looked up, and his pale lips began to move slightly.
"My darling," he whispered.
"Hush, my love," she said. "Rest, don't talk."
He was insistent. "I have something that I must confess," he said in a tired voice.
"There isn't anything to confess," replied his weeping wife. "Everything's ok. Go to sleep."
The man blurted out: "No, no, I must die in peace. I...I slept with your sister, your best friend, her best friend, and your mother!"
"I know," whispered his wife, "that's why I poisoned you."
#joke
Charge By The Inch
Having had one too many, a bar drinker was beginning to display an ugly side.
An unescorted female sat down beside him and he whispered to her, "Hey ! How about it babe ? You and me ?"
As she got up to move, he said loudly, "Honey, you sure look like you could use the money, but I don't have an extra two dollars."
She looked back and replied just as loudly, "What makes you think I charge by the inch ?"
#joke
When taking the SAT, write "Ch...
When taking the SAT, write "Chuck Norris" for every answer. You will score over 8000.