Jokes of the day for Sunday, 18 June 2017
Funny jokes, funny photo and funny video collected from the internet on Sunday, 18 June 2017
A young man wanted to purchase...
A young man wanted to purchase a gift for his new sweetie for Valentine's Day. As they had not been dating very long, it was a very difficult decision. After careful consideration he decided a good gift would be a pair of gloves.
Accompanied by his sister, he went to the store and bought the gloves. His sister purchased a pair of panties at the same time.
The clerk carefully wrapped both items but in the process got them mixed up.
The sister was handed the gloves and the young man got the panties.
The young man mailed his Valentine's Day gift with the following note:
"This special Valentines Day gift was chosen because I noticed you are in the habit of not wearing any when we go out in the evenings.
If it had not been for my sister, I would have chosen the ones with buttons, but she prefers short ones that are much easier to remove.
"These are a lovely shade, the lady I bought them from showed me the pair she had been wearing for the past three weeks and they were hardly soiled. I had her try yours on for me and they looked quite lovely.
I wish I was there to put them on you for the first time; no doubt, other hands will come into contact with them before I have a chance to see you again.
When you take them off, remember to blow on them lightly before putting them away as they will naturally be a little damp from wearing.
Just think how many times I'll be kissing them in the future. I hope you'll wear them Friday night for me.
Love,
Honey Bear
P.S. The sales lady says the latest style is to wear them folded down with just a little fur showing.
Mom, what's sex?
A little boy returning home from his first day at school said to his mother, "Mom, what's sex?"
His mother, who believed in all the most modern educational theories, gave him a detailed explanation, covering all aspects of the tricky subject.
When she had finished, the little lad produced an enrollment form which he had brought home from school and said, "Yes, but how am I going to get all that into this one little square?"
#joke
Hide Him During A War
It was about a month ago when a man in Amsterdam felt that he needed to confess, so went to his priest:
"Forgive me Father, for I have sinned. During WWII I hid a refugee in my attic."
"Well," answered the priest, "that's not a sin."
"But I made him agree to pay me 20 Gulden for every week he stayed."
"I admit that wasn't good, but you did it for a good cause."
"Oh, thank you, Father; that eases my mind. I have one more question..."
"What is that, my son?"
"Do I have to tell him the war is over?"
#joke
Google Ads
The Anxious Poodle
Poodle: "My life is a mess.
My owner is mean, my girlfriend is leaving me for a German shepherd, and I'm as nervous as a cat."
Collie: "Why don't you go see a psychiatrist?"
Poodle: "I can't. I'm not allowed on the couch."
"What do you call a s
"What do you call a sour orange that was late to school? Tarty!"
A new preacher wanted...
A new preacher wanted to rent a house in the country but the only one available was rumored to be haunted. That didn't bother the preacher since he didn't believe in such things. He went ahead and rented the place.Soon the ghost made its appearance. The preacher told his friends about the ghost, but they didn't believe him. They told him the only way they would believe was if he took a picture of the ghost.The preacher went home and called for the ghost. When it appeared, the preacher explained the situation and asked the ghost if it would mind having its picture taken. The ghost agreed.When the picture was developed, the ghost wasn't visible. Feeling disappointed, the preacher called again for the ghost. When it appeared, the preacher showed it the picture and wanted to know why the ghost wasn't in it. The ghost thought a minute and replied, "Well, I guess the spirit was willing, but the flash was weak."From "
The Book of Church Jokes
," published by
Barbour Publishing, Inc.
, Uhrichsville, Ohio. Copyright 2009. Used by permission of Barbour Publishing, Inc.
#joke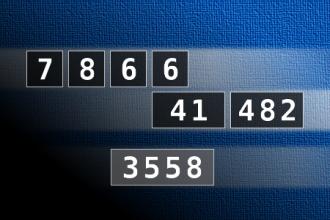 Calculate the number 3558
NUMBERMANIA: Calculate the number 3558 using numbers [7, 8, 6, 6, 41, 482] and basic arithmetic operations (+, -, *, /). Each of the numbers can be used only once.
* Police Begin Campaign to Run
* Police Begin Campaign to Run Down Jaywalkers
* British Left Waffles on Falkland Islands
* Lung Cancer in Women Mushrooms
* Eye Drops off Shelf
* Reagan Wins on Budget, But More Lies Ahead
* Squad Helps Dog Bite Victim
* Shot Off Woman's Leg Helps Nicklaus to 66
* Enraged Cow Injures Farmer with Ax
* Stolen Painting Found by Tree
* Checkout Counter Killer Sentenced to Die for Second Time in 10 Years
* Never Withhold Herpes Infection from Loved One
* Drunken Drivers Paid $1000
* If Strike isn't Settled Quickly, It May Last a While
* Cold Wave Linked to Temperatures
* Red Tape Holds Up New Bridge
* Deer Kill 17,000
* Typhoon Rips Through Cemetery; Hundreds Dead
* Man Struck by Lightning Faces Battery Charge
* New Study of Obesity Looks for Larger Test Group
* Astronaut Takes Blame for Gas in Spacecraft
* Kids Make Nutritious Snacks
* Chef Throws His Heart into Helping Feed Needy
* British Union Finds Dwarfs in Short Supply
* Ban On Soliciting Dead in Trotwood
* Local High School Dropouts Cut in Half
* New Vaccine May Contain Rabies
* Air Head Fired
* Steals Clock, Faces Time
* Prosecutor Releases Probe into Under-sheriff
* Old School Pillars are Replaced by Alumni
* Bank Drive-in Window Blocked by Board
* Hospitals are Sued by 7 Foot Doctors
* Some Pieces of Rock Hudson Sold at Auction
* Sex Education Delayed, Teachers Request Training
* Include your Children when Baking Cookies
* Marv Albert Gets Pink Slip
* Arson Suspect is Held in Massachusetts Fire
* Lansing Residents Can Drop Off Trees
* Man Minus Ear Waives Hearing
* Deaf College Opens Doors to Hearing
A Birthday Wish
Little Sonia was shouting her prayers. "Please God send me a new doll for my birthday."
Her mother, overhearing this, said, "Don't shout dear, God isn't deaf."
"No, but Grandad is, and he's in the next room," Sonia replied.
Chuck Norris is the reason why...
Chuck Norris is the reason why Waldo is hiding.
Surfing The Internet
Surfin' the Net
So I think I'm in the clear
the boss is no where in sight
I logon to the web and start to surf
and then my hair stands up with fright
the footsteps coming down the hall
are quickening in pace
there is no time to exit
no way to save my face
so I press the power button
and relax just a bit
there is no way he can tell
exactly what I hit
I act all surprised
don't know why my machine died
"simply unpredictable these
computers are!" I cried
"So we'll get you a new one
a computer that won't crash" he exclaims
Do you think he'll wonder
when the new one acts the same?
#joke