When the beautiful secretary e
When the beautiful secretary entered her boss's office one morning, he looked out the window and announced idly, "It's certainly going to be a beautiful day."
"I don't think so," replied the secretary. "The weather forecast is for snow."
"It's not going to snow," contradicted the exec. "I'll lay you twelve to one."
"I'd rather not," she remarked. "Any other time sir, but that's my lunch hour."
#joke
What are pigeon dictatorships
What are pigeon dictatorships most susceptible to?
The secret of my success
Grandpa was celebrating his 100th birthday and everybody complimented him on how athletic and well-preserved he appeared.
"Gentlemen, I will tell you the secret of my success," he cackled. "I have been in the open air day after day for some 75 years now."
The celebrants were impressed and asked how he managed to keep up his rigorous fitness regime.
"Well, you see my wife and I were married 75 years ago. On our wedding night, we made a solemn pledge. Whenever we had a fight, the one who was proved wrong would go outside and take a walk."
#joke
Chemistry Song 14
We Three Students Of Chemistry Are
We three students of chemistry are
taking tests that we think are hard
Stoichiometry, volumes and densities
worrying all the time.
O room of wonder
room of fright
Room of thermites
blinding light:
With your energies
please don't burn us
Help us get our labs all right.
#joke
"Do you know why exec
"Do you know why executioners never take on apprentices? They always get a head of themselves."
The following headlines were a...
The following headlines were actually printed in newspapers. The ironyin some of these are absolutely astonishing, hilariously funny (thoughsometimes awkward). Check them out:
- Never Withhold Herpes Infection from Loved One
- Miners Refuse to Work after Death
- Include Your Children when Baking Cookies
- Enfields Couple Slain; Police Suspect Homicide
- Typhoon Rips Through Cemetery; Hundreds Dead
- Something Went Wrong in Jet Crash, Expert Says
- Police Begin Campaign to Run Down Jaywalkers
- Safety Experts Say School Bus Passengers Should Be Belted
- Drunk Gets Nine Months in Violin Case
- Survivor of Siamese Twins Joins Parents
- Iraqi Head Seeks Arms
- Prostitutes Appeal to Pope
- Panda Mating Fails; Veterinarian Takes Over
- British Left Waffles on Falkland Islands
- Lung Cancer in Women Mushrooms
- Enraged Cow Injures Farmer With Axe
- Plane Too Close to Ground, Crash Probe Told
- Juvenile Court to Try Shooting Defendant
- War Dims Hope for Peace
- Cold Wave Linked to Temperatures
- Deer Kill 17,000
- Stolen Painting Found by Tree
- Chef Throws His Heart into Helping Feed Needy
- Arson Suspect Held in Massachusetts Fire
- Ban On Soliciting Dead in Trotwood
- Local High School Drop-outs Cut in Half
- New Vaccine May Contain Rabies
- Hospitals are Sued by 7 Foot Doctors
- Two Sisters Reunited After 18 Years in Checkout Counter
- Killer Sentenced to Die for Second Time in 10 Years
- Red Tape Holds Up New Bridges
- Man Struck By Lightning Faces Battery Charge
- New Study of Obesity Looks for Larger Test Group
- Astronaut Takes Blame for Gas in Spacecraft
- Kids Make Nutritious Snacks
- Eye Drops Off Shelf
- Teachers Strike Idle Kids
- Clinton Wins on Budget, But More Lies Ahead
- Princess Diana Was Alive Hours Before She Died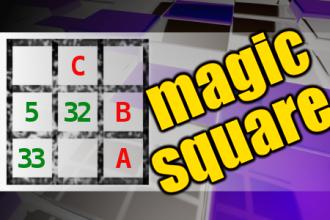 MAGIC SQUARE: Calculate A+B-C
The aim is to place the some numbers from the list (3, 4, 5, 16, 17, 18, 21, 32, 33, 34) into the empty squares and squares marked with A, B an C. Sum of each row and column should be equal. All the numbers of the magic square must be different. Find values for A, B, and C. Solution is A+B-C.
Rory Scovel: Strip Club
Some friends wanted to go to a strip club. I said, No thanks, its not for me; I dont really enjoy doing it. They said, Well at this strip club you can touch the girls while they dance on you. And I said, Then lets go do that.
Magic Window
Two guys are sitting at a bar.
"You know why I love this bar?" asks the first one.
"No," says the second guy. "Why do you love this bar?"
The first guy points at the window, which is six stories above the ground. "It has a magic window," he says. "You jump out of that window, and you can fly."
The second guy just shakes his head. "Shut up."
"No," says the first guy. "It really is a magic window. I'll prove it to you."
So the first guy gets down from his bar stool, runs at the window, jumps out of it, and flies. He flies around the building twice, up and down, and finally comes back in. He walks to his barstool, and takes a sip of his drink. "See?" he says.
The first guy looks confused. He looks at his drink. "I must be drunk," he says.
"Still don't believe me?" asks the second guy. "I'll show you again." He gets down from his stool, runs and jumps out of the window again. This time he performs some impressive aerial acrobatics, spins, flips, dives. When he finally comes back in, the second guy is staring at him, slack-jawed.
"Wow," says the second guy. "A magic window." He gets off his barstool, takes a running jump out of the window, and promptly plummets to his death. The first guy starts laughing.
The bartender comes over to the first guy with a stern look on his face. "Superman, you're a real asshole when you're drunk."
#joke
Fifty Ways To Be Annoying In Computer Labs
1. Log on, wait a sec, then get a frightened look on your face and scream "Oh my God! They've found me!" and bolt.
2. Laugh uncontrollably for about 3 minutes & then suddenly stop and look suspiciously at everyone who looks at you.
3. When your computer is turned off, complain to the monitor on duty that you can't get the it to work. After he/she's turned it on, wait 5 minutes, turn it off again, and repeat the process for a good half hour.
4. Type frantically, often stopping to look at the person next to you evily.
5. Before anyone else is in the lab, connect each computer to a different screen than the one it's set up with.
6. Write a program that plays the "Smurfs" theme song and play it at the highest volume possible over & over again.
7. Work normally for a while. Suddenly look amazingly startled by something on the screen and crawl underneath the desk.
8. Ask the person next to you if they know how to tap into top-secret Pentagon files.
9. Use Interactive Send to make passes at people you don't know.
10. Make a small ritual sacrifice to the computer before you turn it on.
11. Bring a chainsaw, but don't use it. If anyone asks why you have it, say "Just in case..." mysteriously.
12. Type on VAX for a while. Suddenly start cursing for 3 minutes at everything bad about your life. Then stop and continue typing.
13. Enter the lab, undress, and start staring at other people as if they're crazy while typing.
14. Light candles in a pentagram around your terminal before starting.
15. Ask around for a spare disk. Offer $2. Keep asking until someone agrees. Then, pull a disk out of your fly and say, "Oops, I forgot."
16. Every time you press Return and there is processing time required, pray "Ohpleaseohpleaseohpleaseohplease," and scream "YES!" when it finishes.
17. "DISK FIGHT!!!"
18. Start making out with the person at the terminal next to you (It helps if you know them, but this is also a great way to make new friends).
19. Put a straw in your mouth and put your hands in your pockets. Type by hitting the keys with the straw.
20. If you're sitting in a swivel chair, spin around singing "The Lion Sleeps Tonight" whenever there is processing time required.
21. Draw a pictue of a woman (or man) on a piece of paper, tape it to your monitor. Try to seduce it. Act like it hates you and then complain loudly that women (men) are worthless.
22. Try to stick a Ninetendo cartridge into the 3 1/2 disk drive. When it doesn't work, get the supervisor.
23. When you are on an IBM, and when you turn it on, ask loudly where the smiling Apple face is.
24. Print out the complete works of Shakespeare, then when its all done (two days later) say that all you wanted was one line.
25. Sit and stare at the screen, biting your nails noisily. After doing this for a while, spit them out at the feet of the person next to you.
26. Stare at the screen, grind your teeth, stop, look at the person next to you, grinding. Repeat procedure, making sure you never provoke the person enough to let them blow up, as this releases tension, and it is far more effective to let them linger.
27. If you have long hair, take a typing break, look for split ends, cut them and deposit them on your neighbor's keyboard as you leave.
28. Put a large, gold-framed portrait of the British Royal Family on your desk and loudly proclaim that it inspires you.
29. Come to the lab wearing several layers of socks. Remove shoes and place them of top of the monitor. Remove socks layer by layer and drape them around the monitor. Exclaim sudden haiku about the aesthetic beauty of cotton on plastic.
30. Take the keyboard and sit under the computer. Type up your paper like this. Then go to the lab supervisor and complain about the bad working conditions.
31. Laugh hysterically, shout "You will all perish in flames!!!" and continue working.
32. Bring some dry ice & make it look like your computer is smoking.
33. Assign a musical note to every key (ie. the Delete key is A Flat, the B key is F sharp, etc.). Whenever you hit a key, hum its note loudly. Write an entire paper this way.
34. Attempt to eat your computer's mouse.
35. Borrow someone else's keyboard by reaching over, saying "Excuse me, mind if I borrow this for a sec?", unplugging the keyboard & taking it.
36. Bring in a bunch of magnets and have fun.
37. When doing calculations, pull out an abacus and say that sometimes the old ways are best.
38. Play Pong for hours on the most powerful computer in the lab.
39. Make a loud noise of hitting the same key over and over again until you see that your neighbor is noticing (You can hit the space bar so your fill isn't affected). Then look at your neighbor's keyboard. Hit his/her delete key several times, erasing an entire word. While you do this, ask: "Does *your* delete key work?" Shake your head, and resume hitting the space bar on your keyboard. Keep doing this until you've deleted about a page of your neighbor's document. Then, suddenly exclaim: "Well, whaddya know? I've been hitting the space bar this whole time. No wonder it wasn't deleting! Ha!" Print out your document and leave.
40. Remove your disk from the drive and hide it. Go to the lab monitor and complain that your computer ate your disk. (For special effects, put some Elmer's Glue on or around the disk drive. Claim that the computer is drooling.)
41. Stare at the person's next to your's screen, look really puzzled, burst out laughing, and say "You did that?" loudly. Keep laughing, grab your stuff and leave, howling as you go.
42. Point at the screen. Chant in a made up language while making elaborate hand gestures for a minute or two. Press return or the mouse, then leap back and yell "COVEEEEERRRRRR!" peek up from under the table, walk back to the computer and say. "Oh, good. It worked this time," and calmly start to type again.
43. Keep looking at invisible bugs and trying to swat them.
44. See who's online. Send a total stranger a talk request. Talk to them like you've known them all your lives. Hangup before they get a chance to figure out you're a total stranger.
45. Bring an small tape player with a tape of really absurd sound effects. Pretend it's the computer and look really lost.
46. Pull out a pencil. Start writing on the screen. Complain that the lead doesn't work.
47. Come into the computer lab wearing several endangered species of flowers in your hair. Smile incessantly. Type a sentence, then laugh happily, exclaim "You're such a marvel!!", and kiss the screen. Repeat this after every sentence. As your ecstasy mounts, also hug the keyboard. Finally, hug your neighbor, then the computer assistant, and walk out.
48. Run into the computer lab, shout "Armageddon is here!!!!!", then calmly sit down and begin to type.
49. Quietly walk into the computer lab with a Black and Decker chainsaw, rev that baby up, and then walk up to the nearest person and say, "Give me that computer or you'll be feeding my pet crocodile for the next week".
50. Two words: Tesla Coil.
#joke
The Police Academy
Three guys, a Polish guy, a Jewish guy and an Italian guy
sign up for the police academy. The Jewish guy goes in first
and the Captain says to him, "We have to ask you one question
before we admit you in to the academy, Who killed Jesus?"
The Jewish guy says "The Romans did it."
The Captain says, "Right, you're admitted."
The Italian guy goes in next. The Captain asks him the same
thing. "We have to ask you one question first before you're
admitted to the Police Academy. Who killed Jesus?"
The Italian guy says "The Romans did it."
The Captain says, "Right, you're admitted."
The Polish guy goes in and the Captain repeats the question.
The Polish guy says "Gee, I don't know." The Captain tells
him to go home and think about it for a week and come back
and tell him.
The Polish guy goes home and his wife asked him how his
first day went at the academy, and he says to her, "You won't
believe it! My first day on the job and they assigned me to
a murder case!"
#joke
Artie Lange: Bad at Drugs
I was bad at doing drugs. I didnt do drugs properly. For instance, Im the only guy who ever got really fat on cocaine.