The Perks of Dog Ownership
We've begun to long for the pitter-patter of little feet, so we bought a dog.
It's cheaper, and you get more feet.
Once upon a time there was a s...
Once upon a time there was a shepherd looking after his sheep on the edge of a desert road. Suddenly a brand new Jeep Cherokee screeches to a halt next to him. The driver a young, a man dressed in a Brioni suit, Ceruti shoes, Ray-Ban sunglasses and a YSL tie, gets out and asks the shepherd, "If I guess how many sheep you have, would you give me one of them?"
The shepherd looks at the young man, then looks at the sheep, "All right."
The young man parks the car, connects his notebook to his cell phone, enters a NASA site, scans the ground using his GPS, opens a database and 60 Excel tables filled with algorithms, then prints out a 150-page report on his high-tech mini-printer.
"You have exactly 1,586 sheep," he declares.
"That's correct," says the shepherd. "You may take the sheep."
The young man takes the sheep and puts it in the back of his car.
The shepherd asks, "If I guess your profession, will you return my sheep?"
"Why not?" answers the young man.
"You're a Consultant," declares the shepherd confidently.
"That's amazing! How did you guess so quickly and easily?" asks the man.
"Very simple," replies the shepherd. "First you came here without being called. Secondly, you charge me to tell me something I already knew. And thirdly, you do not understand anything about what I do. And lastly you took my sheepdog..."
#joke
"Did you hear about t
"Did you hear about the nun who procrastinated doing her laundry? She had a filthy habit."
Avoid drinking too many Peruvi
Avoid drinking too many Peruvian cocktails. It might make your
pisco sour
.
#joke
One Sunday, in counting the mo
One Sunday, in counting the money in the weekly offering, the pastorof a small Florida church found a pink envelope containing $1000. Ithappened again the next week. The following Sunday, he watched asthe offering was collected and saw a little old lady put thedistinctive pink envelope in the plate.
This went on for weeks until the pastor, overcome by curiosity,approached her. "Ma'am, I couldn't help but notice that you put $1,000a week in the collection plate," he stated.
"Why yes," she replied, "every week my son sends me money, and Igive some of it to the church."
The pastor replied, "That's wonderful, how much does he send you?"
The old lady said, "$10,000 a week."
The pastor was amazed. "Your son is very successful; what does he dofor a living?"
"He is a veterinarian," she answered.
"That is an honorable profession," the pastor said. "Where does hepractice?"
The old lady said proudly, "In Nevada. He has two cat houses in LasVegas and one in Reno."
#joke
Internet Axioms...
1. Home is where you hang your @.
2. The e-mail of the species is more deadly than the mail.
3. A journey of a thousand sites begins with a single click.
4. You can't teach a new mouse old clicks.
5. Great groups from little icons grow.
6. Speak softly and carry a cellular phone.
7. C: is the root of all directories.
8. Don't put all your hypes in one home page.
9. Pentium wise; pen and paper foolish.
10. The modem is the message.
11. Too many clicks spoil the browse.
12. The geek shall inherit the earth.
13. A chat has nine lives.
14. Don't byte off more than you can view.
15. Fax is stranger than fiction.
16. What boots up must come down.
17. Windows will never cease.
18. Virtual reality is its own reward.
19. Modulation in all things.
20. A user and his leisure time are soon parted.
21. There's no place like home.com.
22. Know what to expect before you connect.
23. Oh, what a tangled website we weave when first we practice.
24. Speed thrills.
25. Give a man a fish and you feed him for a day; teach him to use the Net and
he won't bother you for weeks.
#joke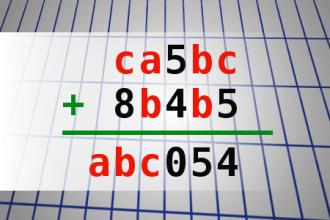 Find number abc
If ca5bc + 8b4b5 = abc054 find number abc. Multiple solutions may exist.
Competition Of A Nation
The Americans and Russians at the height of the arms race realized that if they continued in the usual manner they were going to blow up the whole world.
One day they sat down and decided to settle the whole dispute with one dog fight. They'd have five years to breed the best fighting dog in the world and whichever side's dog won would be entitled to dominate the world. The losing side would have to lay down its arms. The Russians found the biggest meanest Doberman and Rottweiler dogs in the world and bred them with the biggest meanest Siberian wolves. They selected only the biggest and strongest puppy from each litter, killed his siblings, and gave him all the milk. The used steroids and trainers and after five years came up with the biggest meanest dog the world had ever seen. Its cage needed steel bars that were five inches thick and nobody could get near it.
"When the day came for the fight, the Americans showed up with a strange animal. It was a nine foot long Dachshund. Everyone felt sorry for the Americans because they knew there was no way that this dog could possibly last ten seconds with the Russian dog.
"When the cages were opened up, the Dachshund came out and wrapped itself around the outside of the ring. It had the Russian dog almost completely surrounded. When the Russian dog leaned over to bite the Dachshund's neck, the Dachshund leaned up and consumed the Russian dog in one bite. There was nothing left at all of the Russian dog.
The Russians came up to the Americans shaking their heads in disbelief. `We don't understand how this could have happened. We had our best people working for five years with the meanest Doberman and Rottweiler dogs in the world and the biggest meanest Siberian wolves."
"That's nothing", an American replied. "We had our best plastic surgeons working for five years trying to make an alligator look like a Dachshund.'"
#joke
New Gorilla in Bar
A black man enters a bar with his gorilla. He says to the bartender, "I would like a beer, and a gin and tonic for my girlfriend here."
The bartender looks at him like he's nuts and says, " I sorry but I don't serve Gorillas in this bar."
The man has an idea. He takes his girlfriend home and shaves her head, gives her a wig, dress, and makeup. Then he returns to the same bar. He places the same order and this time the bar tender gives it to them.
They go and sit in a corner while the bartender turns to his friend and says, "Damn! Did you ever notice how all the good looking Iraqi ladies that come in here, always seem to be with black men.
A fellow bought a new Mercedes...
A fellow bought a new Mercedes and was out on the interstate for a nice evening drive. The top was down, the breeze was blowing through what was left of his hair and he decided to open her up. As the needle jumped up to 80 mph, he suddenly saw flashing red and blue lights behind him. "There's no way they can catch a Mercedes," he thought to himself and opened her up further. The needle hit 90, 100.... Then the reality of the situation hit him. "What am I doing?" he thought and pulled over. The cop came up to him, took his license without a word and examined it and the car. "It's been a long day, this is the end of my shift and it's Friday the 13th. I don't feel like more paperwork, so if you can give me an excuse for your driving that I haven't heard before, you can go."
The guy thinks for a second and says, "Last week my wife ran off with a cop. I was afraid you were trying to give her back!"
"Have a nice weekend," said the officer.
Why God Created Eve
10. God was worried that Adam would frequently become lost
in the Garden.
9. God knew that one day Adam would require someone to
locate and hand him the remote.
8. God knew Adam would never go out and buy himself a new
fig leaf when his wore out and would therefore need Eve to
buy one for him.
7. God knew Adam would never be able to make a doctor's,
dentist, or haircut appointment for himself.
6. God knew Adam would never remember which night to put the
garbage on the curb.
5. God knew if the world was to be populated, men would
never be able to
handle the pain and discomfort of childbearing.
4. As the Keeper of the Garden, Adam would never remember
where he left his tools.
3. Apparently, Adam needed someone to blame his troubles on
when God caught him hiding in the garden.
2. As the Bible says, It is not good for man to be alone!
And finally, the Number 1 reason why God created Eve...
1. When God finished the creation of Adam, He stepped back,
scratched his head, and said, "I can do better than that."
In A Bad Nursing Home
The Top Signs You're In A Bad Nursing Home


Its named Heaven's Waiting Room.

Cheap TV antenna can't pick up Xena: Warrior Princess.

Defibrilator doubles as a remote control.

Its named Matlock Manor.

No furniture in it outside of beds and lots of caskets.

Radio stations alternate between Glenn Miller and broadcasting Last Rites in every language known to man.

You can't ring a nurse but you can page the attorney's office down the hall.

Rectal thermometers made of wood.

Two words: Community Bedpan.

#joke
Steve Byrne: Half-Korean, Half-Irish
Its weird when youre a mix. People just want to play detective with your face. Nine times out of 10, theyre polite: Where are you from? Im like, Pittsburgh. Theyre like, Pittsburgh, right. Seriously though, where are you from? Pittsburgh. Like Im from some mutant island south of the Philippines, the island of Half Asia. Its just me, Keanu Reeves and Tiger Woods on a beach all day playing volleyball.
#joke