Today – September 11, 2017
We Remember 911
"My washing machine b
"My washing machine broke down this morning, but I didn't get too agitated."
If you buy your degree, is tha
If you buy your degree, is that a collegin' implant?
A Barbie Doll
One day a fella was driving home when he suddenly realized that it was his daughter's birthday and *shock* he hadn't bought her anything. Out of the corner of his eye he notices a shopping mall. Knowing that it was 'now or never', he pulls his car through three lanes of traffic, finds a parking bay and runs into the mall.
After a frantic search he finds a toy store, goes inside and attracts the attention of the shop assistant. When asked what he'd like, he simply says: "a Barbie Doll".
The shop assistant looks at him in a condescending manner and asks, "So Sir, which Barbie would that be?"
The man looks surprised so the assistant continues, "We have Barbie Goes To the Ball at $19.99, Barbie goes Shopping at $19.99, Barbie goes Clubbing at $19.99, Barbie Goes To The Gym at $19.99, Cyber Barbie at $19.99 and Divorced Barbie at $249.99."
The man can't help himself and asks, "why is Divorced Barbie $249.99 when all those other Barbies are selling for $19.99???"
"Well Sir, that's quite obvious!" says the assistant,
"Divorced Barbie comes with Ken's house, Ken's car, Ken's furniture ....
#joke
Top Signs You're Bored at Work
You've already read the entire Dilbert page-a-day calendar for 2000.
You discover that staring at your cubicle wall long enough produces images of Elvis.
You've figured out a way to get Gilligan off the island.
You decide to see how many Mountain Dews you can drink before the inevitable explosion occurs.
People come into your office only to borrow pencils from your ceiling.
No longer content with merely photocopying your butt, you now scan and enhance it with Photoshop.
You now require only a single can of cola to belch the names of all seven Dwarfs.
The 4th Division of Paperclips has overrun the Pushpin Infantry, and General White-Out has called for reinforcements.
#joke
Documentation Products
The following is supposedly a true story. To be included, besides being true, the story is most likely strange, weird, surprising, or funny.
FrameMaker and Interleaf are competing documentation products. When the spelling checker of FrameMaker 2.1 encounters the word Interleaf in a document, it flags it as a misspelling. What does it offer as the correct spelling? "FrameMaker"!
#joke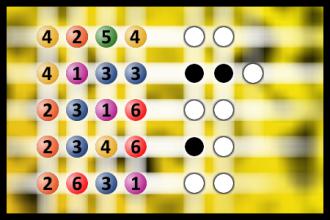 What a winning combination?
The computer chose a secret code (sequence of 4 digits from 1 to 6). Your goal is to find that code. Black circles indicate the number of hits on the right spot. White circles indicate the number of hits on the wrong spot.
Knock, Knock at the Convent
Did you hear the one about the man who opened a dry cleaning business next door to the convent? He knocked on the door and asked the Mother Superior if she had any dirty habits.
Two retired professors were va
Two retired professors were vacationing with their wives at a hotel in the Catskills. They were sitting on the veranda one summer evening, watching the sun set.
The history professor asked the psychology professor, "Have you read Marx?"
To which the professor of psychology replied, "Yes, and I think it's these pesky wicker chairs."
#joke
Kissing a Nun
A cabbie picks up a nun. She gets into the cab, and the cab driver won't stop staring at her. She asks him why is he staring and he replies, "I have a question to ask you but I don't want to offend you."
She answers, "My dear son, you cannot offend me. When you're as old as I am and have been a nun a long as I have, you get a chance to see and hear just about everything. I'm sure that there's nothing you could say or ask that I would find offensive."
"Well, I've always had a fantasy to have a nun kiss me."
She responds, "Well, let's see if you qualify. #1, you have to be single and #2 you must be Catholic."
The cab driver is very excited and says, "Yes, I am single and I'm Catholic too!"
The nun says "OK, pull into the next alley."
He does and the nun fulfills his fantasy. But when they get back on the road, the cab driver starts crying.
"My dear child, said the nun, why are you crying?"
"Forgive me sister, but I have sinned. I lied, I must confess, I'm married and I'm Jewish."
The nun says, "That's OK, my name is Kevin and I'm on my way to a costume party."
- Joke shared by Beliefnet member socaliflady
#joke
Dan Naturman: Airplane Movie Safety
Last time I was on JetBlue, there was a dude next to me who looked a little suspicious. I was nervous. He was watching a movie, though; so Im thinking, Would a hijacker watch a movie? Probably not, right?... But you know its a good movie if you land, and hes like, Oh my God, I forgot to hijack the plane.
#joke
Starting At 8:05
A friend and I were golfing one day when at the 18th hole this guy comes out of nowhere and asks if he could join us. I tell him, "Well, we're just about done but if you want to join us tomorrow you can. We start at 8 o'clock."
He said, "Great! I'll be here at 8 o'clock, maybe 8:05..."
So next day he shows up at 8 o'clock and plays scratch golf; he was good. We were going to play again the next day and we invited him to join us. He said, "Great! I'll be here at 8 o'clock, maybe 8:05..."
So the next day he shows up at 8 o'clock, plays with his opposite hand, and shoots under par! I'm a bit amazed with this guy so I ask him, "You're a pretty good golfer, beating us with scratch golf and then showing-off by playing just as good with your opposite hand. Just what is you secret?"
He said, "Well...when I wake up in the morning and my wife is lying on her left side, I play left-handed. Or when I wake up in the morning and my wife is laying on her right side, I play right-handed."
So I ask, "what if she is laying on her back?"
"That's when I get here at 8:05."
#joke
Who drives you?
Two elderly ladies are sitting on the front porch, doing nothing.
One old lady turns to the other and asks, "Do you still get horny?"
The other replies, "Oh sure I do."
The first old lady asks, "What do you do about It?"
The second old lady replies, "I suck a lifesaver."
After a few moments, the first old lady asks, "Who drives you to the beach?"
#joke
"A cannonball is a pa...
"A cannonball is a party for artillerymen."