"The semaphore signal
"The semaphore signals from the ghost ship were hard to follow, due to their flagging spirits."
Mary Poppins Visiting
Mary Poppins was traveling home, but due to worsening weather, she decided to stop at a hotel for the night. She approached the receptionist and asked for a room for the night.
"Certainly madam", he replied courteously.
"Is the restaurant open still?" inquired Mary.
"Sorry, no," came the reply, "but room service is available all night. Would you care to select something from this menu?"
Mary smiled and took the menu and perused it. "Hmm, I would like cauliflower cheese please," said Mary.
"Certainly madam," he replied.
"And can I have breakfast in bed?" asked Mary politely. The receptionist nodded and smiled. "In that case, I would love a couple of poached eggs please," Mary mused. After confirming the order, Mary signed in and went up to her room for the night.
The night passed uneventfully and next morning Mary came down early to check out. The same guy was still on the desk.
"Morning madam...sleep well?"
"Yes, thank you," Mary replied.
"Food to your liking?"
"Well, I have to say the cauliflower cheese was exceptional, I don't think I have had better. Shame about the eggs tho....they really weren't that nice at all," replied Mary truthfully.
"Oh...well, perhaps you could contribute these thoughts to our Guest Comments Book.
We are always looking to improve our service and would value your opinion," said the receptionist.
"OK, I will...thanks!" replied Mary....who checked out, then scribbled a comment into the book. Waving, she left to continue her journey.
Curious, the receptionist picked up the book to see the comment Mary had written.
"Supercauliflowercheesebuteggswerequiteatrocious!"
#joke
As You Slide Down the Banister
As You Slide Down the Banister of Life, Remember:
1. Jim Baker and Jimmy Swaggert have written an impressive new book. It's called "Ministers Do More Than Lay People."
2. Transvestite: A guy who likes to eat, drink and be Mary.
3. The difference between the Pope and your boss...the Pope only expects you to kiss his ring.
4. My mind works like lightning. One brilliant flash and it is gone.
5. The only time the world beats a path to your door is if you're in the bathroom.
6. I hate sex in the movies. Tried it once. The seat folded up, the drink spilled and that ice, well, it really chilled the mood.
7. It used to be only death and taxes were inevitable. Now, of course, there's shipping and handling, too.
8. A husband is someone who, after taking the trash out, gives the impression that he just cleaned the whole house.
9. My next house will have no kitchen - just vending machines and a large trash can.
10. A blonde said, "I was worried that my mechanic might try to rip me off. I was relieved when he told me all I needed was turn signal fluid."
11. I'm so depressed. My doctor refused to write me a prescription for Viagra. He said it would be like putting a new flagpole on a condemned building.
12. My neighbor was bit by a stray rabid dog. I went to see how he was and found him writing frantically on a piece of paper. I told him rabies could be treated, and he didn't have to worry about a Will. He said, "Will? What Will? I'm making a list of the people I want to bite."
13. Definition of a teenager? God's punishment for enjoying sex.
14. As you slide down the banister of life, may the splinters never point the wrong way.

Head hog....
One day a man called the church office and said, "Can I speak to the head hog at the trough?"
The secretary thought she heard what he said, but said, "I'm sorry, who?
The caller repeated, "Can I speak to the head hog at the trough?"
She said, "Well, if you mean the preacher, then you may refer to him as 'Pastor,' or 'Brother,' but I prefer that you not refer to him as the 'head hog at the trough'!"
To this, the man replied, "Well, I was planning on giving $100,000 to the church building fund . . ."
To this, the secretary quickly responded, "Hang on, I think the big fat pig just walked in!"
#joke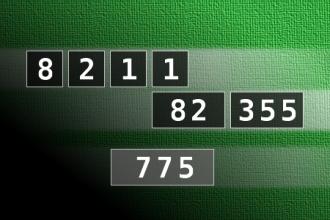 Calculate the number 775
NUMBERMANIA: Calculate the number 775 using numbers [8, 2, 1, 1, 82, 355] and basic arithmetic operations (+, -, *, /). Each of the numbers can be used only once.
It seems a farm boy accide...
It seems a farm boy accidentally overturned his wagon-load of corn. The farmer who lived nearby heard the noise. "Hey Wilmer!" the farmer yelled. "Forget your troubles. Come in and have a bite with us. Then I'll help you get the wagon up."
"That's mighty nice of you," Wilmer answered. "But I don't think Pa would like me to."
"Aw, come on." the farmer insisted.
"Well okay," the boy finally agreed, and added, "But Pa won't like it."
After a hearty dinner, Wilmer thanked his host. "I feel a lot better now, but I know Pa is going to be real upset."
"Don't be foolish!" the neighbor said with a smile. "By the way, where is your Pa?"
Wilmer replied, "Under the wagon."
#joke
Whitney Cummings: Naked Photo Texts
I have girlfriends who will text message naked photos of themselves to their man. Which, I guess the whole point of that is, to be like, Heres whats waiting for you at home, big boy. If I was to do a heres whats waiting for you at home photo shoot, I would take some pictures of the frigging dishes, the bills right now. My vaginas not waiting for you at home at all.
#joke
Chuck Norris originally appear...
Chuck Norris originally appeared in the "Street Fighter II" video game, but was removed by Beta Testers because every button caused him to do a roundhouse kick. When asked about this "glitch," Chuck replied, "That's no glitch."
Shut Up and Trouble were walki...
Shut Up and Trouble were walking down a path. Trouble got lost. So, Shut Up went to the police officer. The police officer asked, "What's your name?"
He answered, "Shut Up."
He asked again "What's your name?"
"Shut Up."
The police officer asked, "Are you looking for trouble?!"
"Yeah, I lost him down a path about two miles ago."
#joke