A guy with a black eye boards...
A guy with a black eye boards his plane and sits down in his seat. He notices immediately that the guy next to him has a black eye, too. He says to him, "Hey this is a coincidence, we both have black eyes. Mind if I ask how you got yours?"
The other guy says, "Well, it just happened. It was a tongue twister accident. See, I was at the ticket counter and this gorgeous blonde with the most massive breasts in the world was there. So, instead of saying, 'I'd like two tickets to Pittsburgh', I accidentally said, 'I'd like two pickets to Tittsburgh'. So she socked me a good one."
The first guy replied, "Wow! This is unbelievable. Mine was a tongue twister too. I was at the breakfast table this morning and I wanted to say to my wife, 'Please pour me a bowl of Frosties, honey.' But I accidentally said, 'You ruined my life you fat evil slag'."
Ponderings Collection 24
If vegetarians eat vegetables, what do humanitarians eat?
Don`t think that you`re thinking. If you think that you're thinking you only think that you're thinking.
When I erase a word with a pencil, where does it go?
If a train station is where a train stops, what is a workstation?
Why is it, when a door is open it's ajar, but when a jar is open, it's not adoor?
Ever wonder what you call a pocket calculator in a n*dist camp?
If you jogged backward . . .would you gain weight?
Being rich and it don't mean so much . Just look at Henry Ford, all those millions and he never owned a Cadillac!
Why do they put pictures of criminals up in the Post Office? What are we supposed to do . . . write to these men? Why don't they just put their pictures on the postage stamps so the mailmen could look for them while they delivered the mail?
Employment application blanks always ask who is to be notified in case of an emergency. Wouldnt a good response be to write . . . A Good Doctor!
"A giggle is a small
"A giggle is a small job for musicians."
St. George and the Dragon
A tramp knocked on the door of the inn known as St. George and the Dragon. The landlady answered the door.The tramp said, "Could you give a poor man something to eat?""No," said the woman, slamming the door in his face.He knocked again and said, "Could I have a few words with George?"
#joke
Thank you for purchasing'
Thank you for purchasing'Bubba & Cooter's Book of Sure-fire Pick-up Lines'brought to you by Bubba & Cooter. Enjoy!
1) Did you fart?
cuz you blew me away.
2) Are yer parents retarded?
cuz ya sure are special.
3) My Love fer you is like diarrhea
I can't hold it in.
4) Do you have a library card?
cuz I'd like to sign you out
5) Is there a mirror in yer pants?
cuz I can see myself in em.
6) If you was a tree & I was a Squirrel,
I'd store my nuts in yer hole.
7) You might not be the best lookin girl here,
but beauty's only a light switch away.
8) Man - 'Fat Penguin!'
Woman - 'WHAT?'
Man - 'I just wanted to say something that would break the ice.'
9) I know I'm not no Fred Flintstone,
but I bet I can make yer bed-rock.
10) I can't find my puppy, can you help me find him?
I think he went inta this cheap motel room...
11) Yer eyes are as blue as window cleaner.
12) If yer gunna regret this in the mornin,
we kin sleep til afternoon.
AND.. the best for last!
13) Yer face reminds me of a wrench,
every time I think of it, my nuts tighten up
#joke
The confession...
Henry goes to confession and says, "Bless me Father, for I have sinned. Last night I was with seven different women."
The priest says, "Take seven lemons, squeeze them into a glass and drink the juice without pausing."
"Will that cleanse me of my sins, Father?"
"No," replies the priest. "But it'll wipe that silly grin off your face."
#joke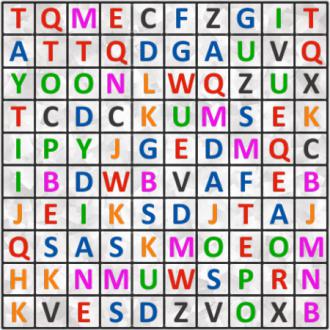 Find a famous person
Find the first and the last name of a famous person. Text may go in all 8 directions. Length of words in solution: 5,6.
Brendon Walsh: WMD Penis
My last girlfriend used to call my penis what I thought was a big, powerful, scary nickname. She was calling it a weapon of mass destruction. Sounded cool, but then I found out she was calling it that because she thought my penis was really hard to find.
Chuck Norris doesn't mow his l...
Chuck Norris doesn't mow his lawn, he dares his grass to grow.
A Roll Of The Dice
Two bored casino dealers were waiting at the craps tables for players when a gorgeous blonde lady wearing a huge fur coat walked in and asked if she could bet twenty thousand dollars on a single roll of the dice.
The dealers said yes and were happy to oblige.
She then said, "I hope you don't mind, but I'll feel much luckier if I take off my coat." With that, she took off her coat and was wearing a skin-tight Wonder-woman outfit!
The men looked her up and down as she leaned over the table, rolled the dice, and yelled, "Come on baby, come on!"
She then jumped up and down, hugging each of the casino dealers while yelling "YES, I WIN! I CAN'T BELIEVE IT, I WIN!!" With that, she picked up her winnings and quickly left.
The dealers stood there staring at each other dumbfounded, until one finally asked the other, "What the heck did she roll anyway?"
The second dealer answered, "I don't know. I thought you were paying attention!"
Britney and Christina Work Together
Britney Spears and Christina Aguliera were building a barn. While putting up the inside wall, Britney noticed that Christina was tossing every other nail into the garbage can.
Britney asked Christina, "Why are you throwing those nails away?" Christina said, "The pointed end is on the wrong end of the nail." Britney said, "Well, don't throw those away, we can use those on the outside wall!"
#joke
Turbulent Times
A plane hit a patch of severe turbulence and the passengers were holding on tight as it rocked and reeled through the night. A little old lady turned to a minister who was sitting behind her and said, "You're a man of God. Can't you do something about this?"
He replied, "Sorry, I can't. I'm in sales, not management."
#joke