The boss wondered why one of h...
The boss wondered why one of his most valued employees was absent, but had not phoned in. Needing to have an urgent work problem resolved, he dialed the employee's home phone number and was greeted by a child's whispered, "Hello."
"Is your Daddy home?" he asked.
"Yes," whispered the small voice.
"May I talk with him?"
The child whispered, "No."
Surprised and wanting to talk with an adult, the boss asked, "Is your Mommy there?"
"Yes."
"May I talk with her?"
Again the small voice whispered, "No."
Hoping there was someone with whom he could leave a message, the boss asked, "Is anyone else there?"
"Yes," whispered the child, "a policeman."
Wondering what a cop would be doing at his employee's home, the boss asked, "May I speak with the policeman?"
"No, he's busy," whispered the child.
"Busy doing what?"
"Talking to Mommy and Daddy and the Fireman," came the whispered answer.
Growing more worried as he heard a loud noise through the earpiece on the phone, the boss asked, "What is that noise?"
"A helicopter," answered the whispering voice.
"What is going on there?" demanded the boss, now truly apprehensive.
Again, whispering, the child answered, "The search team just landed a helicopter."
Alarmed, confused, and a little frustrated, the boss asked, "What are they searching for?"
Still whispering, the young voice replied with a muffled giggle..."Me!"
In the middle of the night
Husband: I won't be able to sleep after wards.
Wife: I can't sleep without it.
Husband: Why do you think of things like this in the middle of the night?
Wife: Because I'm hot.
Husband: You get hot at the darnest times.
Wife: If you love me I wouldn't have to beg you.
Husband: If you love me you'd be more considerate.
Wife: You don't love me anymore.
Husband: Yes I do, but let's forget it for tonight.
Wife: Booooooo ..!(Sob-Sob)
Husband: Alright, I'll do it.
Wife: What's the matter? Need a flashlight?
Husband: I can't find it.
Wife: Oh, for heaven's sake, feel for it.
Husband: There. Are you satisfied?
Wife: Oh, yes, honey.
Husband: Is it up far enough?
Wife: Oh, that's fine.
Husband: Now go to bed and from now on when you want the window open, do it yourself.
#joke
Texting for Seniors
IMPORTANT – in today's social media driven world, those of us over 60 need to learn the new CTSFOF's "Common Text Symbols for Old Farts) Teens have their texting codes (LOL, OMG, TTYL, etc.).
"What do you call a c
"What do you call a church piano business? An organization!"
Horse Or Chicken?
A retiring farmer in preparation for selling his land, needed to rid his farm of animals. So he went to every house in his town.
To the houses where the man is the boss, he gave a horse. To the houses where the woman is the boss, a chicken was given.
He got toward the end of the street and saw a couple outside gardening. "Who's the boss around here?" he asked.
"I am." said the man.
"I have a black horse and a brown horse," the farmer said, "which one would you like?"
The man thought for a minute and said, "The black one."
"No, no, no, get the brown one." the man's wife said.
"Here's your chicken." said the farmer.
#joke
Biblical Theme Songs
Noah: "Raindrops Keep Falling on My Head" Adam and Eve: "Strangers in Paradise" Lazarus: "The Second Time Around" Esther: "I Feel Pretty" Job: "I've Got a Right to Sing the Blues" Moses: "The Wanderer" Jezebel: "The Lady is a Tramp"Samson: "Hair"Salome: "I Could Have Danced All Night" Daniel: "The Lion Sleeps Tonight" Esau: "Born To Be Wild" Shadrach, Meshach, and Abednego: "Great Balls of Fire!" The Three Kings: "When You Wish Upon a Star" Jonah: "Got a Whale of a Tale" Elijah: "Up, Up, and Away" Methuselah: "Stayin' Alive" Nebuchadnezzar: "Crazy"
#joke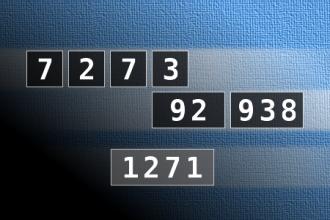 Calculate the number 1271
NUMBERMANIA: Calculate the number 1271 using numbers [7, 2, 7, 3, 92, 938] and basic arithmetic operations (+, -, *, /). Each of the numbers can be used only once.
A judge was interviewing a wom...
A judge was interviewing a woman regarding her pending divorce, and asked, "What are the grounds for your divorce?"
She replied, "About four acres and a nice little home in the middle of the property with a stream running by."
"No," he said, "I mean what is the foundation of this case?"
"It is made of concrete, brick and mortar," she responded.
"I mean," he continued, "What are your relations like?"
"I have an aunt and uncle living here in town, and so do my husband's parents."
He said, "Do you have a real grudge?"
"No," she replied, "We have a two-car carport and have never really needed one."
"Please," he tried again, "is there any infidelity in your marriage?"
"Yes, both my son and daughter have stereo sets. We don't necessarily like the music, but the answer to your questions is yes."
"Ma'am, does your husband ever beat you up?"
"Yes," she responded, "about twice a week he gets up earlier than I do."
Finally, in frustration, the judge asked, "Lady, why do you want a divorce?"
"Oh, I don't want a divorce," she replied. "I've never wanted a divorce. My husband does. He said he can't communicate with me!"
#joke
If Only...
If Yoko Ono married Sonny Bono, she'd be Yoko Ono Bono.
If Dolly Parton married Salvador Dali, she'd be Dolly Dali.
If Bo Derek married Don Ho, she'd be Bo Ho.
If Ella Fitzgerald married Darth Vader, she'd be Ella Vader.
If Oprah Winfrey married Depak Chopra, she'd be Oprah Chopra.
If Cat Stevens married Snoop Doggy Dogg, he'd be Cat Doggy Dogg.
If Olivia Newton-John married Wayne Newton, then divorced him tomarry Elton John, she'd be Olivia Newton-John Newton John.
If Sondra Locke married Elliott Ness, then divorced him to marryHerman Munster, she'd become Sondra Locke Ness Munster.
If Bea Arthur married Sting, she'd be Bea Sting.
If Liv Ullman married Judge Lance Ito, then divorced him and married Jerry Mathers, she'd be Liv Ito Beaver.
If Snoop Doggy Dogg married Winnie the Pooh, he'd be Snoop DoggyDogg Pooh.
G. Gordon Liddy married Boutros-Boutros Ghali, then divorced himto marry Kenny G., he'd be G. Ghali G.
If Jack married Andy Capp, then married Jack Paar, then moved on to Stephen King, he'd be Jack Handy Capp Paar King.
If Woody Allen married Natalie Wood, divorced her and marriedGregory Peck, divorced him and married Ben Hur, he'd be Woody Wood Peck Hur.
If Ivana Trump married, in succession, Orson Bean (actor), KingOscar (of Norway), Louis B. Mayer (of MGM), and Norbert Wiener (mathematician), she would then be Ivana Bean Oscar Mayer Wiener.
#joke
Sister in law
I was happy. My girlfriend and I had been dating for over a year, and so we decided to get married.
My parents helped us in every way, my friends encouraged me, and my girlfriend? She was a dream!
There was only one thing bothering me, very much indeed, and that one thing was her younger sister.
My prospective sister-in-law was twenty years of age, wore tight mini skirts and low cut blouses. She would regularly bend down when quite near me and I got many a pleasant view of her underwear. It had to be deliberate. She never did it when she was near anyone else.
One day little sister called and asked me to come over to check the wedding invitations. She was alone when I arrived. She whispered to me that soon I was to be married, and she had feelings and desires for me that she couldn't overcome and didn't really want to overcome.
She told me that she wanted to make love to me just once before I got married and committed my life to her sister. I was in total shock and couldn't say a word.
She said, "I'm going upstairs to my bedroom, and if you want to go ahead with it just come up and get me." I was stunned. I was frozen in shock as I watched her go up the stairs. When she reached the top she pulled down her panties and threw them down the stairs at me.
I stood there for a moment, then turned and went straight to the front door. I opened the door and stepped out of the house. I walked straight towards my car.
My future father-in-law was standing outside. With tears in his eyes he hugged me and said, "We are very happy that you have passed our little test. We couldn't ask for a better man for our daughter. Welcome to the family."
The moral of this story is: Always keep your condoms in your car!
#joke
Chuck Norris once went skydivi...
Chuck Norris once went skydiving, but promised never to do it again. One Grand Canyon is enough.
Kurt Braunohler: Slept Like a Baby
Slept like a baby last night. I woke up every two hours screaming in the dark and then I sh*t my pants and almost died for, like, no reason whatsoever.
Top Ten Questions I Would Have Asked Monica Lewinsky
10. "Are you as completely sick of yourself as the rest of
the planet?"
9. "Technically, I'm President of the Late Show -- is that
anything?"
8. "Can Vernon Jordan help me get my old job back at NBC?"
7. "Could you get Clinton to do something about those weird
Old Navy
commercials?"
6. "Did you ever have sex with the president while he was
talking to me?"
5. "Do you know how much easier you've made my job over the
last 14 months?"
4. "What's this about you possibly running for senator from
New York?"
3. "Where do you see yourself in 10 affairs?"
2. "Who will you be sleeping with in 2000 -- Gore or Bush?"
1. "Did you bring a clip?"
#joke