Jokes of the day for Thursday, 11 October 2018
Funny jokes, funny photo and funny video collected from the internet on Thursday, 11 October 2018
A truck driver was driving alo...
A truck driver was driving along on the freeway. A sign comes up that reads "Low bridge ahead!" Before he knows it, the bridge is right ahead of him and he gets stuck under the bridge. Cars are backed up for miles.
Finally, a police car comes up. The cop gets out of his car and walks around to the truck driver, puts his hands on his hips and says, "Got stuck, huh?"
The truck driver says, "No, I was delivering this bridge and ran out of gas."
#joke
Man vs Woman _ Part 2
Why do women live a better, longer & more peaceful Life, compared to men?
A very INTELLIGENT student replied: 'Because women don't have a wife!'
COOL MESSAGE BY A WIFE: Dear Mother-in-law, Don't teach me how to handle my children. I am living with one of yours and he needs a lot of improvement!?
When a married man says, I WILL THINK ABOUT IT - what he really means is that he doesn't know his wife's opinion yet.
#joke
"The father was reall
"The father was really bugged because his son did not want to take over the family exterminator business."
Bee Jokes 03
Q: What does a bee get at McDonalds?
A: A humburger!
Q: What buzzes, is black and yellow and goes along the bottom of the sea?
A: A bee in a submarine!
Q: What's more dangerous than being with a fool?
A: Fooling with a bee!
Q: What did the spider say to the bee?
A: Your honey or your life!
Q: Who is a bee's favorite painter?
A: Pablo Beecasso!
Q: What did the bee to the other bee in summer?
A: Swarm here isn't it!
Q: What is a bee's favorite classical music composer?
A: Bee-thoven!
Q: Who writes books for little bees?
A: Bee-trix Potter!
Q: Where do bees go on holiday?
A: Stingapore!
Q: What do you call a bee who's had a spell put on him?
A: He's bee-witched!
#joke
A Priest and a Rabbi Were on a Plane…
The priest replied, "Yes that is still very much a part of our faith."The rabbi then asked him, "Father, have you ever fallen to the temptation of the flesh?"The priest replied, "Yes, rabbi, on one occasion I was weak and broke with my faith."The rabbi nodded understandingly for a moment and then said, "A lot better than pork, isn't it?"
#joke
Wishful thinking
A wife went to the police station with her next-door neighbor to report that her husband was missing. The policeman asked for a description.
She said, "He's 35 years old, 6 foot 4, has dark eyes, dark wavy hair, an athletic build, weighs 185 pounds, is soft-spoken, and is good to the children."
The next-door neighbor protested, "Your husband is 5 foot 4, chubby, bald, has a big mouth, and is mean to your children."
The wife replied, "Yes, but who wants HIM back?"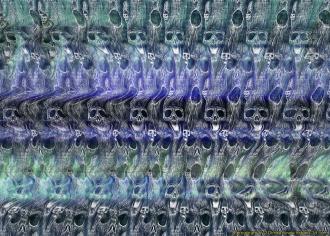 What hides this stereogram?
Stereogram - 3D Image
A fifteen year-old boy came ho
A fifteen year-old boy came home with a Porsche and his parents began toscream, "Where did you get that car???!!!" He calmly told them, "I boughtit today."
"With what money?" demanded his parents. "We know what a Porsche costs."
"Well," said the boy, "this one cost me fifteen dollars."
So the parents began to yell even louder. "Who would sell a car like thatfor fifteen dollars?" they said.
"It was the lady up the street," said the boy." I don't know her name--theyjust moved in. She saw me ride past on my bike and asked me if I wanted tobuy a Porsche for fifteen dollars."
"Oh No," moaned the mother, "she must be a child abuser. Who knows what shewill do next? John, you go right up there and see what's going on."
So the boy's father walked up the street to the house where the lady livedand found her out in the yard calmly planting petunias! He introducedhimself as the father of the boy to whom she had sold a Porsche for fifteendollars and demanded to know why she did it.
"Well," she said, "this morning I got a phone call from my husband. Ithought he was on a business trip, but it seems he has run off to Hawaiiwith his secretary and doesn't intend to come back. He asked me to sell hisnew Porsche and send him the money. So I did."
#joke
A student comes to a young pro...
A student comes to a young professor's office hours. She glances down the hall, closes his door, and kneels pleadingly. "I would do anything to pass this exam," she says. She leans closer to him, flips back her hair, and gazes meaningfully into his eyes. "I mean," she whispers, "I would do anything..." He returns her gaze, "Anything?" "Anything." His voice softens, "Anything?" "Anything," she repeats again. His voice turns to a whisper. "Would you ... study?"
#joke
Nun of Your Business
While shopping in a food store, two nuns happened to pass by the beer, wine, and liquor section. One asked the other if she would like a beer.
The second nun answered that, indeed, it would be very nice to have one, but that she would feel uncomfortable purchasing it.
The first nun replied that she would handle it without a problem. She picked up a six-pack and took it to the cashier. The cashier was surprised, so the nun said, "This is for washing our hair."
Without blinking an eye, the cashier reached under the counter and put a package of pretzel sticks in the bag with the beer.
"The curlers are on me."
- Joke shared by Beliefnet member smoothsable
Excuses!
A married man decided to work late to be with his sexy secretary, so he called his wife to make up an excuse.
After work he invited his secretary to dinner. It soon became obvious that he was going to get lucky, so the two went back to her apartment and had great sex for two hours.
Afterward the fellow went to the bathroom to straighten up for the trip home and noticed a huge hickey on his neck.
He panicked, wondering what he was going to tell his wife.
After the man unlocked his front door, his dog came bounding to greet him. Aha, the man thought, and promptly fell to the carpet, pretending to fight off the affectionate animal.
Holding his neck with one hand, he said, "Honey, look what the dog did to my neck!"
"Hell, that's nothing" she answered, ripping open her blouse. "Look what he did to my tits!"
Submitted by Glaci
Edited by Curtis
#joke
Paul Varghese: Buying a Convertible
I was actually thinking about buying a convertible... But then I thought, what if I was at a stoplight -- how would I avoid the homeless guy?