Jokes of the day for Sunday, 21 October 2018
Funny jokes, funny photo and funny video collected from the internet on Sunday, 21 October 2018
There were two bulls, a young
There were two bulls, a young one named George and an old one named Sam. It was that time of year to satisfy the local female population and young George was pretty excited.
"Sam, can I go down to those heifers over there?" asked George.
"George, relax. Here is how it works. We'll wait until they're lined up at the feed trough so we can have our way with the ladies in a nice orderly fashion," said Sam.
"Okay, I can do that," George answered.
Well, feeding time came and all the heifers were lined up just like Sam said and George was all excited to go down there but Sam had a few more instructions.
"Now George, here is how this is gonna work. I'll start at one end and you can start at the other. We'll meet in the middle," said Sam.
"OK, OK, let's go!" said George.
"Hang on George! One more important thing to remember. These gals will let us have our way but you have to show some respect and be polite. OK?" said Sam.
"Sure, sure," says George, "Let's go!"
Well, they go on down to the heifers all lined up. George starts at one end and Sam at the other. George is pretty excited, but he remembers Sam's instructions about being polite, so as he is going along he makes sure to say, "Thank you ma'am, thank you ma'am, thank you ma'am, thank you ma'am, thank you ma'am, sorry Sam, thank you ma'am..."
#joke
A Faithful Woman
An elderly Muslim lady was well-known for her faith and for her confidence in talking about it. She would stand in front of her house and say "Allah be praised" to all those who passed by. Next door to her lived an atheist who would get so angry at her proclamations he would shout, "There ain't no Lord!!" Hard times came upon the elderly lady, and she prayed for Allah to send her some assistance. She would pray out loud in her night prayer "Oh Allah! I need food!! I am having a hard time, please Lord, PLEASE LORD, SEND ME SOME GROCERIES!!" One night the atheist happened to hear her as she was praying, and decided to play a prank on her. The next morning the lady went out on her porch and found a large bag of groceries. She raised her hands and shouted, "Allah be praised!." The neighbor jumped from behind a bush and said, "Aha! I told you there was no Lord. I bought those groceries, God didn't." The old lady laughed and clapped her hands and said, "ALLAH BE PRAISED. He not only sent me groceries, but he made the devil pay for them!"
#joke #prank
"The man working in a
"The man working in a dowel factory has his job pegged."
Slogans....
A class professor was giving a lecture on company slogans and was asking his students if they were familiar with them.
"Joe," he asked, "which company has the slogan, 'come fly the friendly skies'?"
Joe answered the correct airline.
"Brenda, can you tell me which company has the slogan, "Don't leave home without it?"
Brenda answered the correct credit card company with no difficulty.
"Now John, Tell me which company bears the slogan, 'Just do it'?"
And John answered, "Mom...."
#joke
A local United Way office real...
A local United Way office realized that the organization had never received a donation from the town's most successful lawyer. The person in charge of contributions called him to persuade him to contribute.
"Our research shows that out of a yearly income of at least $500,000, you give not a penny to charity. Wouldn't you like to give back to the community in some way?"
The lawyer mulled this over for a moment and replied, "First, did your research also show that my mother is dying after a long illness, and has medical bills that are several times her annual income?"
Embarrassed, the United Way rep mumbled, "Um ... no."
The lawyer interrupts, "or that my brother, a disabled veteran, is blind and confined to a wheelchair?"
The stricken United Way rep began to stammer out an apology, but was interrupted again.
"Or that my sister's husband died in a traffic accident," the lawyer's voice rising in indignation, "leaving her penniless with three children?!"
The humiliated United Way rep, completely beaten, said simply, "I had no idea..."
On a roll, the lawyer cut him off once again, "So if I don't give any money to them, why should I give any to you?"
Yo Mama So Ugly
yo mama so eglu even canbales are afard of her.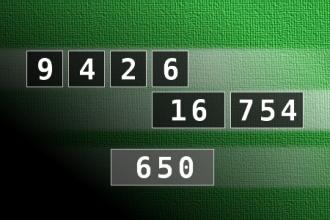 Calculate the number 650
NUMBERMANIA: Calculate the number 650 using numbers [9, 4, 2, 6, 16, 754] and basic arithmetic operations (+, -, *, /). Each of the numbers can be used only once.
A lawyer walks into a bar and ...
A lawyer walks into a bar and sits down next to a drunk who is closely examining something held in his fingers. The lawyer watches the drunk for a while till he finally gets curious enough to ask what it is.
"Well," said the drunk, "it looks like plastic and feels like rubber."
"Let me have it," said the lawyer. Taking it, he began to roll it between his thumb and forefinger, examining it closely. "Yes," he finally said, "it does look like plastic and feel like rubber, but i don't know what it is. Where did you get it?"
"From my nose," the drunk replied.
Free advice at social affairs?
A doctor and a lawyer were attending a cocktail party when the doctor was approached by a man who asked advice on how to handle his ulcer. The doctor mumbled some medical advice, then turned to the lawyer and remarked, "I never know how to handle the situation when I'm asked for medical advice during a social function. Is it acceptable to send a bill for such advice?" The lawyer replied that it was certainly acceptable to do so.
The next day, the doctor sent the ulcer-stricken man a bill. The lawyer also sent one to the doctor.
Damon Wayans: Bicycle Cop
I got pulled over by a bicycle cop in L.A. -- not a motorcycle cop, a bicycle cop. And Im in my car, and he gets out -- hes sweating, hes got these little shorts on. You know how fast you were going? Yeah, a lot faster than that bike.
Beware of dog
Upon entering the little country store, the stranger noticed a sign saying "DANGER! BEWARE OF DOG!" posted on the glass door. Inside he noticed a harmless old hound dog asleep on the floor besides the cash register.
He asked the store manager, "Is THAT the dog folks are supposed to beware of?"
"Yep, that's him," he replied.
The stranger couldn't help but be amused. "That certainly doesn't look like a dangerous dog to me. Why in the world would you post that sign?"
"Because," the owner replied, "before I posted that sign, people kept tripping over him."
#joke
There were two guys working fo...
There were two guys working for the city. One would dig a hole -- he would dig, dig, dig.
The other would come behind him and fill the hole -- fill, fill, fill. These two men worked furiously; one digging a hole, the other filling it up again.
A man was watching from the sidewalk and couldn't believe how hard these men were working, but couldn't understand what they were doing. Finally he had to ask them.
He said to the hole digger, "I appreciate how hard you work, but what are you doing? You dig a hole and your partner comes behind you and fills it up again!"
The hole digger replied, "Oh yeah, must look funny, but the guy who plants the trees is sick today."
#joke