Jokes of the day for Sunday, 10 February 2019
Funny jokes, funny photo and funny video collected from the internet on Sunday, 10 February 2019
In school one day, the teacher...
In school one day, the teacher decided that for science class she would teach about raw materials. She stood in the front of the class and said,
"Children, if you could have one raw material in the world, what would it be?"
Little Stevie raised his hand and said "I would want gold, because gold is worth a lot of money and I could buy a Corvette."
The teacher nodded and called on little Susie. Little Susie said, "I would want platinum because platinum is worth more than gold and I could buy a Porsche"
The teacher smiled and then called on Little Adam. Little Adam stood up and said, "I would want silicon."
The teacher said, "Adam, why silicon?"
"Because my mom has two bags of it and you should see all the sports cars parked outside of our house!!"
#joke
A university committee was sel...
A university committee was selecting a new dean. They had narrowed the candidates down to a mathematician, an economist and a lawyer.
Each was asked this question during their interview: 'How much is two plus two?'
The mathematician answered immediately, 'Four.'
The economist thought for several minutes and finally answered, 'Four, plus or minus one.'
Finally the lawyer stood up, peered around the room and motioned silently for the committee members to gather close to him. In a hushed, conspiratorial tone, he replied, 'How much do you want it to be?'
ROMANCE MATHEMATICS

ROMANCE MATHEMATICS
Smart man + smart woman = romance
Smart man + dumb woman = affair
Dumb man + smart woman = marriage
Dumb man + dumb woman = pregnancy
OFFICE ARITHMETIC
Smart boss + smart employee = profit
Smart boss + dumb employee = production
Dumb boss + smart employee = promotion
Dumb boss + dumb employee = overtime
SHOPPING MATH
A man will pay $2 for a $1 item he needs.
A woman will pay $1 for a $2 item that she doesn't need.
GENERAL EQUATIONS
A woman worries about the future until she gets a husband.
A man never worries about the future until he gets a wife.
A successful man is one who makes more money than his wife can spend.
A successful woman is one who can find such a man.
HAPPINESS
To be happy with a man, you must understand him a lot and love him a little.
To be happy with a woman, you must love her a lot and not try to understand her at all.
LONGEVITY STATISTICS
Married men live longer than single men, but married men are a lot more willing to die.
PROPENSITY TO CHANGE
A woman marries a man expecting he will change, but he doesn't.
A man marries a woman expecting that she won't change, but she does.
DISCUSSION TECHNIQUE
A woman has the last word in any argument.
Anything a man says after that is the beginning of a new argument.
HOW TO STOP PEOPLE FROM BUGGING YOU ABOUT GETTINGMARRIED
Old aunts used to come up to me at weddings, poking mein the ribs and cackling, telling me, "You're next."
They stopped after I started doing the same thing tothem at funerals.
#joke
Remember During Wars
Things to Remember During a War
1. The only things more accurate than enemy fire is friendly fire.
2. Try to look unimportant, they may be low on ammo.
3. Teamwork is essential. It gives them more targets to shoot at.
4. No inspection-ready unit ever passed combat.
5. No combat-ready unit ever passed inspection.
6. Remember: your aircraft was made by the lowest bidder.
7. Never draw fire, it will irritate the rest of your formation.
8. Never share a cockpit with someone braver than you.
9. You are not Tom Cruise.
10. SAMs and AAA have the right-of-way.
11. If you aren't sure, the SAMs are pointed at you.
12. If hit, landing near the people that just shot you down is not a good idea.
13. Close only counts in horseshoes, nukes and proximity-fused missiles.
14. Smart bombs have bad days too.
15. The best defense is to stay out of range.
16. If you are short on everything but enemy, you are in combat.
#joke
Just A Big Mess
After his marriage broke up, my manager became very philosophical. "I guess it was in our genes," he sighed.
"What do you mean?" I asked.
"Her sign is the one for earth. Mine is the one for water. Together we made mud."
A copier is a shared...
"A copier is a shared berth."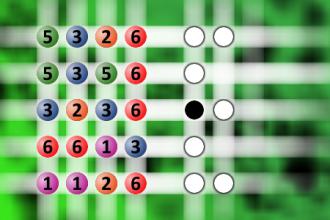 Find the right combination
The computer chose a secret code (sequence of 4 digits from 1 to 6). Your goal is to find that code. Black circles indicate the number of hits on the right spot. White circles indicate the number of hits on the wrong spot.
Put your money where your mouth is....
The strong young man at the construction site was bragging that he could outdo anyone in a feat of strength. He made a special case of making fun of one of the older workmen. After several minutes, the older worker had had enough.
"Why don't you put your money where your mouth is," he said. "I will bet a week's wages that I can haul something in a wheelbarrow over to that outbuilding that you won't be able to wheel back."
"You're on, old man," the young man bragged replied. "Let's see what you got."
The old man reached out and grabbed the wheelbarrow by the handles. Then, nodding to the young man, he said, "All right. Get in."
#joke
Parking Ticket
My wife and I went into town and visited a shop. When we came out, there was a cop writing out a parking ticket.. We went up to him and I said, "come on man, how about giving a senior citizen a break?" He ignored us and continued writing the ticket. I called him an "asshole." He glared at me and started writing another ticket for having worn-out tires. So my wife called him a "butthead".
He finished the second ticket and put it on the windshield with the first. Then he started writing more tickets.
This went on for about 20 minutes. The more we abused him, the more tickets he wrote. He finally finished, sneered at us and walked away. Just then our bus arrived, and we got on it and went home.
We always look for cars with Obama 2012 stickers. We try to have a little fun each day now that we're retired. It's so important at our age!!
#joke
Teenage Daughters
There's an Englishman, Irishman & Scotsman all talking about their teenage daughters...
The Englishman says " I was cleaning my daughter's room the other day & I found a packet of cigarettes. I was really shocked as I didn't even know she smokes".
The Scotsman says " That's nothing. I was cleaning my daughter's room the other day when I came across a half full bottle of Vodka. I was really shocked as I didn't even know she drank."
With that the Irishman says " Both of you have got nothing to worry about. I was cleaning my daughter's room the other day when I found packet of condoms. I was really shocked. I didn't even know she had a cock."
#joke
The Dyslexic Rabbi
Q: Did you hear about the dyslexic Rabbi?
A: He walks around saying "Yo."
Do you know why the Cincinnati...
Do you know why the Cincinnati Bengals were the last NFL team to get a website?
Because they couldnt put three W's in a row.
Zen Judaism
Relinquishment will lead to calm and healing in your relationships. If that doesn't work, try small claims court.
Though only your skin, sinews, and bones remain, though your blood and flesh dry up and wither away, yet shall you meditate and not stir until you have attained full Enlightenment. But, first, a little nosh.
Accept misfortune as a blessing. Do not wish for perfect health or a life without problems. What would you talk about?
Be here now. Be someplace else later. Is that so complicated?
There is no escaping karma. In a previous life, you never called, you never wrote, you never visited. And whose fault was that?
The Torah says, "Love thy neighbor as thyself." The Buddha says there is no "self." So, maybe you are off the hook.If there is no self, whose arthritis is this?
Wherever you go, there you are. Your luggage is another story.
Do not let children play contact sports like football. These only lead to injuries and instill a violent, warlike nature. Encourage your child to play peaceful games, like "sports doctor."
The journey of a thousand miles begins with a single "oy."
This joke is reprinted from "Zen Judaism: For You a Little Enlightenment" by David M. Bader (Harmony Books, 2002). All rights reserved.