"Is toe-jam made out
"Is toe-jam made out of tomatoes?"
The sergeant-major growled at
The sergeant-major growled at the young soldier: "I didn't see you at camouflage training this morning."
The soldier replied: "Thank you very much, sir."

Scratch that Itch
Pool Player #1: "I nicknamed the cue ball on my pool table 'Itch'."

Pool Player #2: "Why?"

Pool Player #1: "I'm always scratching it!"

An engineer was crossing a roa...
An engineer was crossing a road one day when a frog called out to him and said, "If you kiss me, I'll turn into a beautiful princess."He bent over, picked up the frog and put it in his pocket.
The frog spoke up again and said, "If you kiss me and turn me back into a beautiful princess, I will stay with you for one week."
The engineer took the frog out of his pocket, smiled at it and returned it to the pocket.
The frog then cried out, "If you kiss me and turn me back into a princess, I'll stay with you and do ANYTHING you want."
Again the engineer took the frog out, smiled at it and put it back into his pocket.
Finally, the frog asked, "What is the matter? I've told you I'm a beautiful princess, that I'll stay with you for a week and do anything you want. Why won't you kiss me?"
The engineer said, "Look I'm an engineer.
I don't have time for a girlfriend, but a talking frog, now that's cool."
#joke
Off duty....
A police officer, though scheduled for all-night duty at the station, was relieved of duty early and arrived home four hours ahead of schedule, at 2 in the morning. Not wanting to wake his wife, he undressed in the dark, crept into the bedroom and started to climb into bed. Just then, his wife sleepily sat up and said, "Mike, dearest, would you go down to the all-night drug store on the next block and get me some aspirin? I've got a splitting headache."
"Certainly, honey," he said, and feeling his way across the dark room, he got dressed and walked over to the drug store.
As he arrived, the pharmacist looked up in surprise, "Say," said the druggist, "I know you - aren't you a policeman? Officer Fenwick, right?"
"Yeah, so?" said the officer.
"Well what the heck are you doing all dressed up like the Fire Chief?"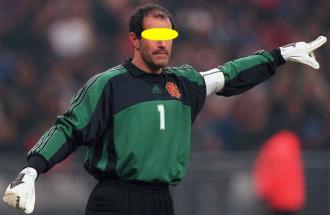 Can you name the athletes by the picture?
Can you name the athletes by the picture?
Business One-liners 53
Boucher's Observation: He who blows his own horn always plays the music several octaves higher than originally written.
Bove's Theorem: The remaining work to finish in order to reach your goal increases as the deadline approaches.
Boyle's Laws: (1) The success of any venture will be helped by prayer, even in the wrong denomination. (2) When things are going well, someone will inevitably experiment detrimentally. (3) The deficiency will never show itself during the dry runs. (4) Information travels more surely to those with a lessor need to know. (5) An original idea can never emerge from committee in the original. (6) When the product is destined to fail, the delivery system will perform perfectly. (7) The crucial memorandum will be snared in the out-basket by the paper clip of the overlying correspondence and go to file. (8) Success can be insured only by devising a defense against failure of the contingency plan. (9) Performance is directly affected by the perversity of inanimate objects. (10) If not controlled, work will to the competent man until he submerges. (11) The lagging activity in a project will invariably be found in the area where the highest overtime rates lie waiting. (12) Talent in staff work or sales will recurringly be interrupted as managerial ability. (13) The "think positive" leader tends to listen to his subordinates' premonitions only during the postmortems. (14) Clearly stated instructions will consistently produce multiple interpretations. (15) On successive charts of the same organization the number of boxes will never decrease. - Charles P. Boyle, Goddard Space Flight Center, NASA
Bradley's Bromide: If computers get too powerful, we can organize them into a committee; that will do them in.
Brady's First Law of Problem Solving: When confronted by a difficult problem, you can solve it more easily by reducing it to the question, "How would the Lone Ranger have handled this?"
Brien's First Law: At some time in the life cycle of virtually every organization, its ability to succeed in spite of itself runs out.
Brilliant's Law Of Limited Ambition: If you can't learn how to do it well, learn how to enjoy doing it poorly.
Brilliant's Observation On Modern Art: Not all our artists are playing a joke on the public. Some are genuinely mad.
#joke
A man in a hot air balloon rea...
A man in a hot air balloon realized he was lost. He reduced altitude and spotted a woman below. He descended a bit more and shouted," Excuse me, can you help? I promised a friend I would meet him an hour
ago, but I don't know where I am."
The woman below replied, "You are in a hot air balloon hovering approximately 30 feet above the ground. You are between 40 and 41 degrees north latitude and between 59 and 60 degrees west longitude."
"You must be an engineer," said the balloonist.
"I am," replied the woman. "How did you know?"
"Well," answered the balloonist, "everything you told me is technically correct, but I have no idea what to make of you, and the fact is I am still lost. Frankly, you've not been much help so far."
The woman below responded, "You must be in management."
"I am," replied the balloonist, "but how did you know?"
"Well," said the woman, "you don't know where you are or where you are going. You have risen to where you are, due to a large quantity of hot air. You made a promise which you have no idea how to keep, and you expect people beneath you to solve your problems. The fact is you are in exactly the same position you were in before we met, but now, somehow, it's my fault!"
#joke
Kevin Hart: No Longer Safe
Ever argue with a female and, in the middle of the argument, you no longer feel safe because of her actions? She may start pacing back and forth real fast, breathing out her nose. You know what my girl do? When she get mad, she start talking in the third person. Thats scary as hell because thats her way of telling me that from this point on, she is not responsible for none of her actions.
#joke
Answering Machine Message 24
Computer generated voices:
1: Hello, there are no real people here to answer the phone right now.
2: Yeah, nobody but us machines!
1: Right, just us machines, but don't hang up! If you like, you can leave your name and telephone number...
2: ...and a message! You forgot about the message!
1: Right. Leave your name, telephone number, and a brief message after you hear the beep, and we will keep track of this stuff until the real people get back.
2: ...unless of course, sombody pulls out our plug!
#joke