A Criminal Lawyer
"Excuse me," a young fellow said to an older man, "I've just moved here and I wonder if this town has any criminal lawyers?"
"Well," replied the older man, "I have lived here all my life and all I can tell you is we are pretty sure we do, but no one has been able to prove it yet."
"Many people describe
"Many people described Joe as being full of wisdom. But that word is a dichotomy. So is Joe really a whiz or is he really dumb?"
A blonde went to a flight scho
A blonde went to a flight school insisting she wanted to learn to fly. As all the planes were currently in use, the owner agreed to instruct her by radio on how to pilot the solo helicopter. He took her out, showed her how to start it and gave her the basics, and sent her on her way.
After she climbed 1000 feet, she radioed in. "I'm doing great! I love it! The view is so beautiful, and I'm starting to get the hang of this."
After 2000 feet, she radioed again, saying how easy it was to fly.
The instructor watched her climb over 3000 feet, and was beginning to worry that she hadn't radioed in. A few minutes later, he watched in horror as she crashed about half a mile away. He ran over and pulled her from the wreckage.
When he asked what happened, she said, "I don't know! Everything was going fine, but as I got higher, I was starting to get cold. I can barely remember anything after I turned off the big fan!"
Leave a sample...
An old codger goes to visit his doctor about painful peeing. His wife goes with him because the poor old bloke is hard of hearing.
After an examination the Doctor says to the old man, "Right, I'll need you to leave a urine, semen and feces samples for analysis."
The old man didn't quite hear the Doctor and asks his wife, "What did the Doctor say?"
The wife replies, "He wants you to leave your underpants here, dear."
Two elderly gentlemen from a r
Two elderly gentlemen from a retirement center were sitting on a bench under a tree when one turns to the other and says: "John, I'm 83 years old now and I'm just full of aches and pains. I know you're about my age. How do you feel?"
John says, "I feel just like a newborn baby."
"Really!? Like a newborn baby!?"
"Yep. No hair, no teeth, and I think I just pooped my pants."
#joke
Horse Pulls The Car
An out-of-towner drove his car into a ditch in a desolated area. Luckily, a local farmer came to help with his big strong horse named Buddy.
He hitched Buddy up to the car and yelled, "Pull, Nellie, pull." Buddy didn't move.
Then the farmer hollered, "Pull, Buster, pull." Buddy didn't respond.
Once more the farmer commanded, "Pull, Jennie, pull." Nothing.
Then the farmer nonchalantly said, "Pull, Buddy, pull." And the horse easily dragged the car out of the ditch.
The motorist was most appreciative and very curious. He asked the farmer why he called his horse by the wrong name three times.
The farmer said, "Oh, Buddy is blind, and if he thought he was the only one pulling, he wouldn't even try!"
#joke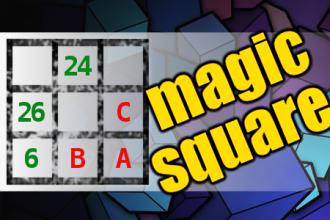 MAGIC SQUARE: Calculate A*B-C
The aim is to place the some numbers from the list (6, 7, 8, 24, 25, 26, 64, 65, 66) into the empty squares and squares marked with A, B an C. Sum of each row and column should be equal. All the numbers of the magic square must be different. Find values for A, B, and C. Solution is A*B-C.
1st Grader Answers
A first-grade teacher had twenty-five students in her Clarkston, MI class.
She presented each child in her class the first half of a well-known proverb and asked them to come up with the remainder of the proverb.
It's hard to believe these were actually done by first graders. Their insight may surprise you.
While reading, keep in mind that these are just 6-year-olds because the last one is classic… although sad to see it said!
#joke
Chuck Norris sleeps with a pil...
Chuck Norris sleeps with a pillow under his gun.
AOL Support Call
AOL: America Online, this is Sue speaking.
Caller: Hi, I have some questions about American Online
before I join.
AOL: Okay, ma'am, what's your question?
Caller: Well, some of my friends who have AOL say they get
something called "cybersex". Does this cost extra?
AOL: :::quiet laugh in the background::: Well ma'am... I
don't know how to explain this, but cybersex is not part of
America Online.
Caller: Oh really? My friends said they got it from AOL.
AOL: Well it's something members typically do when they go
to a chat room.
Caller: Hmmmm . . . I don't understand, what is cybersex??
AOL: I'm sorry, I really don't know how to explain it.
Caller: Hmmm . . . well, have you ever had cybersex?
AOL: Ma'am, I don't think that's an appropriate question to
be asking me. Is there anything else you need?
Caller: Sorry, like I said I don't even know what it is.
AOL: That's okay ma'am, anything else?
Caller: Yes, I have one more question.
AOL: Go ahead . . .
Caller: What are you wearing?
AOL:
#joke
Talking Dog For Sale
This guy sees a sign in front of a house "Talking Dog for Sale." He rings the bell and the owner tells him the dog is in the back yard. The guy goes into the back yard and sees a mutt sitting there."You talk?" he asks."Yep," the mutt replies."So, what's your story?"The mutt looks up and says "Well, I discovered this gift pretty young and I wanted to help the government, so I told the CIA about my gift, and in no time they had me jetting from country to country, sitting in rooms with spies and world leader, cause no one figured a dog would be eavesdropping. I was one of their most valuable spies eight years running. The jetting around really tired me out, and I knew I wasn't getting any younger and I wanted to settle down. So I signed up for a job at the airport to do some undercover security work, mostly wandering near suspicious characters and listening in. I uncovered some incredible dealings there and was awarded a batch of medals.Had a wife, a mess of puppies, and now I'm just retired."The guy is amazed. He goes back in and asks the owner what hewants for the dog. The owner says "Ten dollars." The guy says he'll buy him but asks the owner, "This dog is amazing. Why on earth are you selling him?" The owner replies, "He's such a fucking liar."
#joke