"We can all praise To
"We can all praise Tom Hiddleston for his Loki performance."
Gathering Chickens
The farmer's son was returning from the market with the crate of chicken's his father had entrusted to him, when all of a sudden the box fell and broke open. Chickens scurried off in different directions, but the determined boy walked all over the neighborhood scooping up the wayward birds and returning them to the repaired crate. Hoping he had found them all, the boy reluctantly returned home, expecting the worst.
"Pa, the chickens got loose," the boy confessed sadly, "but I managed to find all twelve of them."
"Well, you did real good, son," the farmer beamed. "You left with seven."
#joke
Why Should I Whistle?
Murphy and his wife went for a stroll in the park. They sit down on a bench to rest for awhile. Soon they overhear voices coming from a secluded spot nearby.
Suddenly, Mrs. Murphy realizes that a young man is about to propose. Not wanting to be eavesdropping during such an intimate moment, she gently nudges her husband and whispers, "Whistle, to let that young couple know that someone can hear them."
To which Murphy replies, "Whistle? Why should I whistle? Nobody whistled to warn me?"
#joke
A boy asks his father to expla
A boy asks his father to explain the differences among irritation, aggravation, and frustration.
His father picks up the phone and dials a number at random. When the phone is answered, he asks, "Can I speak to Alf, please?"
"No! There's no one called Alf here," says the person who answered the phone.
His father hangs up. "That's irritation," he says.
He picks up the phone again, dials the same number, and asks for Alf a second time. "No-there's no one here called Alf. Go away. If you call again I shall telephone the police," the person says.
His father hangs up and says, "That's aggravation."
"Then what's frustration?" asks his son. The father picks up the phone and dials the same number a third time.
"Hello, this is Alf. Have I received any phone calls?" he asks casually.
#joke
Amy Schumer: Worst Part About Drinking
You know what the worst part about my drinking is? When Im drunk I slur. You know, like I say racial slurs. Wow, nobody likes that at a barbeque.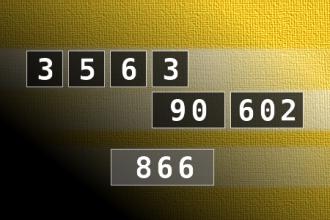 Calculate the number 866
NUMBERMANIA: Calculate the number 866 using numbers [3, 5, 6, 3, 90, 602] and basic arithmetic operations (+, -, *, /). Each of the numbers can be used only once.
The phrase "dead ringer" refer...
The phrase "dead ringer" refers to someone who sits behind Chuck Norris in a movie theater and forgets to turn their cell phone off.
Tennis lesson
A lady goes in to take a tennis lesson, and the instructor notices she is using the wrong grip. After several failed attempts to correct her, he finally says "OK, just grip it like you do your husband's member".
After that, she immediately rips a couple of top spin winners down the line. The instructor says, "Wow that's great. Now just try taking the racket out of your mouth."
#joke
Hillary goes to heaven
Hillary Clinton died and, Lord knows why, went to heaven. St. Peter approached her and says "Hillary, I know you're 'somebody' down on Earth, but up here, you're just another person. And, I'm swamped right now, so have a seat and I'll get back with you as soon as I can."
So Hillary sits down and begins looking at her surroundings. She notices a huge wall that extends as far as the eye can see. And on that wall there are millions and millions of clocks. She can't help notice that on occasion some of the clocks jump ahead fifteen minutes.
When St. Peter returns she asks "What's the deal with the clocks?"
St. Peter replies "There is a clock on the wall for every married man on Earth."
Hillary asks, "Well what does it mean when the clock jumps ahead 15 minutes?"
St. Peter replies, "That means that the man that belongs to that clock has just committed adultery."
Hillary asks, "Well, is my husband's clock on the wall?"
St. Peter replies, "Of course not. God has it in his office and is using it for an electric fan."
#joke
Jordan Rubin: German Porno
I got a German porno movie the other day. It has subtitles, which is great cause, otherwise, I would have had no idea what was going on.