The Day before Thanksgiving
It's the day before Thanksgiving, and the butcher is just locking up when a man begins pounding on the front door.
"Please let me in," says the man desperately. "I forgot to buy a turkey, and my wife will kill me if I don't come home with one."
"Okay," says the butcher, "let me see what I have left." He goes into the freezer and discovers that there's only one scrawny turkey left. He brings it out to show the man.
"That one is too skinny. What else have you got?" says the man.
The butcher takes the bird back into the freezer and waits a few minutes and brings the same turkey back out to the man.
"Oh, no," says the man, "That one doesn't look any better. You'd better give me both of them!"
"Only a nickel for an
"Only a nickel for an embroidered pinwheel? Good buy, crewel whirled!"
Blind date
How was your blind date?" a college student asked her roommate.
"Terrible!" the room-mate answered. "He showed up in his 1932 Rolls Royce."
"Wow! That's a very expensive car. What's so bad about that?"
"He was the original owner."
Answering Machine Message 36
Start, low pitch, slow: Hhhhheeelllllloooooo thheeeerrrrrrre evvvvveerrrryyyboooodyyyy... Middle, normal: ...home of Veronica, Jaw-Chyi, Mark, and Mike. Nobody's home... Later, high pitch, fast: ...liketoleaveamessageafterthetonethen... End, incomprehensible chipmunk gibberish: ...kkfjdkeirucjkljfklreudjfkleqBEEP
#joke
I am very detail-oreinted.
I am very detail-oreinted.
My intensity and focus are at inordinately high levels, and my ability to complete projects on time is unspeakable.
Thank you for your consideration. Hope to hear from you shorty!
Enclosed is a ruff draft of my resume.
I am sicking and entry-level position.
It's best for employers that I not work with people.
Here are my qualifications for you to overlook.
I am a quick leaner, dependable, and motivated.
If this resume doesn't blow your hat off, then please return it in the enclosed envelope.
My fortune cookie said, "Your next interview will result in a job." And I like your company in particular.
You hold in your hands the resume of a truly outstanding candidate!
I saw your ad on the information highway, and I came to a screeching halt.
Insufficient writing skills, thought processes have slowed down some. If I am not one of the best, I will look for another opportunity.
Please disregard the attached resume—it is terribly out of date.
Seek challenges that test my mind and body, since the two are usually inseparable.
Reason for leaving last job: The owner gave new meaning to the word paranoia. I prefer to elaborate privately.
Previous experience: Self-employed--a fiasco.
Exposure to German for two years, but many words are inappropriate for business.
My experience in horticulture is well-rooted.
Experience: Watered, groomed, and fed the family dog for years.
I am a rabid typist.
Education: College, August 1880 - May 1984.
I have a bachelorette degree in computers.
Excellent memory; strong math aptitude; excellent memory; effective management skills; and very good at math.
Graduated in the top 66% of my class.
Accomplishments: Completed 11 years of high school.
Strengths: Ability to meet deadlines while maintaining composer.
Special skills: Experienced with numerous office machines and can make great lattes.
I worked as a Corporate Lesion.
Special Skills: Speak English.
Served as assistant sore manager.
Reason for leaving last job: Pushed aside so the vice president's girlfriend could steal my job.
Married, eight children. Prefer frequent travel.
Education: B.A. in Loberal Arts.
Objective: To have my skills and ethics challenged on a daily basis
#joke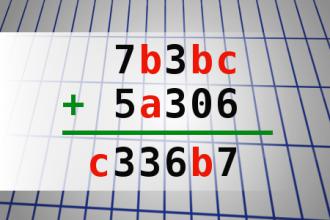 Find number abc
If 7b3bc + 5a306 = c336b7 find number abc. Multiple solutions may exist.
There was a blonde driving ...
There was a blonde driving in her car on the highway.She crashed into the car infront of her and a cop came over to her and said mam what is wrong? She said officer no matter where i turn there is a tree if i turn left,right, there is a tree. The officer leaned over and said mam that is your air freshener.
Father/Son
A father passing by his son's bedroom was astonished to see the bed was nicely made and everything was picked up. Then he saw an green envelope propped up prominently on the center of the bed. It was addressed, "Dad".
With the worst premonition, he opened the envelope and read the letter with trembling hands:
Dear Dad, It is with great regret and sorrow that I'm writing you. I had to elope with my new girlfriend because I wanted to avoid a scene with mom and you.
I've been finding real passion with Mariel and she is so nice-even with all her piercing, tattoos, and her tight Motorcycle clothes. But it's not only the passion dad, she's pregnant and Mariel said that we will be very happy.
Even though you don't care for her as she is so much older than I, she already owns a trailer in the woods and has a stack of firewood for the whole winter. She wants to have many more children with me and that's now one of my dreams too.
Mariel taught me that marijuana doesn't really hurt anyone and we'll be growing it for us and trading it with her friends for all the cocaine and ecstasy we want. In the meantime, we'll pray that science will find a cure for AIDS so Mariel can get better; she sure deserves it!!
Don't worry Dad, I'm 15 years old now and I know how to take care of myself. Someday I'm sure we'll be back to visit so you can get to know your grandchildren.
Your son, Tom
PS: Dad, none of the above is true. I'm over at the neighbor's house. I just wanted to remind you that there are worse things in life than my report card that's in my desk center drawer. I love you! Call when it is safe for me to come home.
#joke
Chuck Norris got his drivers l...
Chuck Norris got his drivers license at the age of 16. Seconds.
Your car in heaven....
Three guys died and when they got to the pearly gates, St. Peter met them there. St. Peter said, "I know that you guys are forgiven because you're here. Before I let you into Heaven, I have to ask you something. You have to have a car in Heaven because Heaven is so big, what kind of car you get will depend on your answer."
The first guy walks up and Peter asks him, "How long were you married?"
The first guy says, "24 years."
"Did you ever cheat on your wife?", Peter asked. The guy said, "Yeah, 7 times...but you said I was forgiven."
Peter said, "yeah, but that's not too good. Here's a Pinto to drive."
The second guy walks up and gets the same question from Peter.
The second guy said, "I was married for 41 years and cheated on her once, but that was our first year and we really worked it out good."
Peter said, "I'm pleased to hear that, here's a Lincoln."
The third guy walked up and said, "Peter, I know what you're going to ask. I was married for 63 years and didn't even look at another woman! I treated my wife like a queen!"
Peter said, "That's what I like to hear. Here's a Jaguar!"
A few days later, the two guys with the Lincoln and the Pinto saw the guy with the Jaguar crying on the golden sidewalk. When they asked the guy with the Jaguar what was wrong, he said, "I just saw my wife, she was on a skateboard!"
#joke
Anthony Jeselnik: Christmas Gifts
This past Christmas, I told my girlfriend for months in advance, Baby, all I want from you this year is an Xbox. Thats it. Beginning and end of list: Xbox. You know what she got me? A homemade frame with a picture of us from our first date together. Which was fine -- because I got her an Xbox.
Join us on WhatsApp