"After eating a half
"After eating a half dozen donuts, the customer developed a glazed look on his face."
Had Any Accidents?
The cowboy was trying to buy a health insurance policy. The insurance agent was going down the list of standard questions.
"Ever have an accident?"
"Nope, nary a one."
"None? You've never had any accidents."
"Nope. Ain't never had one. Never."
"Well, you said on this form you were bit by a snake once. Wouldn't you consider that an accident?"
"Heck, no. That dang varmint bit me on purpose."
#joke
Last week, we took some friend
Last week, we took some friends out to a new restaurant, and noticed that the waiter who took our order carried a spoon in his shirt pocket. It seemed a little strange.
When the waiter brought our water and cutlery, I noticed he also had a spoon in his shirt pocket. Then I looked around and saw that all the staff had spoons in their pockets.
When the waiter came back to serve our soup I asked, "Why the spoon?" "Well, "he explained, "the restaurant's owners hired Andersen Consulting to revamp all our processes. After several months of analysis, they concluded that the spoon was the most frequently dropped piece of cutlery. It represents a drop frequency of approximately 3 spoons per table per hour. If our staff are better prepared, we can reduce the number of trips back to the kitchen and save 15 man-hours per shift."
As luck would have it, I dropped my spoon and he was able to replace it with his spare. "I'll get another spoon next time I go to the kitchen instead of making an extra trip to get it right now." I was impressed.
I also noticed that there was a string hanging out of the waiter's zip on his trousers. Looking around, I noticed that all the waiters had the same string hanging from their flies. So before he walked off, I asked the waiter, "Excuse me, but can you tell me why you have that string right there?"
"Oh, certainly!" Then he lowered his voice. "Not everyone is so observant. That consulting firm I mentioned also found out that we can save time in the rest-room. By tying this string to the tip of you know what, we can pull it out without touching it and eliminate the need to wash our hands, shortening the time spent in the rest-room by 76.39 per cent."
I asked "After you get it out, how do you put it back?"
"Well," he whispered, "I don't know about the others, but I usethe spoon."
#joke
Writers Block
Why did Shakespeare only write in ink?
Pencils confused him... "2B or not to 2B?"
It's the drinking...
The patient was lying in bed, still groggy from the effects of the recent operation. His doctor came in, looking very glum.
"I can't be sure what's wrong with you," the doctor said. "I think it's the drinking."
"Okay," the patient said. "Can we get an opinion from a doctor who's sober?"
Nobody liked the e-bike rider
Nobody liked the e-bike rider because he just moped around.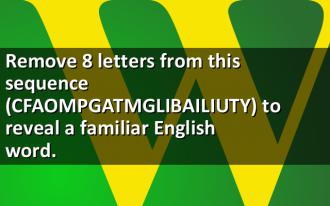 Remove 8 letters from this seq...
Remove 8 letters from this sequence (CFAOMPGATMGLIBAILIUTY) to reveal a familiar English word.
A driver tucked a note under t
A driver tucked a note under the windshield wiper of his automobile saying, "I've circled this block for 20 minutes. I'm late for an appointment, and if I don't park in this no-parking zone I'll lose my job. Forgive us our trespasses."
When he came back, he found a parking ticket and this note: "I've circled this block for 20 years, and if I don't give you a ticket, I'll lose my job. Lead us not into temptation."
#joke
Blind Man
Husband and wife are waiting at the bus stop with their nine children. A blind man joins them after a few minutes. When the bus arrives, they find it overloaded and only the wife and the nine kids are able to fit onto the bus.
So the husband and the blind man decide to walk. After a while, the husband gets irritated by the ticking of the stick of the blind man as he taps it on the sidewalk, and says to him, "Why don't you put a piece of rubber at the end of your stick? That ticking sound is driving me crazy."
The blind man replies, "If you would've put a rubber at the end of YOUR stick, we'd be riding the bus ... so shut up."  
#joke
Fear of Flying
There was a religious woman who had to do a lot of traveling for her business. Flying made her very nervous, so she always took her Bible along with her.
One time, she was sitting next to a man. When he saw her pull out her Bible, he gave a little chuckle and smirk and went back to what he was doing.
After awhile, he turned to her and asked, "You don't really believe all that stuff in there do you?"
The woman replied, "Of course I do. It is the Bible."
He said, "Well, what about that guy that was swallowed by that whale?"
She replied, "Oh, Jonah. Yes, I believe that, it is in the Bible."
He asked, "Well, how do you suppose he survived all that time inside the whale?"
The woman said, "Well, I don't really know. I guess when I get to heaven, I will ask him."
"What if he isn't in heaven?" the man asked sarcastically.
"Then you can ask him," replied the woman.
#joke
Adopted Turtle
Deep within a forest a little turtle began to climb a tree. After hours of effort he reached the top, jumped into the air waving his front legs and crashed to the ground. After recovering, he slowly climbed the tree again, jumped, and fell to the ground.
The turtle tried again and again while a couple of birds sitting on a branch watched his sad efforts. Finally, the female bird turned to her mate.
"Dear," she chirped, "I think it's time to tell him he's adopted."
#joke
The Ultimate Computer
The Ultimate Computer stood at the end of the Ultimate Computer Company's production line. At which point the guided tour eventually arrived.
The salesman stepped forward to give his prepared demo. 'This,' he said, 'is the Ultimate Computer. It will give an intelligent answer to any question you may care to ask it.'
A smart-aleck who ran a humor mailing list stepped forward and asked, 'Where is my father?'
There was the soft hum of powerful electronic gear going to the task. Panel lights lit and blinked, and within a couple of seconds the laser printer printed out a piece of paper: 'Fishing off Florida.'
The smart-aleck laughed, 'Actually, my father is dead! It was a trick question.'
The salesman, quickly thinking on his feet, replied that he was sorry the answer was unsatisfactory, but as the Ultimate Computer was precise, perhaps a rewording of the question might work better.
The smart-aleck said to the Ultimate Computer, 'Where is my mother's husband?' Again, the hum of the powerful electronic brain filled the room.
After a moment, the laser printer whirred to life. The paper said, 'Dead. But your father is still fishing off Florida.'
#joke
Knock Knock Collection 142
Knock Knock
Who's there?
Oscar!
Oscar who?
Oscar a silly question, get a silly answer!
Knock Knock
Who's there?
O'Shea!
O'Shea who?
O'Shea that's a sad story!
Knock Knock
Who's there?
Oslo!
Oslo who!
Oslo down, whats the hurry!
Knock Knock
Who's there?
Oswald!
Oswald who?
Oswald my chewing gum!
Knock Knock
Who's there?
Oswego!
Oswego who?
Oswego marching, marching home ...!
#joke