I check for gonad cancer by fe
I check for gonad cancer by feeling my teste size.
A weaver bird
"A weaver bird uses its beak to construct its nest. The definitive book on weaver birds is entitled 'To Call a Smocking Bird.'"
Two Mexican detectives were in
Two Mexican detectives were investigating the murder of Juan Gonzalez.
"How was he killed?" asked one detective.
"With a golf gun," the other detective replied.
"A golf gun?! What is a golf gun?"
"I don't know. But it sure made a hole in Juan."
#joke
The only cow in a small Kentuc...
The only cow in a small Kentucky town stopped giving milk. The peopledid some research and found that they could buy a cow just across the stateline in Illinois for $200.
They brought the cow from Illinois and the cow was wonderful. Itproduced lots of milk all of the time, and the people were very happy. They decided to acquire a bull to mate with the cow to produce morecows like it. They would never have to worry about their milk supply again.They bought the bull and put it in the pasture with their beloved cow.However, whenever the bull tried to mount the cow, the cow would move away. No matter what approach the bull tried, the cow would move awayfrom the bull and he could not succeed in his quest. The people were veryupset and decided to ask the Vet, who was very wise, what to do.
They told the Vet what was happening. "Whenever the bull tries to mountour cow, she moves away. If he approaches from the back, she moves forward. When he approaches her from the front, she backs off. Anattempt from the side, she walks away to the other side."
The Vet thought about this for a minute and asked, "Did you by chance,buy this cow in Illinois?"
The people were dumbfounded, since no one had ever mentioned where theybought the cow. "You are truly a wise Vet," they said. "How did youknow we got the cow in Illinois?"
The Vet replied with a distant look in his eye, "My wife is from Illinois."
#joke
God made us both...
"Did God make you, Grandpa?"
"Yes, God made me" the grandfather answered.
A few minutes later, the little girl asked him, "Did God make me, too?"
"Yes, He did," the older man replied.
For a few minutes, the little girl seemed to be studying her grandpa, as well as her own reflection in the mirror, while her grandfather wondered what was running through her little mind.
At last she spoke up. "You know, Grandpa," she said, "God's doing a lot better job, lately, isn't he?"
#joke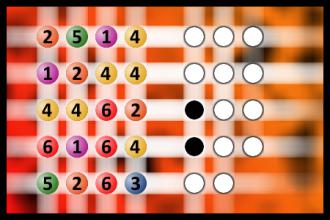 Find the right combination
The computer chose a secret code (sequence of 4 digits from 1 to 6). Your goal is to find that code. Black circles indicate the number of hits on the right spot. White circles indicate the number of hits on the wrong spot.
 Are You Talking To Me?
At the height of a political corruption trial, the prosecuting attorney attacked a witness. "Isn't it true," he bellowed, "that you accepted five thousand dollars to compromise this case?"
The witness stared out the window, as though he hadn't heard the question.
"Isn't it true that you accepted five thousand dollars to compromise this case?" the lawyer repeated.
The witness still did not respond.
Finally, the judge leaned over and said, "Sir, please answer the question."
"Oh," the startled witness said, "I thought he was talking to you."
Reasonable doubt...
Scene: A court room in Oklahoma where a person is on trial for murder.
There is strong evidence indicating guilt; however, there is no corpse. In the defense's closing statement the lawyer, knowing that his client is guilty and that it looks like he'll probably be convicted, resorts to a clever trick. "Ladies and gentlemen of the jury, I have a surprise for you all," the lawyer says as he looks at his watch. "Within 1 minute, the person presumed dead in this case will walk into this court room," he says and he looks toward the courtroom door.
The jury, somewhat stunned, all look on eagerly. A minute passes. Nothing happens. Finally the lawyer says: 'Actually, I made up the previous statement. But you all looked on with anticipation. I, therefore, put it to you that there is reasonable doubt in this case as to whether anyone was killed and insist that you return a verdict of not guilty."
The jury, clearly confused, retires to deliberate. A very few minutes later, the jury returns and a representative pronounces a verdict of guilty.
"But how?" inquires the lawyer. "You must have had some doubt; I saw all of you stare at the door."
Answers the representative: "Oh, we did look. But your client didn't."
Did You Make A Donation?
At the United Way in a fairly small town a volunteer worker noticed that the most successful lawyer in the whole town hadn't made a contribution. This guy was making about $600,000 a year so the volunteer thought, "Why not call him up?"
He calls up the lawyer.
"Sir, according to our research you haven't made a contribution to the United Way, would you like to do so?"
The lawyer responds, "A contribution? Does your research show that I have an invalid mother who requires expensive surgery once a year just to stay alive?"
The worker is feeling a bit embarrassed and says, "Well, no sir, I'm..."
"Does your research show that my sister's husband was killed in a car accident? She has three kids and no means of support!"
The worker is feeling quite embarrassed at this point. "I'm terribly sorry..."
"Does your research show that my brother broke his neck on the job and now requires a full time nurse to have any kind of normal life?"
The worker is completely humiliated at this point. "I am sorry sir, please forgive me..."
"The gall of you people! I don't give them anything, so why should I give it to you!"
A plus
A college girl was supposed to write a short story in as few words as possible for her English class and the instructions were that it had to include Religion, Sexuality and Mystery.
She was the only one who received an A+ and this is what she wrote:
"Good God, I'm pregnant, I wonder who did it."
Submitted by Curtis
#joke
Shane Mauss: Crazy Expressions
Expressions are crazy. How about the one, What crawled up your ass and died? Thats a strange one; it means a persons in a bad mood or whatever. It doesnt make any sense. I think that one would be in a worse mood if said thing were still alive.
A motorist caught by a speed c...
A motorist caught by a speed camera received notification of a fine in the mail, plus a picture of his vehicle. Duly impressed, he sent back the notification along with a photo of a $100 note to pay the fine.