Happy New Year 2021!!
How does a bunny eat? A: ro
How does a bunny eat? A: Very carrotfully!
The local bar was so sure that
The local bar was so sure that its owner was the strongest man around that it offered a standing $1,000 bet that no could beat him.
The challenge was that the owner would squeeze a lemon until all the juice ran out into a beer glass, then hand the lemon to the customer. Anyone who could squeeze even one more drop out of the lemon would win the money.
Over the years many people had tried this, truck drivers, weightlifters and all had failed. Then one day this frail little fella with heavy rimmed spectacles came into the bar and asked if he could try the challenge.
After the laughter had subsided the owner said that it was only fair that the man be given a chance at the bet, so he picked up a lemon and started squeezing. Once he was done he handed the remains to the little man who promptly squeezed out 4 more drops of juice onto the bar.
Everyone looked on in amazement as the owner handed over the prize and asked, "What do you do for a living that has given you such strength? Are you a lumberjack, weightlifter, what?"
"No" the man replied, "I work for the IRS."
A Great Solution for Insomnia
"I'm suffering dreadfully from insomnia. I've tried all sorts of remedies, but I can find nothing that will send me to sleep."
"Why don't your try talking to yourself?"
Two rednecks decided that they
Two rednecks decided that they weren't going anywhere in life and thought they should go to college to get ahead.
The first went in to see the counselor, who told him to take math, history, and logic.
"What's logic?" the first redneck asked.
The professor answered, "Let me give you an example. Do you own a weed eater?"
"I sure do."
"Then I can assume, using logic, that you have a yard," replied the professor.
"That's real good!" said the redneck.
The professor continued, "Logic will also tell me that since you have a yard, you also own a house."
Impressed, the redneck said, "Amazing!"
"And since you own a house, logic dictates that you have a wife."
"That's Betty Mae! This is incredible!"
The redneck was catching on.
"Finally, since you have a wife, logically I can assume that you are heterosexual," said the professor.
"You're absolutely right! Why that's the most fascinatin' thing I ever heard! I cain't wait to take that logic class!"
The redneck, proud of the new world opening up to him, walked back into the hallway where his friend was still waiting.
"So what classes are ya takin'?" asked the friend.
"Math, history, and logic!" replied the first redneck.
"What in tarnation is logic?" asked his friend.
"Let me give you an example. Do ya own a weed eater?" asked the first redneck.
"No," his friend replied.
"You're queer, ain't ya?"
#joke
Fertilizer
A farmer was driving along the road with a load of fertilizer. A little boy, playing in front of his house, saw him and called, "What've you got in your truck?"
"Fertilizer," the farmer replied.
"What are you going to do with it?" asked the little boy.
"Put it on strawberries," answered the farmer.
"You ought to live here," the little boy advised him. "We put sugar and cream on ours."
#joke
Marriage Quotes 12
Nuns: Women who marry God. If they divorce Him, do they get half the universe?
Perfection is what American women expect to find in their husbands, but English women only hope to find in their butlers. -- W. Somerset Maugham
Republican boys date Democratic girls. They plan to marry Republican girls, but feel they're entitled to a little fun first.
Second marriage is the triumph of hope over experience.
Shotgun wedding: a case of wife or death.
Spinster: A bachelor's wife.
Suicide is belated acquiescence in the opinion of one's wife's relatives.
Question: Ted Kennedy: "Where was George?"
Answer: Dry, sober, and at home with his wife
The days just before marriage are like a snappy introduction to a tedious book.
To heck with marrying a girl who makes biscuits like her mother--I want to marry one who makes dough like her father.
#joke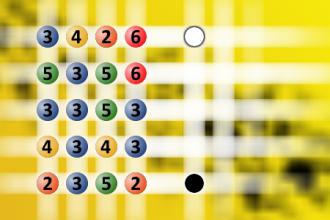 What a winning combination?
The computer chose a secret code (sequence of 4 digits from 1 to 6). Your goal is to find that code. Black circles indicate the number of hits on the right spot. White circles indicate the number of hits on the wrong spot.
Brendon Walsh: WMD Penis
My last girlfriend used to call my penis what I thought was a big, powerful, scary nickname. She was calling it a weapon of mass destruction. Sounded cool, but then I found out she was calling it that because she thought my penis was really hard to find.
Chuck Norris doesn't mow his l...
Chuck Norris doesn't mow his lawn, he dares his grass to grow.
A Roll Of The Dice
Two bored casino dealers were waiting at the craps tables for players when a gorgeous blonde lady wearing a huge fur coat walked in and asked if she could bet twenty thousand dollars on a single roll of the dice.
The dealers said yes and were happy to oblige.
She then said, "I hope you don't mind, but I'll feel much luckier if I take off my coat." With that, she took off her coat and was wearing a skin-tight Wonder-woman outfit!
The men looked her up and down as she leaned over the table, rolled the dice, and yelled, "Come on baby, come on!"
She then jumped up and down, hugging each of the casino dealers while yelling "YES, I WIN! I CAN'T BELIEVE IT, I WIN!!" With that, she picked up her winnings and quickly left.
The dealers stood there staring at each other dumbfounded, until one finally asked the other, "What the heck did she roll anyway?"
The second dealer answered, "I don't know. I thought you were paying attention!"
Britney and Christina Work Together
Britney Spears and Christina Aguliera were building a barn. While putting up the inside wall, Britney noticed that Christina was tossing every other nail into the garbage can.
Britney asked Christina, "Why are you throwing those nails away?" Christina said, "The pointed end is on the wrong end of the nail." Britney said, "Well, don't throw those away, we can use those on the outside wall!"
#joke
Turbulent Times
A plane hit a patch of severe turbulence and the passengers were holding on tight as it rocked and reeled through the night. A little old lady turned to a minister who was sitting behind her and said, "You're a man of God. Can't you do something about this?"
He replied, "Sorry, I can't. I'm in sales, not management."
#joke