Happy New Year 2021!!
Bank Safety
The cleaning lady comes to the bank manager...
"Can you please give me the key of the safe vault?"
"What?! What for?"
"It's always so time consuming to have to use my hairpin in order to clean it!"
Some people grow old gracefull
Some people grow old gracefully, while others fight and scratch the whole way. Andy's wife, refusing to give in to the looks of growing old, goes out and buys a new line of expensive cosmetics guaranteed to make her look years younger.
After a lengthy sitting before the mirror applying the "miracle" products, she asks her husband, "Darling, honestly, if you didn't know me, what age would you say I am"?
Looking over her carefully, Andy replied, "Judging from your skin, 20; your hair, 18; your eyes, 16 and your figure, 25."
"Oh, you flatterer!" she gushed.
Just as she was about to tell Andy his reward, he stops her by saying, "Whoa, hold on there sweetie! I haven't added them up yet!"
#joke
I'm your best friend!
A man is sitting at the bar in his local tavern, furiously imbibing shots of whiskey. One of his friends happens to come into the bar and sees him. "Lou," says the shocked friend, "what are you doing? I've known you for over fifteen years, and I've never seen you take a drink before. What's going on?"
Without even taking his eyes off his newly filled shot glass, the man replies, "My wife just ran off with my best friend." He then throws back another shot of whisky in one gulp.
"But," says the other man, "I'm your best friend!"
The man turns to his friend, looks at him through bloodshot eyes, smiles, and then slurs, "Not anymore! He is!"
#joke
Reasons To Stay At Work All Night
1. Act out your version of a company takeover.
2. Find a way to change everyone's password to "chrysanthemum".
3. Around 3:20am, play connect-the-dots with lights still on in other office buildings. Keep going until you see a small woodland creature.
4. Sneaking in the boss's desk could land you an unexpected promotion.
5. Draw stick people in all the landscape pictures on the walls, and in the morning, be the first to point out "what a terrible thing that someone did this to such beautiful works of art".
6. Go into the other gender's bathroom without fear of being caught.
7. Run up and down the hallways screaming, hoping security will come so you can have someone to talk to.
8. Leave prank messages on the CEO's voice mail.
9. Finally, a chance to live out a dream and pretend to be your boss.
10. Elevator surfing!
#joke #prank
Using dirty Q-tips is ...
Using dirty Q-tips is ear-rash-ional.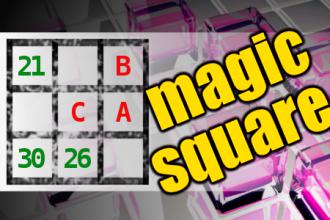 MAGIC SQUARE: Calculate A*B*C
The aim is to place the some numbers from the list (1, 3, 6, 11, 14, 21, 23, 26, 28, 30, 33, 60, 67) into the empty squares and squares marked with A, B an C. Sum of each row and column should be equal. All the numbers of the magic square must be different. Find values for A, B, and C. Solution is A*B*C.
No a Member
Three women are in a gym locker room dressing up to play racquetball when suddenly a guy runs through the room wearing nothing but a bag over his head.
He passes the first woman, who looks down at his penis. "He's not my husband," she says.
He passes by the second woman, who also looks down at his penis. "He's not my husband either."
He passes by the third woman, who also looks down as he runs by her.
"Wait a minute," she says. "He's not even a member of this club."
#joke
Two Priests on Vacation
Two priests were going to Hawaii on vacation and decided that they would make this a real vacation by not wearing anything that would identify them as clergy.
As soon as the plane landed, they headed for a store and bought some really outrageous shorts, shirts, sandals, sunglasses, and etc.
The next morning they went to the beach, dressed in their "tourist" garb and were sitting on beach chairs, enjoying a drink, the sunshine and the scenery when a "drop dead gorgeous" blonde in a tiny bikini came walking straight towards them. They couldn't help but stare and when she passed them, she smiled and said, "Good morning, Father" – "Good morning, Father," nodding and addressing each of them individually, then passed on by.
They were both stunned. How in the world did she recognize them as priests?
The next day they went back to the store, bought even more outrageous outfits-these were so loud, you could hear them before you even saw them-and again settled on the beach in their chairs to enjoy the sunshine, etc.
After a while, the same gorgeous blonde, wearing a string bikini this time, came walking toward them again. (They were glad they had sunglasses, because their eyes were about to pop out of their heads.)
Again, she approached them and greeted them individually: "Good morning, Father," "Good morning Father," and started to walk away.
One of the priests couldn't stand it and said. "Just a minute, young lady. Yes, we are priests, and proud of it, but I have to know, how in the world did YOU know?"
"Oh, Father, don't you recognize me? I'm Sister Angela!"
Free Drinks For Everyone
One night, a drunk comes stumbling into a bar and says to the bartender: "Drinks for all on me including you, bartender." So the bartender follows the mans orders and says: "That will be $36.50 please." The drunk says he has no money so the bartender slaps him around and throws him out.
The next night the same drunk comes in again and orders a drink for everyone in the bar including the bartender. Again the bartender follows instructions and again the drunk says he has no money. So the bartender slaps him around and throws him out.
On the third night he comes in, the drunk orders drinks for all except the bartender. "What, no drink for me?" replies the bartender. "Oh, no. You get violent when you drink."
#joke
Brian Regan: Pick Somebody at Random
You know whats fun? You pick somebody at random, like out of the phone book, and send them about 100 Just Because cards. They cant even ask you why you did it.
When you say "no one's perfect...
When you say "no one's perfect", Chuck Norris takes it as a personal insult.