Men are like fine wine. They a
Men are like fine wine. They all start out like grapes, and it's a woman's job to stomp on them and keep them in the dark until they mature into something you'd want to have dinner with.

Silence is Golden
Silence is golden...
Unless you have children...
If that is the case, silence is suspicious.
A lady is throwing a party for
A lady is throwing a party for her granddaughter, and had gone allout..... a caterer, band, and a hired clown. Just before the partystarted, two bums showed up looking for a handout. Feeling sorry for thebums, the woman told them that she would give them a meal if they willhelp chop some wood for her out back. Gratefully, they headed to the rearof the house.
The guests arrived, and all was going well with the children having awonderful time. But the clown hadn't shown up. After a half and hour, theclown finally called to report that he was stuck in traffic, and wouldprobably not make the party at all.
The woman was very disappointed and unsuccessfully tried to entertain thechildren herself. She happened to look out the window and saw one of thebums doing cartwheels across the lawn. She watched in awe as he swung fromtree branches, did mid-air flips, and leaped high in the air.
She spoke to the other bum and said, "What your friend is doing isabsolutely marvelous. I have never seen such a thing. Do you think yourfriend would consider repeating this performance for the children at theparty? I would pay him $50!"
The other bum says, "Well, I dunno. Let me ask him. 'HEY WILLIE! FOR $50,WOULD YOU CHOP OFF ANOTHER TOE?"
#joke
That's cheap!
After being away on business, Tim thought it would be nice to bring his wife a little gift. "How about some perfume?" he asked the cosmetics clerk. She showed him a bottle costing $50.00.
"That's a bit much," said Tim, so she returned with a smaller bottle for $30.00. "That's still quite a bit," Tim complained.
Growing annoyed, the clerk brought out a tiny $15.00 bottle. "What I mean," said Tim, "is I'd like to see something really cheap."
The clerk handed him a mirror.
#joke
It's wise to remember how easi...
It's wise to remember how easily this wonderful technology canbe misused, sometimes unintentionally, with serious consequences.
Consider the case of the Illinois man who left the snow-filledstreets of Chicago for a vacation in Florida. His wife was on abusiness trip and was planning to meet him there the next day.When he reached his hotel, he decided to send his wife aquicke-mail. Unable to find the scrap of paper on which he hadwritten her e-mail address, he did his best to type it in frommemory.
Unfortunately, he missed one letter, and his note was directedinstead to an elderly preacher's wife, whose husband had passedaway only the day before. When the grieving widow checked here-mail, she took one look at the monitor, let out a piercingscream, and fell to the floor in a dead faint.
At the sound, her family rushed into the room and saw this noteon the screen:
Dearest Wife,
Just got checked in. Everything prepared for your arrivaltomorrow.
PS. Sure is hot down here.
#joke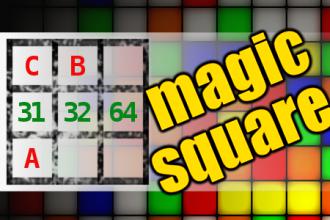 MAGIC SQUARE: Calculate A+B-C
The aim is to place the some numbers from the list (3, 21, 26, 27, 31, 32, 34, 37, 48, 64, 69, 74) into the empty squares and squares marked with A, B an C. Sum of each row and column should be equal. All the numbers of the magic square must be different. Find values for A, B, and C. Solution is A+B-C.
One day The Lord came to Adam ...
One day The Lord came to Adam to pass on some news. "I've got some good news and some bad news," The Lord said.
Adam looked at The Lord and said, "Well, give me the good news first."
Smiling, The Lord explained, "I've got two new organs for you. One is called a brain. It will allow you to create new things, solve problems, and have intelligent conversations with Eve. The other organ I have for you is called a penis. It will give you great physical pleasure and allow you to reproduce your now intelligent life form and populate this planet. Eve will be very happy that you now have this organ to give her children."
Adam, very excited, exclaimed, "These are great gifts you have given to me. What could possibly be bad news after such great tidings?"
The Lord looked upon Adam and said with great sorrow, "You will never be able to use these two gifts at the same time."
#joke
Godzilla is a Japanese renditi...
Godzilla is a Japanese rendition of Chuck Norris' first visit to Tokyo.