After the eighty-three year ol
After the eighty-three year old lady finished her annual physical examination, the doctor said, "You are in fine shape for your age, Mrs. Mallory, but tell me, do you still have intercourse?"
"Just a minute, I'll have to ask my husband," she said.
She stepped out into the crowded reception room and yelled out loud, "Bob, do we still have intercourse?"
And there was a hush. You could hear a pin drop...
Bob answered impatiently, "If I told you once, Irma, I told you a hundred times... What we have is... Blue Cross*!"
-------
* The Blue Cross Blue Shield is a federation of 39 United States health insurance companies
A Deer On the Way
My daughter told me she saw a deer on the way to school.
Me: "How do you know it was going to school?"
The old man and the priest...
An old man from way out in the boondocks made it to new York and got on the subway. He sat down next to a younger man. He noticed that the young man had a strange kind of shirt collar, so he asked the man, "Excuse me, sir, but why do you have your shirt collar on backwards?"
The young man smiled kindly and answered, "I wear this collar because I am a Father."
The old man thought a second and responded, "Sir, I am also a father, but I wear my collar frontways. Why do you wear your collar so differently?"
The priest thought for a minute, and said, "I am the Father for many."
The old man quickly answered, "I too am the father of many. I have six sons, five daughters and many grandchildren. But I wear my collar like everyone else does. Why do you wear yours backwards?"
The priest, flustered, said impatiently,
"Sir, I am the Father for hundreds and hundreds of people."
The old man, taken aback, sat silently for a long time. As he got up to leave the subway car, he leaned over to the priest and said, "Mister, maybe you should wear your pants backwards."
#joke
The Perfect Man
The ...
The Perfect Man
The perfect man is gentle
Never cruel and never mean
He has a beautiful smile
And keeps his face so clean.
The perfect man loves children
And will raise them by your side
He will be a good father
And a good husband to his bride.
The perfect man loves cooking
Cleaning and vacuuming too
He'll do anything in his power
To convey his love to you.
The perfect man is sweet
Writing poetry from your name
He's a best friend to your mother
and kisses away your pain.
He will never make you cry
or batter you in any way
To hell with this stupid poem
The perfect man is gay.
#joke
Rebecca Corry: False Advertising
I dont believe anything I see on TV. There was that herbal shampoo commercial where the ladies were in the shower using the shampoo, and theyre having orgasms. I went to Costco and bought the family pack of that. I was in the shower all weekend. The shampoo does not cause orgasms -- the bottle does.
Be My Valentine
A guy walks into a post office one day to see a middle-aged, balding man standing at the counter methodically placing "Love" stamps on bright pink envelopes with hearts all over them. He then takes out a perfume bottle and starts spraying scent all over them.
His curiosity getting the better of him, he goes up to the balding man and asks him what he is doing. The man says, "I'm sending out 1,000 Valentine cards signed, 'Guess who?'"
"But why?" asks the man.
"I'm a divorce lawyer," the man replies.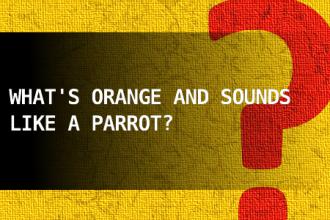 What's orange and sounds like ...
What's orange and sounds like a parrot?
Chelsea Handler: AA Meetings
Have you ever been to an AA meeting? No wonder these people are alcoholics -- Ive never needed a drink more badly in my life.
The other day I held...
"The other day I held the door open for a clown. I thought it was a nice jester."