Breaking Up
My boyfriend and I broke up.
He wanted to get married... I didn't want him to.
Ma was in the kitchen fiddling
Ma was in the kitchen fiddling around when she hollers out....
"Pa, You need to go out and fix the outhouse!"
Pa replies, "There ain't nuthin wrong with the outhouse."
Ma yells back, "Yes there is, now git out there and fix it."
So.......Pa mosies out to the outhouse, looks around and yells back,
"Ma There ain't nuthin wrong with the outhouse! "
Ma replies, "Stick yur head in the hole!"
Pa yells back, "I ain't stickin my head in that hole!"
Ma says, "Ya have to stick yur head in the hole to see what to fix."
So with that, Pa sticks his head in the hole, looks around and yellsback,
"Ma There ain't nuthin wrong with this outhouse!"
Ma hollers back, "Now take your head out of the hole!"
Pa proceeds to pull his head out of the hole, then starts yelling,
"Ma Help! My beard is stuck in the cracks in the toilet seat!"
To which Ma replies,...... "Hurt's, don't it ?!"
#joke
Quick clean jokes...
Q: If there is H2O on the inside of a fire hydrant, what is on the outside?
A: K9P.
Q: What does it mean when the flag is at half mast at the post office?
A: They're hiring.
Q: What did the fish say when he hit a concrete wall?
A: 'Dam.'
Q: How do crazy people go through the forest?
A: They take the psycho path.
Q: What do you get from a pampered cow?
A: Spoiled milk.
Q: What do you get when you cross a snowman with a vampire?
A: Frostbite.
Q: Why do gorillas have big nostrils?
A: Because they have big fingers.
Q: What's a cat's favorite breakfast?
A: Mice Krispies.
Q: How does a lion like his steak?
A: Medium roar.
Q: What do frogs eat with their hamburgers?
A: French flies.
Q: What's the definition of mixed emotions?
A: When you see your mother-in-law backing off a cliff in your new car.
Q: How do you get a kleenex to dance?
A: Put a boogie in it!
Q: Did you hear about the man who lost his whole left side?
A: He's all-right now!
#joke
The teacher was warning the cl
The teacher was warning the class about the dangers of going to in cold weather improperly dressed.
"There was one a boy," he said, "who was so eager to go out and play with his sled that he didn't put a coat or scarf on. He caught a chill, the chill led to pneumonia... and he was sick for two weeks!"
The teacher paused to allow the moral of this story to sink in, when a small voice asked, "What happened to the sled?"
#joke
And The Fairy Said….
A married couple in their early 60s were out celebrating their 35th wedding anniversary in a quiet, romantic little restaurant.
Suddenly, a tiny yet beautiful fairy appeared on their table and said, "For being such an exemplary married couple and for being faithful to each other for all this time, I will grant you each a wish. "Ooh, I want to travel around the world with my darling husband." said the wife.
The fairy moved her magic stick and – abracadabra! – two tickets for the new QM2 luxury liner appeared in her hands.
Now it was the husbands turn. He thought for a moment and said: "Well this is all very romantic, but an opportunity like this only occurs once in a lifetime, so, I'm sorry my love, but my wish is to have a wife 30 years younger than me."
The wife, and the fairy, were deeply disappointed, but a wish is a wish… So the fairy made a circle with her magic stick and -abracadabra! – the husband became 92 years old.
The moral of this story: "Fairies are female."
#joke
Hillbilly at the hospital...
A hillbilly was making his first visit to a hospital where his teenage son was about to have an operation.
Watching the doctor's every move, he asked, "What's that?"
The doctor explained, "This is an anesthetic. After he gets this he won't know a thing."
"Save your time, Doc," exclaimed the man. "He don't know nothing now."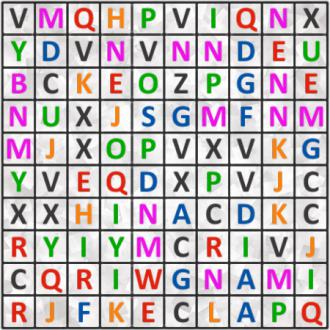 Find the 7 letters word
Find the 7 letters word. Word may go in all 8 directions.
Making God Laugh
You know how to you make God laugh?
- Tell him your plans.
American-Yiddish Dictionary
JEWBILATION - Pride in finding out that one's favorite celebrity is Jewish.
TORAHFIED - Inability to remember one's lines at one's Bar or Bat mitzvah.
CHUTZPAPA - A father who wakes his wife at 4:00 AM so she can change the baby's diaper.
DISORIYENTA - When Aunt Sadie gets lost in a department store and strikes up a conversation with everyone she passes.
MISHPOCHAMARKS - The assorted lipstick and make-up stains found on one's face and collar after kissing all one's aunts and cousins at a reception.
ROSH HASHANANA - A rock 'n roll band from Brooklyn.
FEELAWFUL - Indigestion from eating Israeli street food.
KINDERSCHLEP - To transport other kids in your car besides yours.
OYVAYSMEAR - What one says when the cream cheese squeezes out of the bagel and falls on your clean pants.
JEWDO - A traditional form of self-defense based on talking one's way out of a tight spot.
#joke