A big Texan is walking down th
A big Texan is walking down the main street of Ballinclashett and encounters Liam standing on the pavement beside a big strong horse.
This prompts the Texan to attempt to realise a lifelong dream and he says to Liam, "Say Boy, that's a fine-lookin horse you got there, and I'd like to tour this beautiful country on horseback so's I can see the sights and hear the sounds of the countryside like they did in the old days. I'll buy that horse off of ya, how much ya want."
Liam says, "O sure and you don't want to be messin with this horse he don't look too good these days."
"Hey, Boy," says the Texan, "Don't you try to tell me what's a good lookin' horse an what isn't. I been tradin' horses all my life long and there ain't nothin a young country boy like you can tell me about em. Now you jes name yer price and we'll get along fine."
"I'm sayin' to ye that this horse is not a good lookin horse mister and ye don't want any part of 'im," says Liam.
The Texan is getting angry now. "Listen up Boy, he says, you leave me be the judge of what's good lookin and what's not and jes give me the price and I'll pay cash right here and now."
"Oh well," says Liam, "Two-thousand of your American dollars then."
"Deal!" says the Texan and he hands over the money, Liam unties the horse and the Texan leads him off.
The horse walks smack into the first lampost in the way, and the Texan turns to Liam and says, "Hey, Boy, you a durned swindler, you didn' tell me this here horse was blind!"
"I keep tellin' you he don't look too good," says Liam, "and you kept saying that's none of my business, so in the end I gave up."
#joke
Last To Die
When you die, which part of your body is LAST to die?
Your eyes... they dilate!
Rising to the Occasion
A bunch of girls had become upset at an anthropology
professor who had a knack of offending women. They decided
the next time he did something offensive, they would all
stand up and walk out of his class. Sure enough, at the very
next class meeting while discussing a tribe of African
natives. The professor leered and said, "You'll be
interested to know the average tribal warrior there has a
cock twelve inches long."
The girls all rose in a large mass and headed for the door.
The prof sneered and said, "What's your hurry, girls? The
next flight to there isn't until Saturday!"
#joke
The three wise men are out for...
The three wise men are out for a stroll when they come across a stable. The three of them decide to duck inside.
On the way in one of the wise men hits his head on the low entranceway.
"Jesus Christ!" he says.
Joseph says, "Quick, Mary, write that down! It's a hell of a lot better than Clyde!"
#joke
In light of the rising frequen...
In light of the rising frequency of human - grizzly bear conflicts, the Alaska Department of Fish and Game is advising hikers, hunters, and fishermen to take extra precautions and keep alert of bears while in the field. They advise that outdoorsmen wear noisy little bells on their clothing so as not to startle bears that aren't expecting them. They also advise outdoorsmen to carry pepper spray with them in case of an encounter with a bear. It is also a good idea to watch out for fresh signs of bear activity. Outdoorsmen should recognize the difference between black bear and grizzly bear dung. Black bear dung is smaller and contains lots of berries and squirrel fur. Grizzly bear dung has little bells in it and smells like pepper.
#joke
Air & Sex
Q: Why is air a lot like sex?
A: Because it's no big deal unless you're not getting any.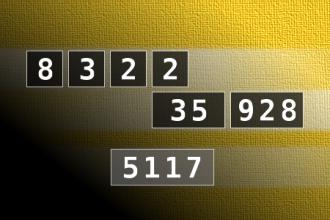 Calculate the number 5117
NUMBERMANIA: Calculate the number 5117 using numbers [8, 3, 2, 2, 35, 928] and basic arithmetic operations (+, -, *, /). Each of the numbers can be used only once.
Name the animals...
The first-grade teacher was showing pictures of animals to her students to see how many they could name. She held up a picture of a lamb, and a little girl said, "That's a sheep!"
"That's right!" said the teacher. "How about THIS one?" she said, holding up a picture of the king of beasts.
"That's a lion!" answered a little boy.
"Right!" said the teacher. Then she held up a picture of a deer. No one volunteered an answer. She tried to help. "What does your mother call your father?"
Johnny said, "I know! That's a lazy old goat!"
#joke